A week on St Francois that will go down as one of the greatest weeks in its history of fly fishing!
Angler John with his wife, Meghan, and father, William, joined us on the island this week. None of them knew just how memorable their week on Alphonse would be.
The Kinney's went offshore for the morning, landing a Sailfish on fly and ended their day with some DIY fishing around the island landing some Bones. This made for John's first achievement, a "Bills and Bones Slam", the perfect start to the week and a great 35th birthday present!
The first 'official' day of fly fishing on St Francois reaped a small Milkfish, large Bonefish, and a tank Yellowmargin Triggerfish for John, earning him his second award, the 'Flats Slam'. The abundance of the fishery was showing off, leaving the guests absolutely mind-blown at the diversity! But there was still more to come…
As if there wasn't enough weight under the Kinney's belt, they were going for GOLD. On day two, John managed something that has only ever been achieved twice before in Alphonse's history. A Golden Grand Slam is an angler's highest and most difficult achievement on any Outer Atolls. The slam is achieved by landing all of our big five species, Giant Trevally, Indo-Pacific Permit, Bonefish, Milkfish and a Triggerfish, either a Yellowmargin or a Moustache Triggerfish in a single day of fishing.
Legendary guide, Graham, set out with John for the day, Graham chose to pole a finger flat first thing in the morning for a GT, and with one of the first few casts of the day, John hooked up on an impressive 80 cm fish.
Next up was the Permit. John caught his Permit (57 cm) at a spot we call 'back of the moon', off the beach of St. Francois, a beautiful setting to land such a special fish. With arguably the hardest fish out of the five to catch.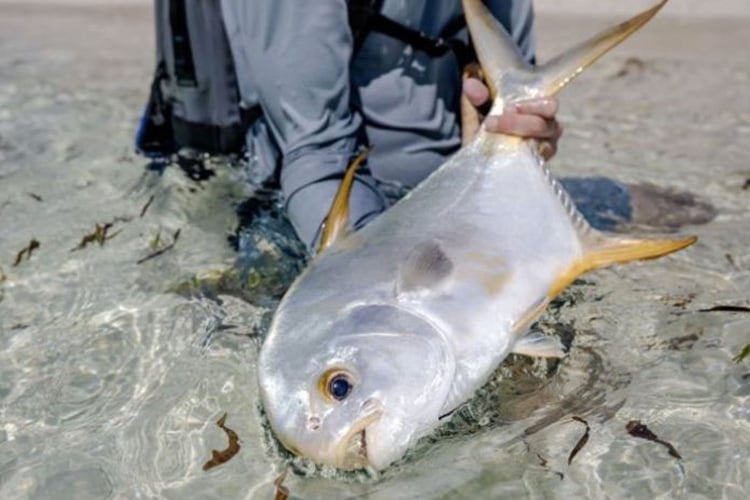 The chance at the slam was on and was becoming a real possibility!
Next up, Bonefish and a Milkfish. Graham decided to fish Jude's, a white sandy high spot on one of the flats where the Bonefish and Milkfish usually congregate; with the second cast, the Milkfish was on and landed, and shortly after, John managed to land his Bonefish. So far, the four species that were landed so far were all caught by 11 AM, leaving the rest of the day to catch a Triggerfish…
Anyone who's fished for Triggerfish before knows just how tricky they can be, and having already caught four of the five, the pressure was on. Graham tried multiple spots through the afternoon, but nothing seemed to come right, as four o'clock approached and it was almost time for the mother ship to head back to Alphonse. 
So close to resigning after an already phenomenal day, Graham tried one more spot near the mothership a couple of minutes before four. He found two Yellowmargins, the first cast spooked the one Trigger, and he was gone. With a perfect second cast from John, the last lonely Trigger seemed interested and started to follow the fly, the line went tight, and John was on! Graham grabbed his net and was in the water; adrenalin pumping he managed to scoop up the fish, it wasn't just your average Trigger; it turned out a massive 51 cm Yellowmargin!
They had done it, the golden grand slam; Graham and John have earned stature as an elite anglers and world-class guides! It is an event that will not only be remembered by them for years to come but also by all those with a front-row seat who got to share in their joy on the island!
Stay tuned for next week's report.
Tight lines,
Alphonse Fishing Co. on Alphonse Island