The week was by far our best week of fishing on Cosmo since the season started in early November last year. Good wind and light conditions accompanied by the new moon spring tides of last week brought unbelievable water movement over the flats and an incredible amount of Giant Trevally, both from the surf and from within the lagoon.
Our highly capable anglers took full advantage of this scenario and managed to hook and land an outstanding amount of Giant Trevally, bringing our total number to 215 fish for the week. This breaks the previous record of 208 Giant Trevally over one week since the Cosmoledo Eco Camp has been on the ground.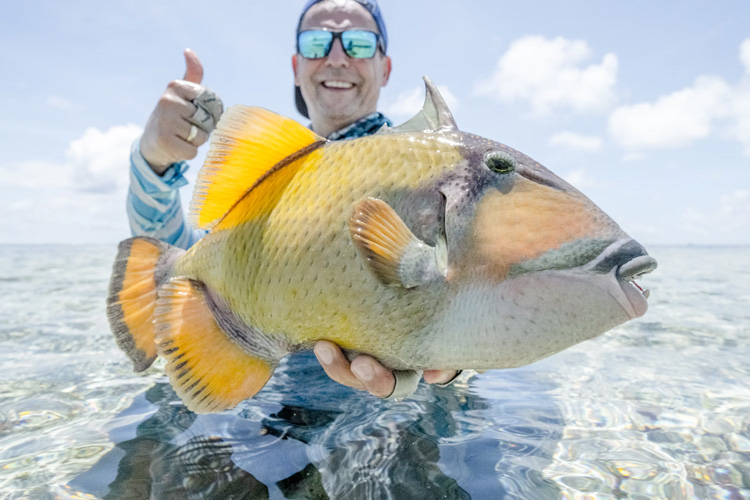 Christoph was fortunate enough to bag himself a 133 cm Giant Trevally caught in the northern part of the atoll on the pushing tide. After an epic battle with this behemoth Chris finally managed to land the fish and pure joy was written all over his face. He moved on to catch another fish over a meter on the same day measuring in at 101 cm. Chris ended his week with 27 Giant Trevally to his name. Congratulations Chris on an outstanding performance.
Joan had a phenomenal trip and was able to land seven Giant Trevally in one day, making that the most fish she has ever caught in a day including an incredible fish of 101 cm, that being her personal best. She finished off the week with 21 Giant Trevally under her name.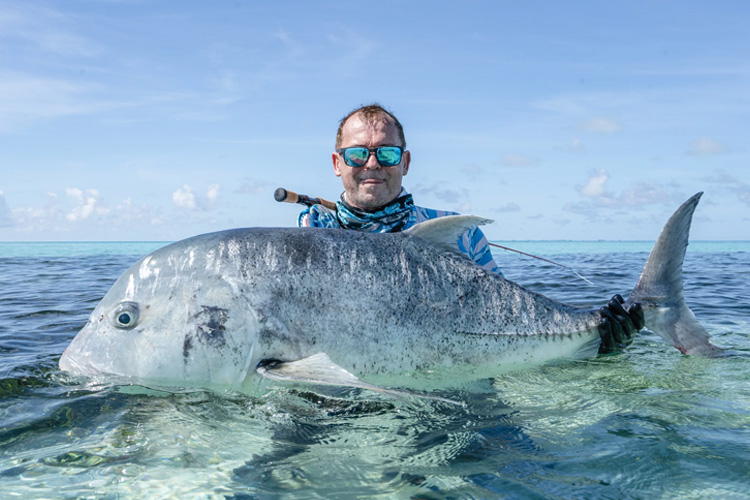 Gerhard had a day he will never forget. He was able to land 17 GTs in a single day making that his personal best for a single day's fishing. A tough one to beat for Gerhard!
Helmut the host for the week managed to land himself his personal best Giant Trevally of 130 cm on the first day of fishing, an absolute monster of a fish! Congratulations to Helmut on his new personal best. He continued to catch 38 Giant Trevally for himself as well as a Moustache Triggerfish and an Emerald Parrotfish.
Stay tuned for the next report from Cosmo!
Tight lines,
Alphonse Fishing Co. on Cosmoledo Atoll
TOTAL CATCH STATS THIS WEEK:
Giant trevally 215
Moustache triggerfish 1

CONTACT US
If you would like to read more about the fantastic fishing on offer at Cosmoledo Atoll in Seychelles, you can contact our saltwater fly fishing expert Peter Collingsworth on 01603 407596 or via email at peter@sportquestholidays.com. He would be delighted to speak with you.