We have our third report in from the group over at Costa Rica, they landed some amazing Tuna! Ill now hand it over to Admiral Marlow –
It is day 3 of our Big Adventure in Costa Rica.
The fishing has so far been tough but we are trying hard. We were up to the dawn chorus of Howler Monkeys and it was breakfast as 5:30 am, It had been a clear night and if it had been back home I would have expected a frost!
I checked the thermometer and it was a pleasant 23c. Chis and I were again with Humberto and we decided to head offshore in search of more Sailfish. About 6 miles out the sea came alive with Tunas and Dolphins chasing baitfish, most of them looked small but that can be a bit deceiving as you will read. Out came our light spinning rods which I thought would be fine for small Tunas, We lost a good fish after about 20 minutes due to a hook pull which we didn't see.
A few minutes later Chris who has received Jedi training from me for the last several years had a strike on his popper and the reel screamed with 100yards of line going downwards in a few seconds and with 2500m of water below us I knew that it wouldn't get to the bottom. Chris was using a Daiwa Saltist light jigging rod with a 4500 Saltiga reel and 40lb braid, a great outfit that has previously caught some substantial fish. After about 30 minutes Chris was sweating and fighting the fish looked very painful.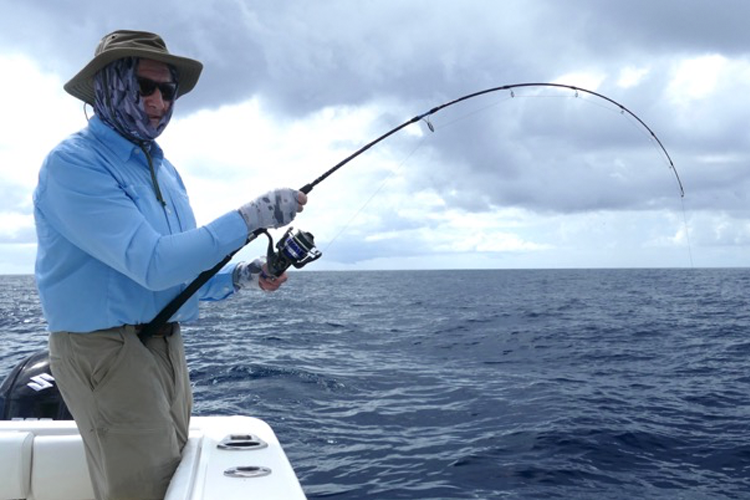 An angler bent into Tuna
I have been training Chris for several years and the Jedi coaching was paying off, I would say service was required and some new oil just to get things working a bit smoother. It was starting to look very tiring so Humberto and I drank a few bottles of water and had a snack then talked about fishing leaving Chris to suffer. After an hour we decided Chris could have a drink because he was still attached to his fish. Chris was now tiring rapidly and was sitting on the bait box, more words of encouragement followed and our hero was back on form.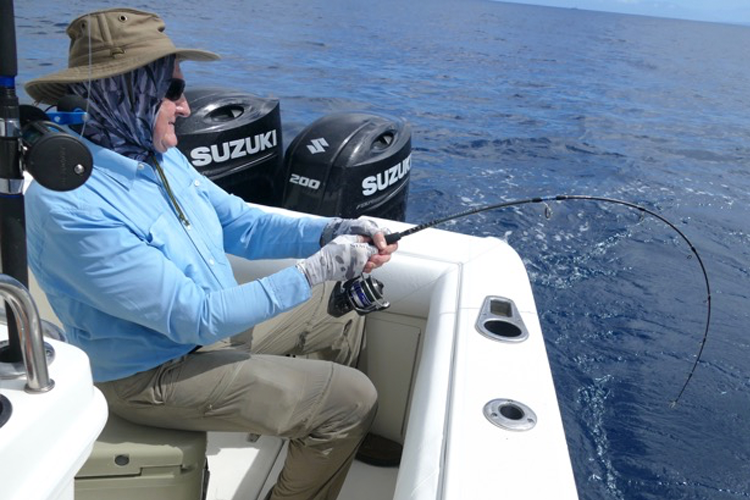 I said to Humberto this looks a bit cruel he agreed so then we had lunch. After that, we rigged up all of our other rods with Sailfish rigs.
Almost one and half hours have now passed and it was getting very tiring just watching, so to help out we gave Chris a butt pad to ease the pain, Suddenly we could see colour and we both got excited, on the end of Chis's line was a substantial Yellow Fin Tuna. Two hours gone and we had the beast in the boat, a fantastic effort from Chris considering the light tackle he was using.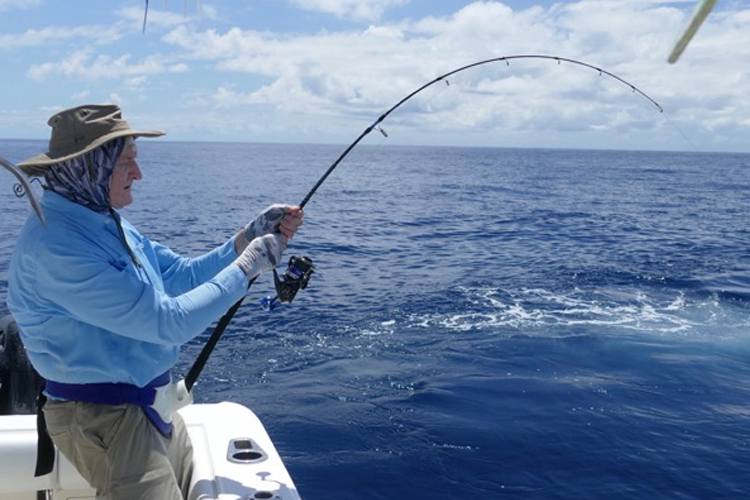 2 Hours into the Tuna Fight
I awarded him the Angler of the day trophy for effort. Chris was so worn out he could only lift up the Tunas tail for the picture. Considering the light tackle this was a fantastic feet and without doubt the best and most skilful fish he has ever caught.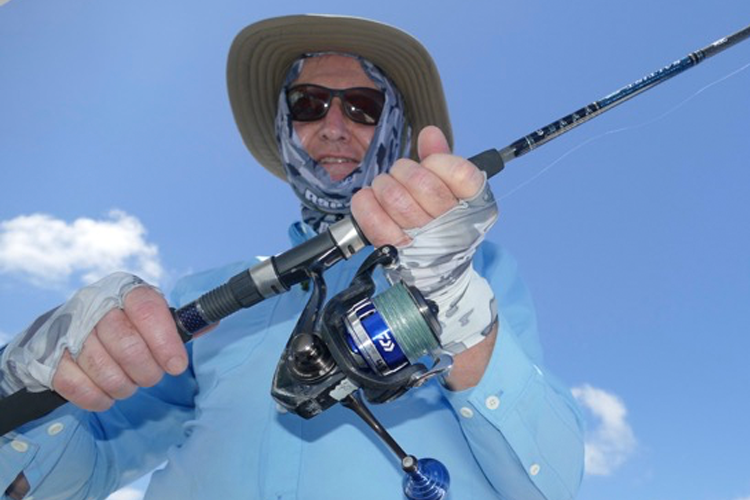 Here is a picture of the rod and reel that caught the beast. After that we caught a few small Tunas, we were out of time to go offshore for the Sailfish. Our Captain Humberto who is really a film star always takes a great picture so I had to include it in this blog.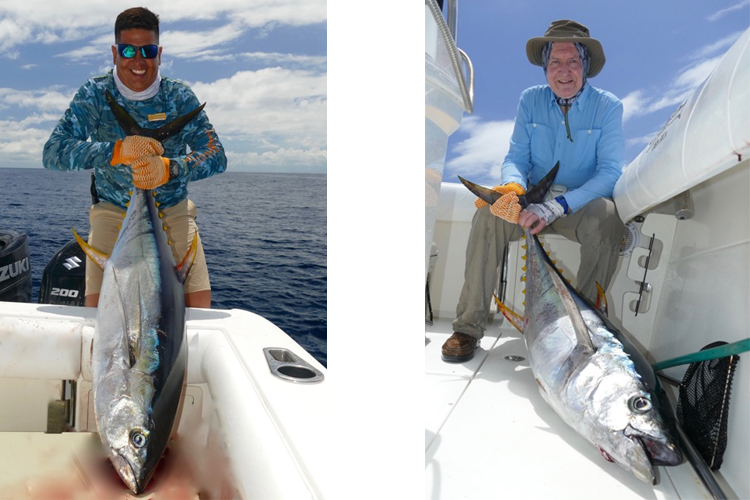 The reward after a 2 hour fight!
Tomorrow is another day and the Shipmates will fly the flag for the UK again.
Signing off,
Admiral Marlow