I'm happy to report on the fantastic fishing we had at Crocodile Bay in February. The Golfo Dulce continues to pleasantly surprise me with calm seas and a super-hot offshore bite. This February our guests were landing plenty of dorado, wahoo, tuna, sailfish and higher than usual numbers of marlin. We are at the tail end of the dorado season and the big bulls are continuing to smash guests' baits and lures. It is impressive how the 50+ lbs. bulls will smash lures as violently as a marlin. Dorado are super-fast swimmers so they will blast your whole spread in a matter of seconds– and before you know it–you are hooked up. Hold on and enjoy the acrobatics. Besides the beautiful emerald and turquoise colours, dorado put on a spectacular air show! I can't forget to mention how delicious they taste once they get back to shore and are prepared for dinner in multiple methods.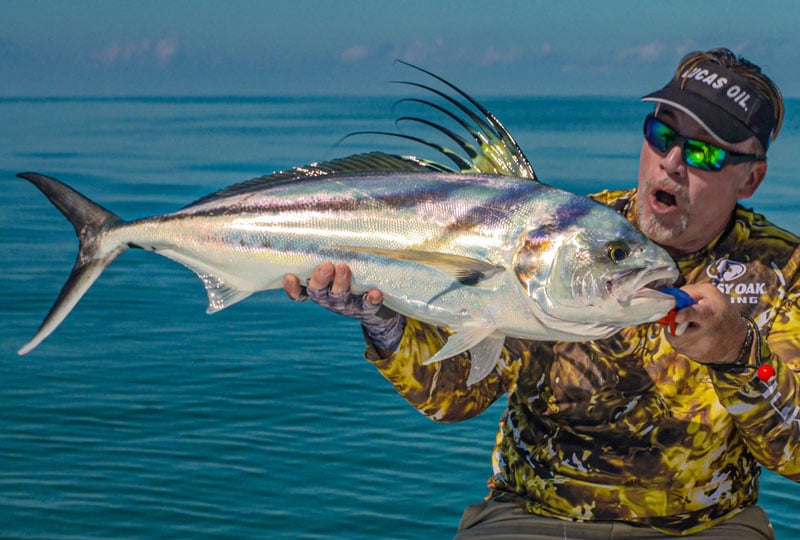 The yellowfin tuna are still around our fishing grounds in really good strong numbers and what makes it even better is how close they are coming to shore. Our crews have come across large schools running with the spinner dolphins as close-in as 5 miles from shore.There were a few tunas at 100+lbs caught this month and as many as 55 tunas in one day! Our fleet only keeps one or two tuna per boat for dinner and catch-and-release for the rest. You'd be surprised how tough of a fight a 40lb tuna will put up… so just imagine how much fun it would be fighting a 100+lb tuna!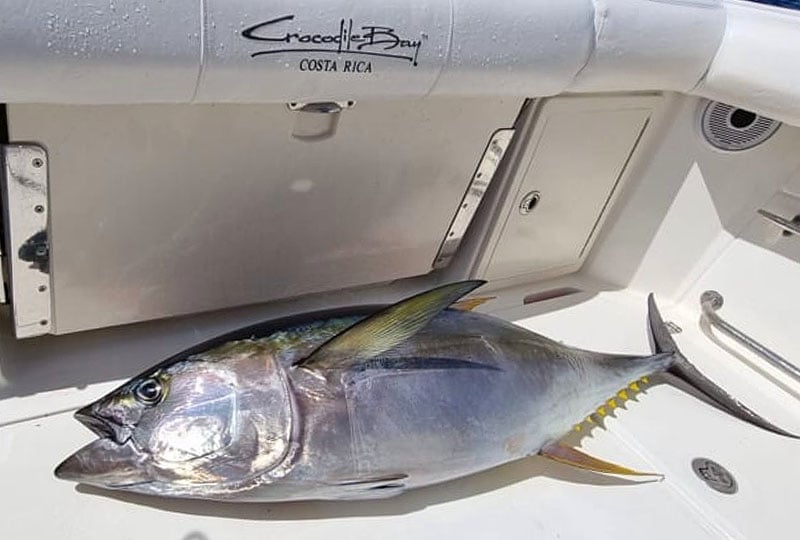 The 2022 sailfish season got off to a great start and we continue to see sailfish in our spread in good (and growing) numbers. It is incredible how fast they are when it comes to chasing food not to mention the show they put on once you have them on the line. Sailfish can tail walk as they are shaking their heads to try and throw off the hook. We had a few amazing days for sailfish this month, with as many as 17 sailfish hunting in our spread and swallowing our baits like candy. The adrenaline that pumps through your body once you see sailfish come up behind the boat is unexplainable. You will have to experience it for yourself.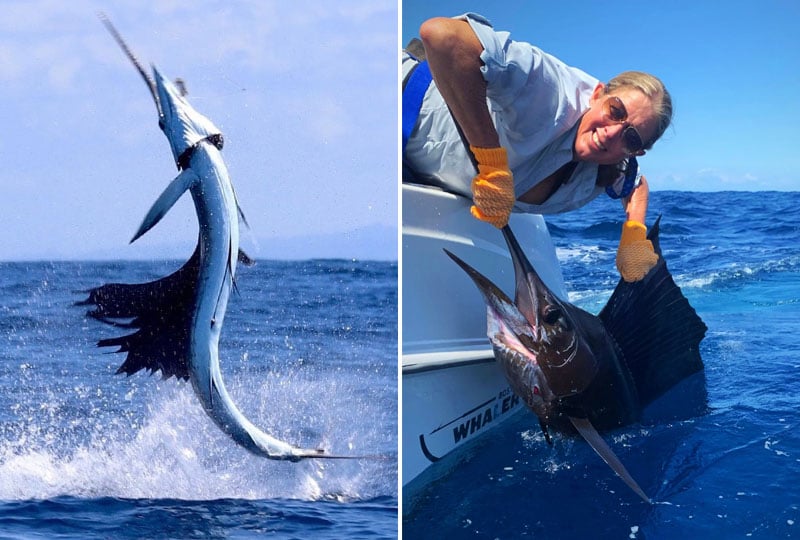 It's not very common to see many wahoo in this area but this month bucked the trend and our anglers were able to land a few wahoos while trolling for billfish. This is one of the reasons I love trolling for billfish: you just never know what is going to come into the spread. Our guests brought the whaoo they landed back to the dinner table, but also there were a few big wahoo that cut through our leaders before our crews were able to gaff them.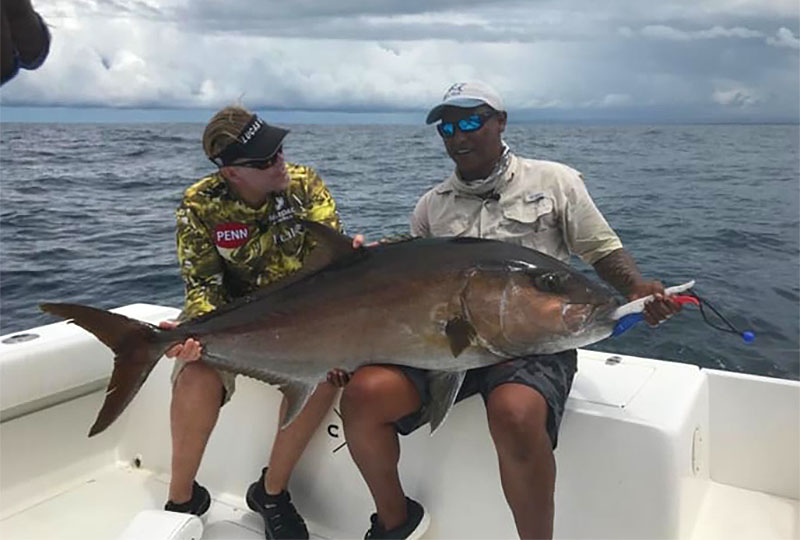 What continues to really surprise me is the marlin bite. It is normal to see some scattered good days for marlin fishing in February, but this year brought so many consecutive days of landing Marlin. I wish we could just hit the "pause" button and have that pattern last forever. We have been on a roll for marlin here at Crocodile Bay since December. I always get asked the question when is the best time for marlin and honestly, this season I don't have a straight answer. The best time for marlin continues to be "right now."
Our fleet is still seeing marlin coming up to our spread in such good numbers that we continue to see days in which all of our boats come back with as many as 7 to 10 marlin catches per day. Honestly, for as long as I have been fishing these waters, I have never seen so much consecutive marlin action. We have captains at Crocodile Bay that have been here for over 15 years, and they share the same opinion. It is common to see this much marlin action fishing out on the fads, but not just regular trolling for billfish and catching them so close to shore. It's definitely a bonus for our fishing guests.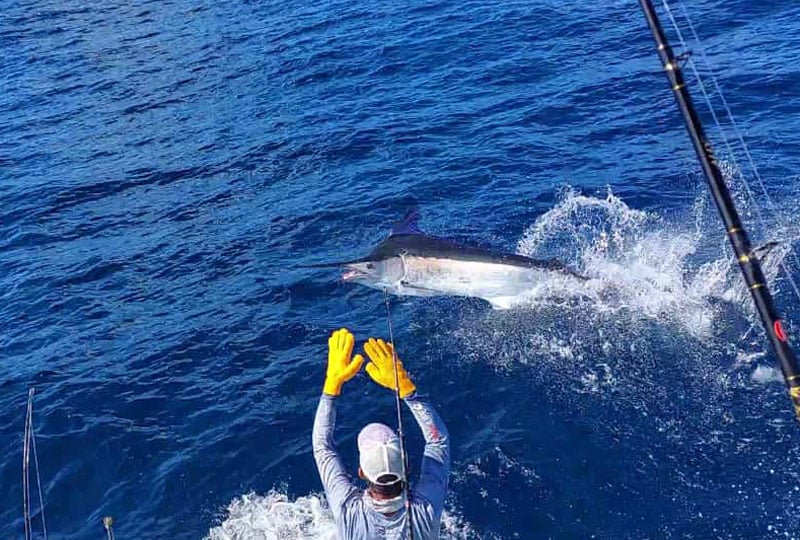 This month we had the honour to welcome back fishing television legend Mark Davis to film another fantastic episode of Big Water Adventures. This year's fishing action with him was phenomenal and he was able to capture 3 different episodes both inshore and offshore during his stay. If you haven't seen his shows from Crocodile Bay, you should definitely stay tuned to the Outdoor Channel. This guy means business when it comes to fishing.
We also had the honour to host the Collier family on another return visit to Crocodile Bay. I love to see kids growing up with the passion of (for) fishing. And to Harry Collier; fishing is more than a passion… it's a lifestyle. Harry is only 11 years old, but he can out-fish most adults! You can find Harry fishing at the dock every afternoon even after coming back from fishing out on the water all day. Congratulations Harry for catching marlin, sailfish and tuna. But the highlight of this trip for him was catching a big bull dorado on the fly. This young man keeps surprising me every day.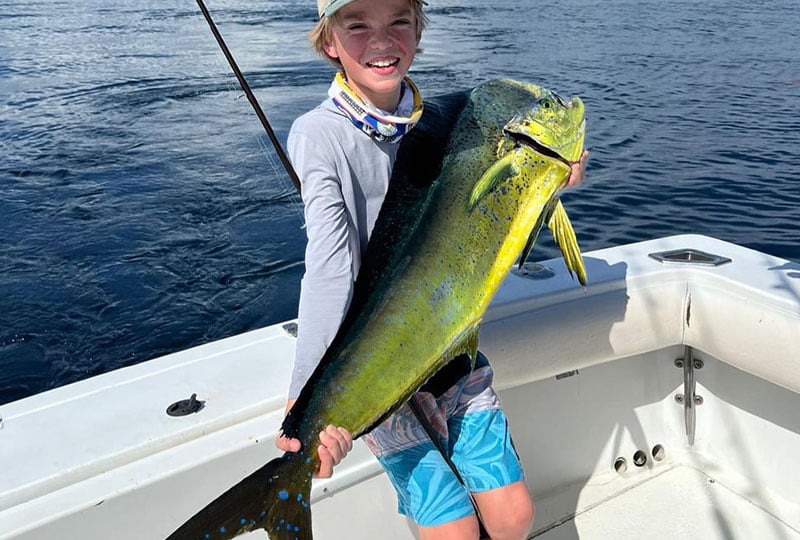 Another important event this month was hosting the CVO Tournament for Brook Lunsford. This annual event (spanning over 9 years) at Crocodile Bay is one of my favourite groups we host. This year was one for the record books. They had so much fun while catching a lot of fish; this group has become more than just guests here at Crocodile Bay. They have become more like family and I can't wait to put together and host another CVO tournament with them next year.
The month of March got off to a great start for inshore fishing. Most of our recent guests have been concentrating their efforts offshore… March starts the inshore season. The fishing grounds at Crocodile Bay are so populated with roosterfish that catching 2 to 7 roosters is a slow day for us. We are hosting the Botanika Owners tournament this March and you will get all the inside info and fishing details in my next month's report.
If you want to catch fish in one of the most beautiful places on earth, right now is the time! So, pack your bags and come down to Costa Rica and enjoy the 80-degree weather, really calm seas and phenomenal fishing. It will be a pleasure to host you.
Tight lines and best regards,
Diego Camacho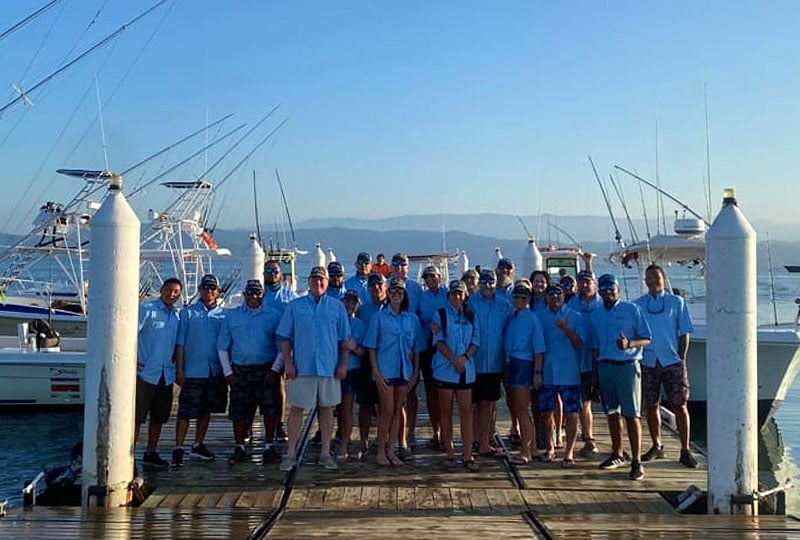 CONTACT US
Crocodile Bay Resort is one of the best bluewater/big game resorts in the world and offers anglers the chance to target a huge variety of species. If this sounds like something you're interested in then you read more on our Crocodile Bay Tour page, or alternatively, you can contact our destination manager Paul Stevens on 01603 407 596 or email at paul@sportquestholidays.com who would love to speak to you.