Hi Shipmates,

Its been another very tiring day for the shipmates. We must have done at least 60 miles today starting in 10' of water and then to 5000' then back to 40'. The Pacific is vast and at times it seemed barren of all life. I am certain it is the moon phase and the associated tides that are making the fishing so hard, none of the boats have had a good day. Rest assured the shipmates have been flying the flag and it is not the lack of effort that is to blame.
Shipmate Crab Pott Chris joined me again on Captain Humberto's boat named Croc Bottom and we were away from the Dock at 6.30am. Breakfast was at 5.30 am so it's up before 5. I am absolutely tired out and so are the rest of the crew. Sorry for my reports being a little disjointed but I am having a job to keep awake (must be an age thing).
Cutting to the chase, as usual, we topped up our bait supply with some sardines and threadfins caught on the Sabiki rigs, then we had a radio call telling us the Tunas had been spotted about 15 miles out. The problem was everyone around also knew that and were all racing to the location. We got there with the first bunch and Huberto put us straight in front of the fish.
As usual hundreds of Dolphin were behind the Tunas, munching on the smaller fish that the Tunas were chasing. First drop back on a Sardine and I had a hit, I was like a Tramp on Chips and my Jedi training from over the years kicked in. A mandatory count to 5 as the fish ran off, I closed the bail and tightened up and the fish was on. I must say that Yellowfin like all the Tunas are tough cookies and this one was no exception. Being the first one of the day and on my 12-20 Super Kenzaki rod, I fought it carefully because I didn't want to lose it.v Finally after a dogged fight Humberto tailed it and pulled it on board. I let him be in the photo because he is a very nice Captain (it's me creeping really) and he is trying very hard for us to catch fish.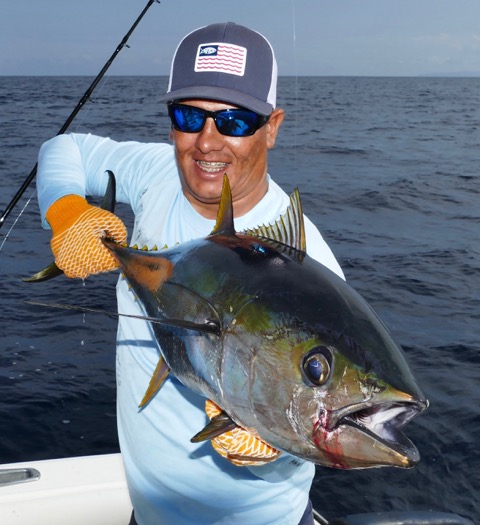 By the time I had landed the fish the rest of the fleet had arrived and it was a bit chaotic so we decided to fish for Sailfish and MarlinOut came more tackle and we trolled the ocean for about two hours, we did raise one Sailfish that just slashed the bait. I hate trolling when it is slow so we headed back to the shallow water to try for a Rooster fish. First to hook up was Crab Pott Chris who had a very Nice Jack, I have finally managed to get him to smile a bit when taking his photo. Chris is the one without the fins.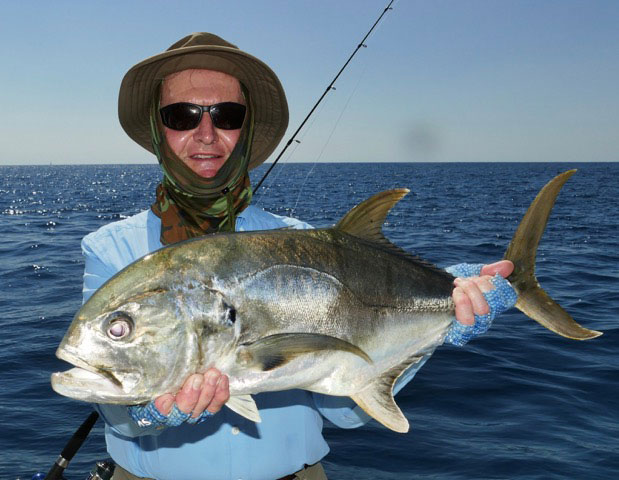 Not long afterwards I had a take and caught the first African Pompano of the trip. Like all our fish it was safely returned to grow bigger.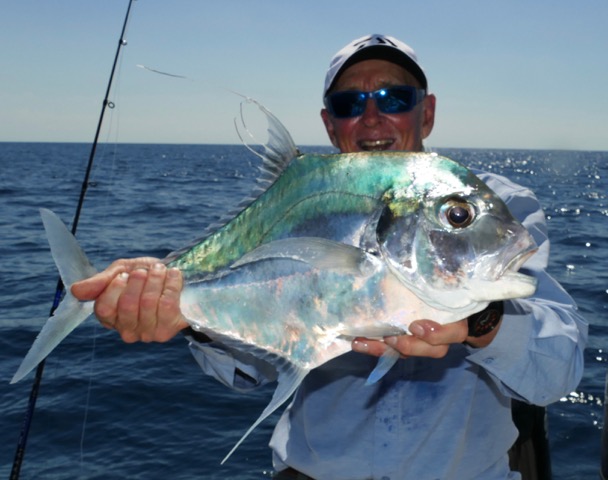 So another very tough day, with help from Tim and Tom on the other boat we have increased our species count to 18. It's not through lack of effort that we are struggling, it's the same for everyone. However, we are confident for a good day tomorrow having worked out a new top-secret plan, if it works all will be revealed.

Signing off,
Admiral Marlow