Hello, fellow anglers! This week at El Pescador Lodge and Villas in Belize was incredible. A few daring souls fled the sweltering Texas heat. They discovered their own paradise, graced by gentle trade winds and intermittent thunderstorms that added a dash of thrill and abundant sunlight that painted our waters with glimmers of gold.
The fishing scene was a wild ride, overflowing with excitement yet packed with its own set of surprises. It's been a bit of a roller coaster, as the elusive tarpon keeps us on our toes. One of our boats was even taken for a wild ride beyond the reef by a particularly feisty one!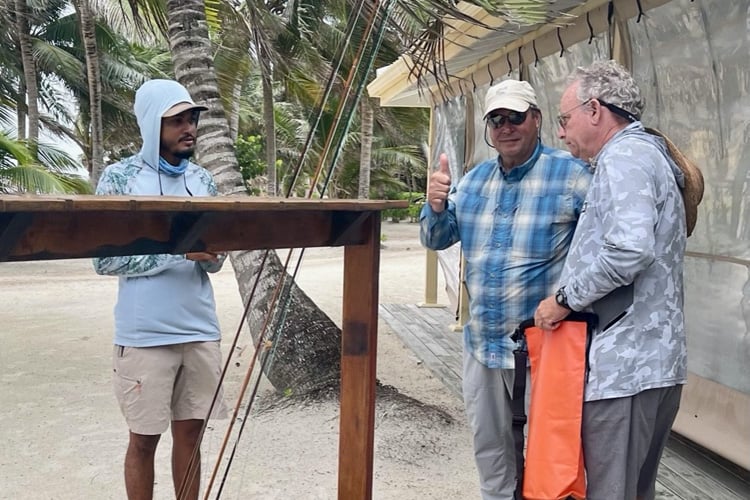 Our Permit? As unpredictable as ever, keeping us guessing and offering some of our guests the opportunity to truly become the sleuths of the sea. Speaking of champions, a standing ovation for the dynamic duo, Kyle and Jackson, a father-son powerhouse that made their own history on the water. Both landed a Grand Slam in just one day. That is quite the feat!
As we relish in the thrills of this week, we also bid a heartfelt farewell to our beloved Guest Fishing Director, Will Stephens. Will may be stepping down from his role, but he will always be part of our El Pescador family. We eagerly anticipate his return.
Come on down and experience the thrill of the chase with El Pescador. You may come for the fish, but you'll stay for the family, adventure, and memories that will last a lifetime. You never know; you might be the next Kyle or Jackson! And remember to spread the love, share this post, and bring your fishing buddies along for an unforgettable adventure in Belize!
Weather:
The weather has settled into a nice rhythm of steady trade winds, a few isolated thunderstorms, and a lot of sunshine.
Wind:
E/SE 12-18 Mph.
Air Temp:
Hi: mid 80s Low: low 80s
Moon Phase:
Full Moon August 1
Sunrise / Sunset:
Sunrise 5:29 am Sunset: 6:29 pm
WHAT GUESTS WERE CATCHING
Bonefish
More than 233 Bonefish were landed averaging 2 to 3 lbs. with several ranging 3 to 6 lbs.
Permit
Eight for the week.
Tarpon
15 Tarpon landed.
Other Species
Mangrove Snapper, Barracuda, Mutton Snapper, Jack Crevalle, Needle Fish
Grand Slams
Two. The father/son team of Kyle and Jackson managed to each get a Grand Slam in one day!
CONTACT US
If you would like to learn more about the stunning El Pescador Lodge, make sure you take a look at our tour page for all dates, pricing and availability. If you have any questions regarding any of our other saltwater fly fishing destinations, contact Peter Collingsworth on 01603 407596 or via email at peter@sportquestholidays.com.