Overall the fishing was excellent, but there were a few periods that were very tough too. One of our guests, Brett, caught some nice Tarpon from the lodge dock and had some shots at good Permit. We also had some big schools of Bonefish lurking along the new seawall, so there was good fishing right from the lodge. Will Stephens, one of our regular Guest Fishing Directors, arrived at the end of the week. Will is here to support our Fishing Director, Mariano, during July and to do some fishing.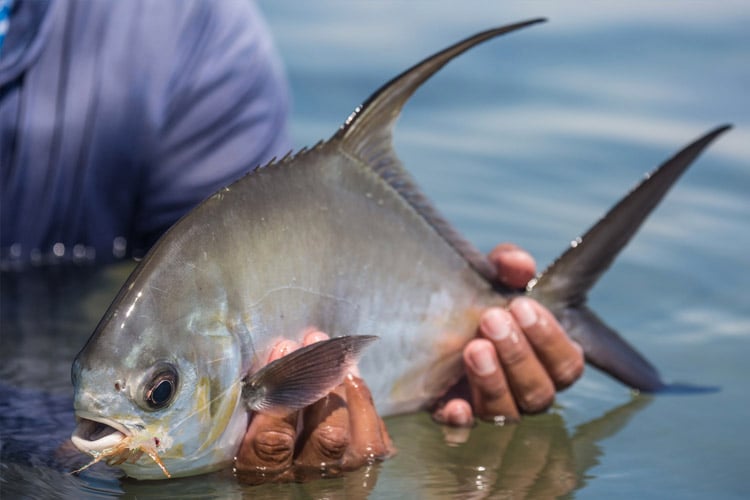 WEATHER
The area has seen a mix of weather. We have had some calm, almost glassy mornings and others with a stiff trade wind blowing. A few rainstorms have blown through, and some extended sunshine has been around, too.
Wind
E/SE 12-18 Mph.
Air Temp
Hi: mid-80s Low: low 80s
Moon Phase
Waning Gibbous, New Moon July 17
Sunrise / Sunset
Sunrise 5:23 am Sunset: 6:32 pm
WHAT GUESTS WERE CATCHING
Bonefish
More than 182 Bonefish were landed, averaging 2 to 3 lbs, several ranging from 3 to 6 lbs.

Permit
Seven Permit for the week.

Tarpon
Six Tarpon for the week.
Other Species
Mangrove Snapper, Barracuda, Mutton Snapper, Jack Crevalle, and some Needle Fish.
CONTACT US
If you would like to learn more about the stunning El Pescador Lodge, make sure you take a look at our tour page for all dates, pricing and availability. If you have any questions regarding any of our other saltwater fly fishing destinations, contact Peter Collingsworth on 01603 407596 or via email at peter@sportquestholidays.com.