This week was something special on Farquhar, in fact, it is the best Giant Trevally fishing week ever recorded on the atoll.
The anglers arrived with bad weather, and the following day was no better, the week was not looking too promising. However, it didn't stop us from going on surf walks and a couple of catches were made. Michael along with his dad, Petrus, and angler Martin managed a couple of Bonefish, it was a first of the species for both Michael and Martin. Later on, in the week, Michael and Petrus set out on a Bonefish mission and each landed over 10 Bonefish for the day! Despite their smaller size, these fish are a thrill to catch and contributed to a successful day on the flats.
The following day had the big spring tides coming into effect, the weather cleared up beautifully and the fish were out in force. Martin caught two GTs for the day and his boat partner, Peter, got himself an incredible GT of 117 cm, the biggest GT for the Farquhar season so far. Peter's big Geet was followed in quick succession by another nice-sized fish.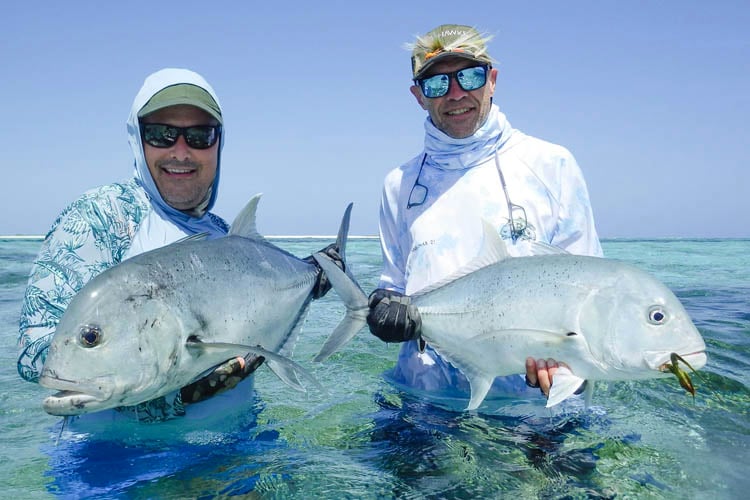 David was fishing with his son, Matteo, who caught a bonefish and two Giant Trevally, a first for Matteo with both species. Daniel managed to get his first-ever bonefish and his first-ever GT on fly and Graham landed his first GT on fly too. Jeff Lopes also hopped on the GT action and landed one, adding to the growing tally for the week.
Then came the day that will be remembered by all involved. A record number of Giant Trevally in a single day for Farquhar, a total of 34! The highlight was a double-up, where anglers Charl and Daniel both landed beautiful fish and both measured 113 cm. What a story for Charl's first giant trevally on fly.
With all the giant trevally around it was no doubt that all anglers were focussed on these fish and the following day produced 24 GTs with an incredible 104 cm Geet caught by Daniel.
An amazing week was had by all and it will be a difficult task beating this new Farquhar record.
Stay tuned for next week's report.
Tight lines,
Alphonse Fishing Co. on Farquhar Atoll
TOTAL CATCH STATS THIS WEEK:
GT 85
Bonefish 28
Bumphead Parrotfish 1
CONTACT US
If you would like to know more about the fantastic fishing opportunities on offer on Farquhar Atoll, you can contact our saltwater fly fishing expert Peter Collingsworth on 01603 407596 or via email at peter@sportquestholidays.com. He would love to speak with you.