The second week of the 2022 – 2023 Farquhar season started with some really good spring tides moving into neap tides as the week progressed, contributing to an exciting week.
The start of the week had a couple of guides taking the guests on surf walks. Surf walks are a great way to familiarize the anglers with the atoll and provide them with some good information for the coming week. They are also a great opportunity for guests to ask questions, and get their rods and reels warmed up!
The Jensen family who joined us for the week brought in some good catches and made some memories to last a lifetime. Craig managed to reel in a beautiful moustache triggerfish in the surf, and he also managed to bring a bumped parrotfish and giant trevally to hand. Craig's brother, Mark, managed an awesome giant trevally, which stretched the tape to a whopping 93 cm, falling just short of the 1-metre mark! Lastly, Mark's son, Nick, got his hands on a couple of really good African marbled groupers, not too frequent on our catch list!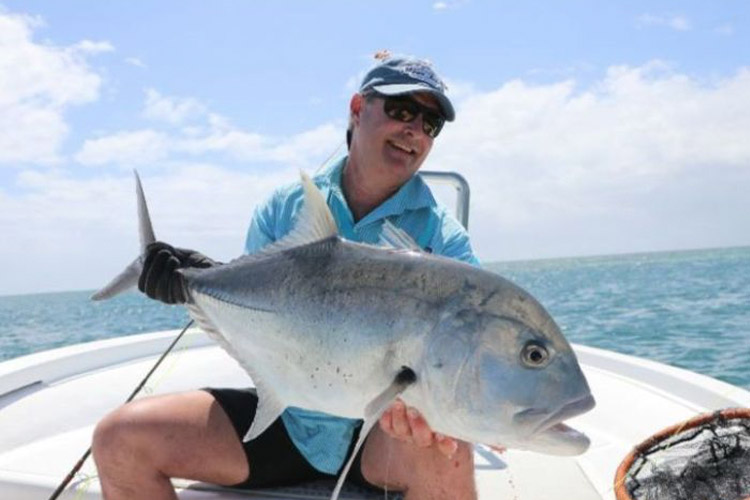 Daniel Botha, a first-time guest to Farquhar, landed a magnificent GT and his first-ever bumped parrotfish of 96 cm. Daria Uspenskaya, on her first trip to Seychelles, landed her first bonefish on fly as well as a hefty bone of 55 cm!
Daishima Hirotsugu hooked and landed his first bumphead parrotfish which topped the trip for him, while his buddy Yusaku Tsutsui had an epic week, landing a GT and the biggest bumpy of the group, measuring in at a massive 110 cm!
Farquhar is off to a good start with healthy numbers on the boards. We can't wait for the rest of this season! Stay tuned for next week's report.
Tight lines,
Alphonse Fishing Co. on Farquhar Atoll
TOTAL CATCH STATS THIS WEEK:
Giant Trevally 5
Bonefish 14
Triggerfish 1
Bumphead Parrotfish 4
Tight lines,
From Alphonse Fishing Co. on Farquhar Atoll
CONTACT US
If you would like to know more about the fantastic fishing opportunities on offer on Farquhar Atoll, you can contact our saltwater fly fishing expert Peter Collingsworth on 01603 407596 or via email at peter@sportquestholidays.com. He would love to speak with you.