Farquhar was on fire this week as it produced some of the best catches of the season!! Mike hosted this week with his buddies Tim, John and Robb, Tim and Tom, Rusty, Don, Michael and Brian.
Michael was a newcomer to the flats of the Seychelles. He had a fantastic week wrapping up good numbers of Bonefish, however, his highlight was when he landed the biggest GT of the week measuring a massive 110 cm beast.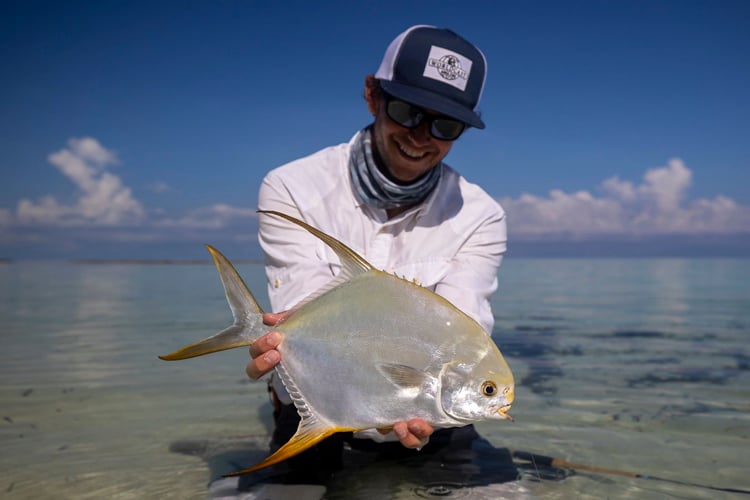 Tim managed the first Milkfish that Farquhar has seen in a very long time making it a very special catch for him as it was his first Milk. He didn't end there as he managed to land two Indo–Pacific Permit, two Triggerfish and a decent Napoleon Wrasse.

The Shanley Brothers, Tim and Tom had a great week with Tim landing three GTs, two Triggerfish several Bones and a hefty Golden Trevally as well as a Napoleon Wrasse. Tom started his week off with an 89 cm GT together with two other GTs and a Moustache Triggerfish.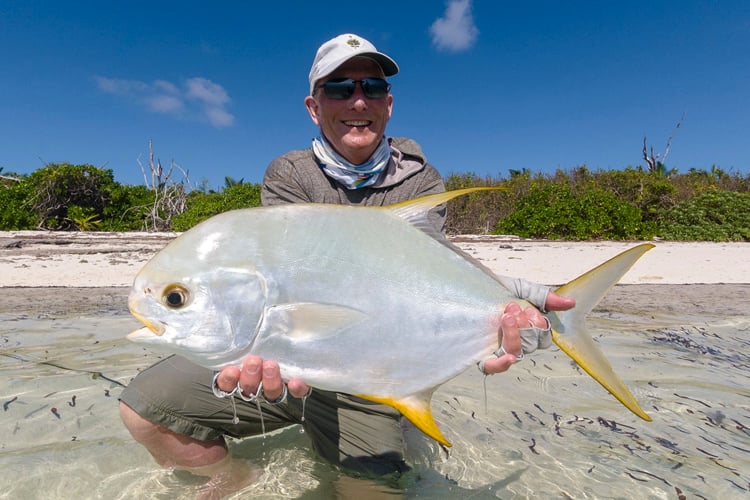 Rusty was another first timer to the flats of the Seychelles. He had an incredible week. He managed to land his first GT, Moustache Triggerfish, Indo-Pacific Permit and Bumphead Parrotfish on fly.

Father and son combo of John and Robb had a stellar week. John managing his first GT on fly and ended up with four in total together with a Moustache Triggerfish. John sadly lost all five Bumpies he hooked during the week. Robb's week was as follows, seven GTs, six Bones, one Permit, one Moustache Triggerfish and one Yellowmargin Triggerfish and a Golden Trevally on 12 lb leader – incredible.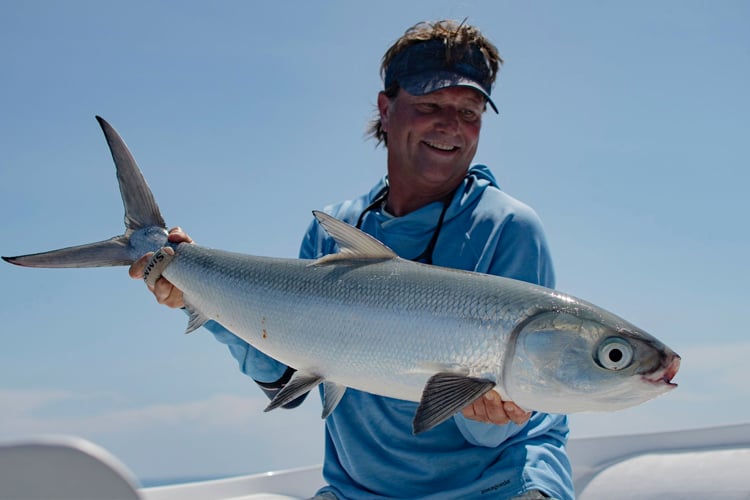 Brian also shot the lights out with an impressive scorecard that looked as follows. Five GTs, two Bonefish, one Permit, one Bumpy and one Triggerfish.

Mike being the host he is, had very little fishing time himself, however, when he was on point, he made it count as he landed two Permit, three GTs, one Trigger as well as a Bumphead Parrotfish. Overall, it was a great week had by accompanied by perfect weather and ice-cold beers.

Tight lines,
From Alphonse Fishing Company on Astove Atoll
TOTAL CATCH STATS THIS WEEK:
Giant Trevally 36
Bonefish 38
Triggerfish 3
Permit 6
Bumphead Parrotfish 3
Triggerfish 9
Milkfish 1
Golden Trevally 3
Napoleon Wrasse 2
CONTACT US
If you would like to know more about the fantastic fishing opportunities on offer on Farquhar Atoll, you can contact our saltwater fly fishing expert Peter Collingsworth on 01603 407596 or via email at peter@sportquestholidays.com. He would love to speak with you.