Anticipation was high as we headed into our fifth week of the season at Farquhar Lodge. We were coming off spring tides and moving into the new moon neap tides as the week went on. This gave us ample wading time on the flats and allowed us to sight cast at the full array of species.
The Permit were around in great numbers this week with all of our guests getting numerous shots at this incredible species. We experienced an array of different opportunities, including both cruising and tailing fish on the flats, islands and coral ridges.
Jim did not waste anytime opening up the week with an wonderful fish of 10lb. The fish was slowly free swimming along the flats with the pushing tide, Jim's cast hitting the money a few inches away from its nose the fish. The fish slowly turned on the fly and engulfed the crab midwater before giving him a solid tussle before eventually coming to hand.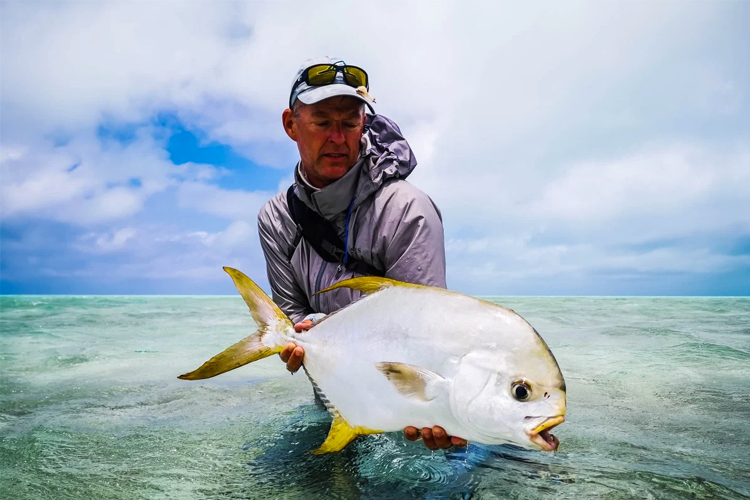 Jim then managed to catch the next Permit he made a shot at, this one was holding on the lee side of a sand bar. Another well-presented fly and the result was two permit within an hour….a great achievement.
Dan also managed to hook a decent Permit but unfortunately, the fish came off a few seconds into the fight. Jim showed no signs of slowing down though, his 3rd fish coming to hand after it crushed the fly over some white sand… a pretty fish with long sickles. His 4th was a real beauty weighing 14lb, this fish spotted tailing whilst we were heading back to the boat to have a lunch. His first cast gained no reaction and the fish continued to feed up the flat, but his next cast landed about a foot in front of the fish's nose and it sipped it in. We were now 20 yards from the boat.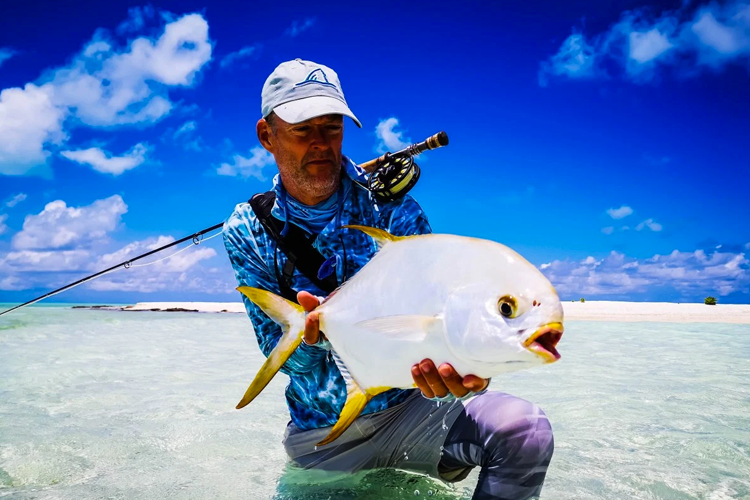 When the fish came to hand the screams scared most of the birds off the atoll… it was a great moment! Jim managed to land his 5th Permit later on in the week, this special moment capping off a truly remarkable week of Permit fishing for him!
The Trevally too were around in decent numbers this week, with Arthur opening the account on the first day after we located a pack of Bluefin Trevally, Giant Trevally and sharks in a feeding frenzy off one of the storm ridges. Arthur made a great cast at the GT's and before he could even get his first strip he was tight into a great fish. After a solid fight, a beautiful 105cm fish was tailed. Great job Arthur!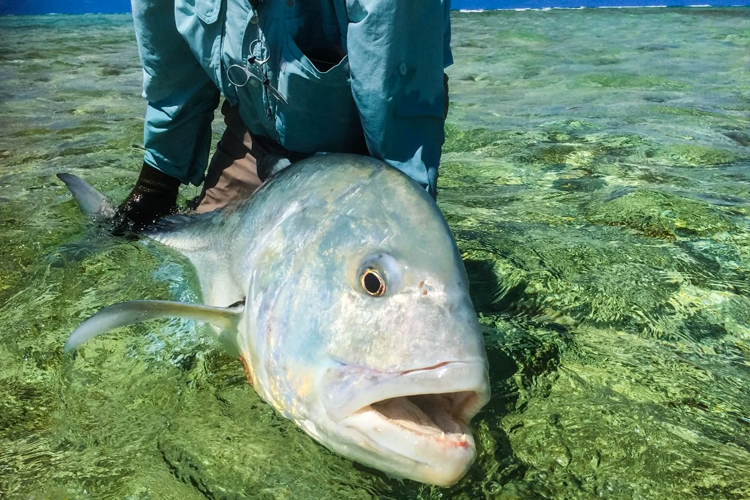 We saw a few other GT's during the week with Ben unfortunately being bitten of by the one he hooked. All in all, we had some great shots and saw some really big fish smashing bait which always a great experience to have out on the water.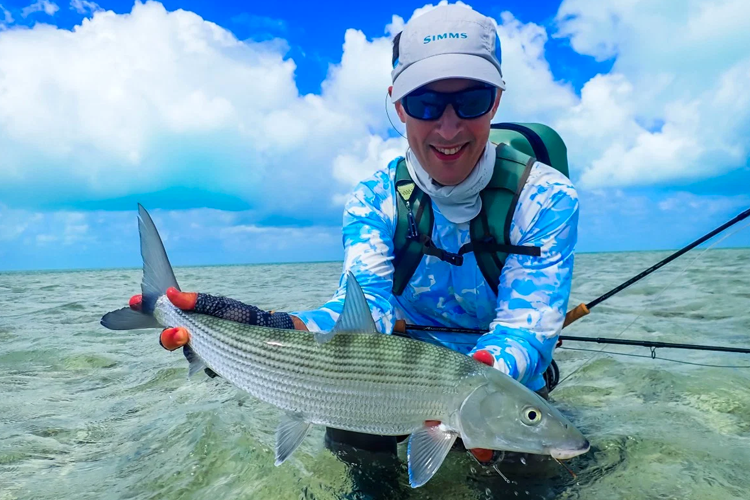 We experienced fantastic Bonefishing all week. Opportunities to fish in ankle-deep water at tailing fish, small and big shoals on the flats, sand bars and island systems…our guests got to see it all! Although our largest fish was 7,5lb we did see and hook some really big ones, unfortunately we couldn't land them. Let's just say they don't get that big for nothing, these really big fish are smart and need to be fished at with precision casts and even when hooked they know exactly where they need to run to cut you off. All in all, still some superb Bonefishing as per usual!
The atoll is in great condition and is teaming with an abundance of life. We all had a great time out on the water even during some tough weather periods. We would like to thank all the guests for their energy and sharing this wonderful place with us and look forward to fishing with them all again!
Tight Lines,
Peter