A strange, but very eventful week comes to its end. As we began our fifth week of the season, we were all expecting very consistent weather and water conditions. Especially with the amount of fish now already in the system, these weeks are usually very predictable and consistent. While the river was in absolutely great shape as we headed into the week, constantly changing water level, wind direction, light condition, and barometric pressure, ultimately affected the activity of the fish and made the fishing quite challenging on some days, however.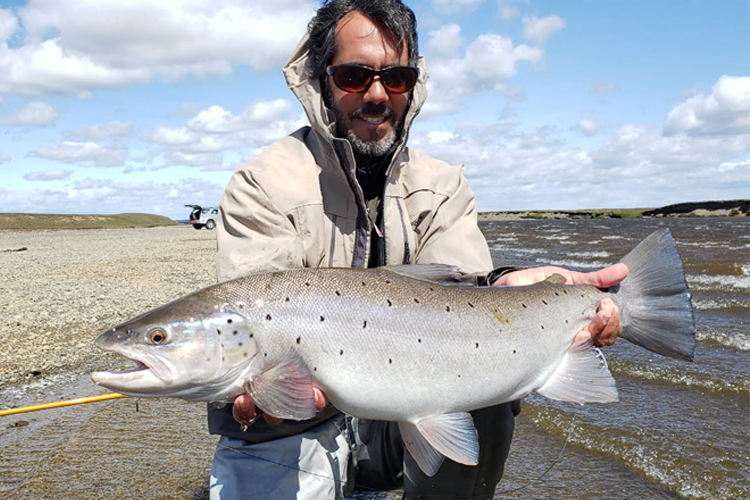 Luckily, we were welcoming a fairly intimate group of "only" six this week, including some experienced Río Grande anglers such as Gerald and Irwin. Dave, another of our anglers this week, was a keen spey caster who could efficiently cover the water from the first day on. But even our new friends Michael, Jarod, and Tom, all picking up the spey rod for the first time, had a good understanding of what the fly is supposed to do in the water, listened carefully to their guide's advice, and picked up the methods we use here very quickly.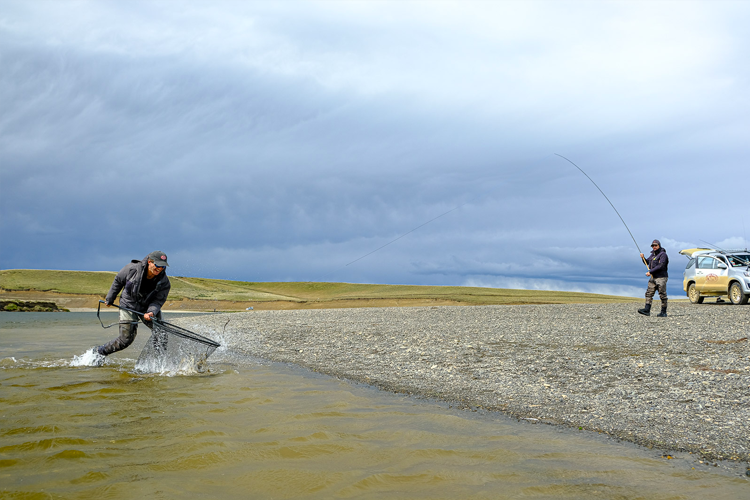 A chunky Sea Trout
As we started the fishing week, the river was just starting to drop and clear after it had come up on Thursday night. Heavier tips and more visible, water-pushing flies were the trick of the trade. However, it was merely a push of water that would drop back to almost zero within just a day. A severe thunderstorm with hail, heavy rain, and lightning bolts crashed down onto the pampa as it passed us on Monday afternoon. It only took these few hours of downpouring rain to push the water level back up about 10 inches (25 cm) overnight, leaving us with only a few inches of visibility in the water the next morning.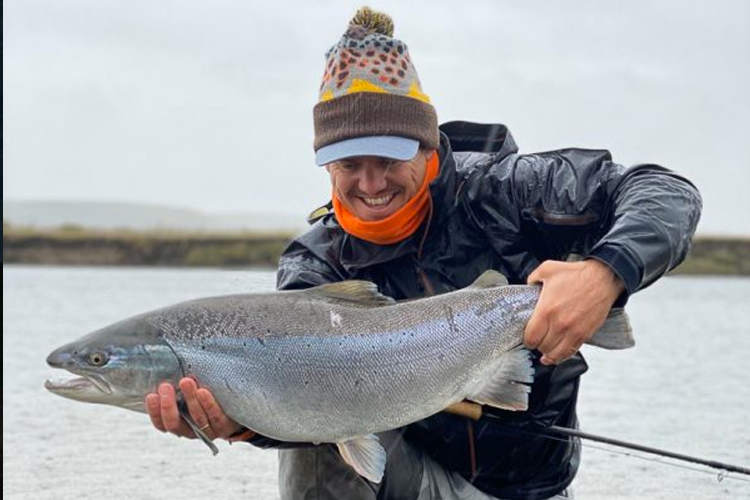 Being just a "push" of water, the level would drop down quickly, but the rain that precipitated in the mountains kept the water fluctuating. All these very rapid changes in water level and barometric pressure, in combination with some very hot and sunny days that pushed the water temperature up to over 18 degrees, noticeably affecting the activity of the fish, making it really hard to move any of them throughout long periods of some sessions.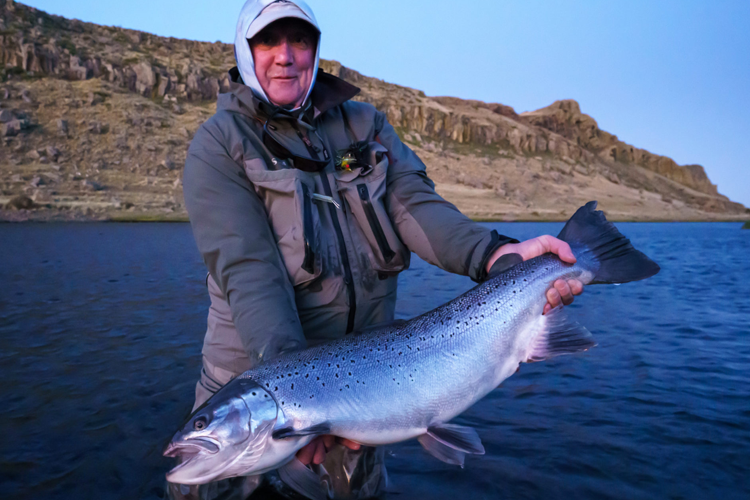 Nothing beats a hard fighting, kyped male
Luckily, the Río Menéndez was once again a saving grace, as it was less severely affected by the changes occurring in the main river. Still slightly off-colour and with a comfortable flow, the conditions looked great, and Irwin managed to land three nice fish in his very first session, including a cracking 18 lb, kyped-up male. Just two days later, this little river again blessed us with incredible fishing, while the main river remained tough. In just Tuesday evening's session, Jarod and Tom were able to hook into an unbelievable number of 15 sea trout, all on small nymphs and single-handed rods. While unfortunately some very big ones were lost, both were able to land multiple beautiful double-digit fish. Dave also put a good ending to a tough day, landing a 16 lb fish just before the last light faded. Content and happy, he left it as the last cast of the day.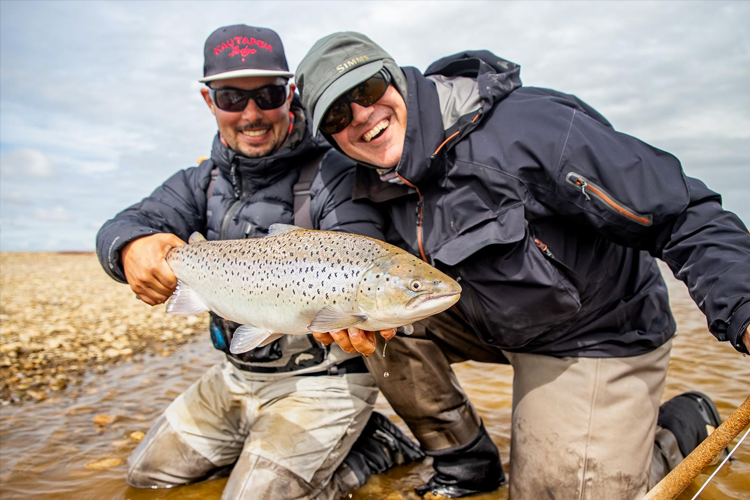 The fishing was patchy and unpredictable. Short periods in which the fish became active gave us windows of opportunities, and one had to get a bit lucky to be in the right pool at the right time. Michael was able to intercept a phenomenal, fresh 13 pounder amongst some other good fish. But within this randomness, consistency was key to take the chances given to one. Gerald remained consistent, putting the fly into the right spot on every cast, even if they were not rewarded. But, his consistency eventually paid off. A fresh 17 lb stunner on the second to last day, and then landed another cracking 17 lb male on the next morning, only to be outdone by an unbelievable 24 lb fish he was able to bring to the net at the start of his last evening session. Gerald stopped fishing after that fish, happily leaving it as the last cast of the trip.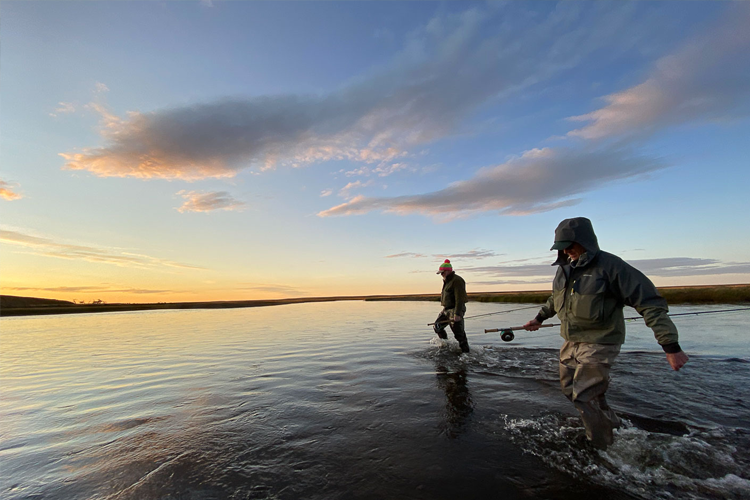 Wading out to a new spot is always exciting
Just as Irwin kicked off his week, he ended it on a high note, landing a great 14 pounder during his last morning session, and two more nice fish during the evening – he also stopped after the second one, and both Gerald and Irwin peacefully called it a trip and headed back to the lodge before the sun went down. Our universe was back in order, conditions seemed to have settled, the fish seemed more active, and the fishing was once more predictable.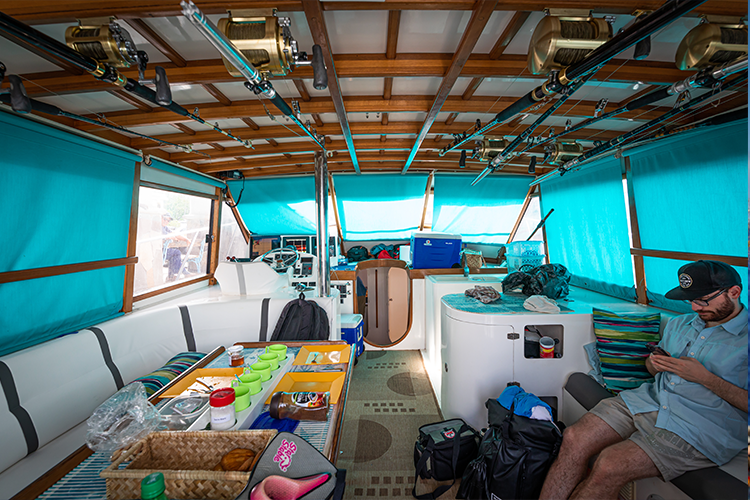 Looking at the plain numbers of this week, it ended up being much more prolific than expected. As random and patchy as it was, some anglers intercepted good numbers of fish, while others had to experience dry periods in between. But despite all of its highs and lows on the fishing side of things, there is so much more to a week down here than "just" catching fish. Getting to meet new crazy people from completely different parts of the world that share the same passion, sharing precious time on the river with old friends, feeling the unparalleled freedom that only the wide-open skies of Tierra del Fuego can give you, and letting it all sink in over a good glass of Malbec. Even if the fishing is challenging and unpredictable on some days, it is very hard to let that get in your way of having an amazing experience in this very special corner of the world!
Tight lines,
Paulo Hoffmann
Kau Tapen Fishing Guide
What a great report from the banks of Kau Tapen from Guide Paulo, If you would like to enquire about this destination feel free to contact us on 01603 407596 or click the enquiry button on the tour page to fill out the form and we will contact you.
Tight lines,
Peter