This week marked the start of the highly anticipated Providence Atoll on board Quo Vadis. To say that it exceeded all expectations would be a gross understatement.
Joining us were the very familiar faces of Ryan and Lise, Terry and Ashly and Ray and Ashlea.
Ryan and Lise got off to a great start by landing 15 GTs on the first day with Ryan locking horns with two enormous fish in the surf.  Sadly he lost both as they managed to find coral.  Heartbreakingly, Lise too lost a giant fish on the last day. It wasn't all doom and gloom for Ryan as he managed to land his first Bumphead Parrotfish along with his first Milkfish.
Terry and Ashly consistently landed fish throughout the week with Terry managing several GTs, two of which measured a healthy 92 cm. Terry had some great shots at Bumpies all week but luck wasn't on his side as none of the fish he hooked made it to the net.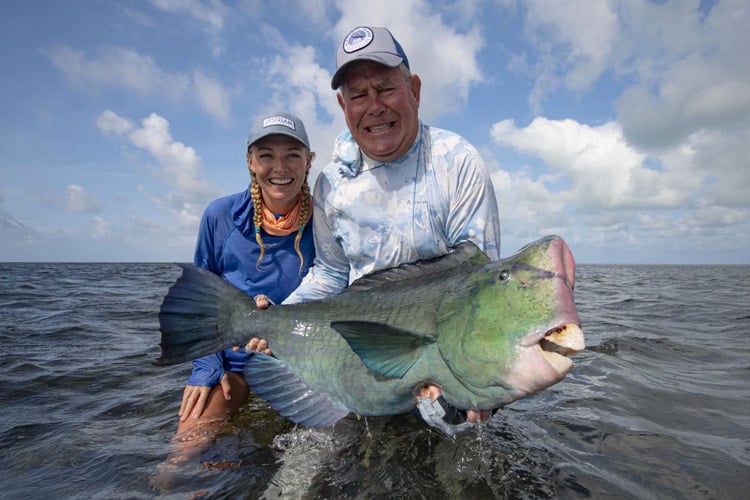 Ray had a stellar week with landing multiple GTs, one measuring 101 cm, the biggest of the week. He also managed to land two great Bumphead Parrotfish. Ray and his guide Graham came across a massive shoal of Milkfish that were daisy-chaining around a coral head. As a result of the area they were in, he hooked four and lost all of them.
Ashlea who is very new to fly fishing started her week off by landing her first Sailfish and GT. She ended up with several GTs by the weeks end.
Overall, it was a week which will be hard to forget for all the right reasons. The weather, baring one day, was sublime and together with a rich population of fish and great company shared throughout the days and evenings it was truly magical.
Stay tuned for next week's report.
Tight lines,
Alphonse Fishing Co. on Alphonse Island
TOTAL CATCH STATS THIS WEEK:
Giant trevally 74
Bumphead Parrotfish 3
Sailfish 1
Bonefish 1
Milkfish 1
CONTACT US
If you would like to know more about the fantastic fishing opportunities on offer on Providence Atoll, you can contact our saltwater fly fishing expert Peter Collingsworth on 01603 407596 or via email at peter@sportquestholidays.com. He would love to speak with you.