We welcomed a full group of guests for the penultimate week of our March – May 2023 fly fishing season. While some of the group were onboard the trusty Maya's Dugong for their second time, others were first-time visitors of the Seychelles, some even enjoying their debuts in the saltwater.
Having first-timers aboard our mothership was a welcome reminder for our guide team how truly novel the Providence experience is to our guests. The excitement and disbelief that reverberated through the vessel during our routine of catching Yellowfish Tuna during our crossing to our chosen anchorage for the week will put smiles on even the most harden of the guide teams! Once safely anchored and the week's sushi supplies in check, we bedded down for the evening ready for the upcoming week.
The 1st day saw us focus on all the dos and don'ts pertaining to fly fishing for GTs on the flats. This preparation done right often spells a successful week of fly fishing and despite periods of exceptionally challenging weather our group managed to tally up 5 GTs catches for the day. Our returning guests Bill, Don, and Joe wasted no time and quickly landed decent GTs each. Two new comers, John and Tim also tasted GT success. Great work, gentlemen!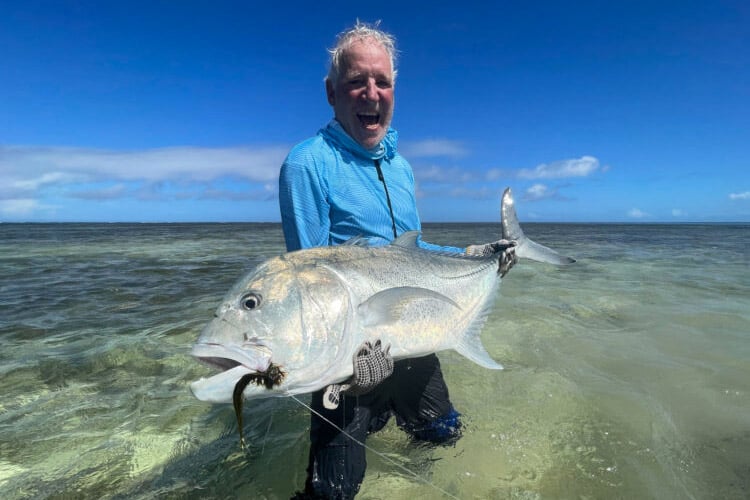 The 2nd day brought with it moments of magic on the GT front, with 6 GTs landed, one of which a real monster that measured 109cm! Our team set to work in their quest to find the hot zones on the atoll, which resulted in each boat travelling to completely different areas of the atoll. Randy, Joe, and John experienced the chaos that is GT fishing when they encountered several brutes during an exciting surf session. The chaos unfortunately saw most of these larger fish lost due to a number of different reasons, however, Randy managed to stay connected to one of his which measured an impressive 90cm… well done, Randy. The catch of the day however went to Adam when he opened his GT account for the week in the most emphatic manor, landing an alarmingly strong 109 cm specimen. Way to go Adam!
Day 4 was much better by Providence standards and provided Don and Hardy the kind of fly fishing entertainment that the atoll is renowned, the pair bagging a total 9 GTs between them! Hardy landed the fish of the day and his personal best measuring 103 cm. Great work, Hardy. The wild deep blue offered action too, as we added more Tuna to our rapidly-dwindling sushi stocks thanks to Mike, when he landed a good Yellowfin Tuna on the fly. Thanks, Mike!
Day 5 saw our group enjoy their best day on the flats yet, with a total of 14 GTs brought to hand. The standout catches included a beautiful 108 cm GT landed by Bill after it was hooked in a thin channel and subsequently required some nifty boat work by his guide to weave it out of the nearby coral garden. Jim also found himself in the right place at the right time converting 4 GTs consecutively during a very busy session in the surf. The largest of the 4 was a handsome 95 cm fish that fought well above its weight class, well done Jim!
We set out for the final day with hopes of building on the momentum of the previous day. By now, our guests were all familiar and comfortable with what they needed to do. Given the less than desirable conditions, our group did very well with a total of 6 GTs and 2 Bumpies landed for the day. Don enjoyed the perfect send off when he landed a fantastic fish that measured 108cm; this fish had to be chased down through a network of channels in the boat to get to a place where it could be safely landed…well done gents! The action didn't stop there for Don! He and Sekhar hooked 6 Bumpies during a busy session on a large turtle grass flat. Unfortunately, most of these large flats dwellers managed to get the better of us, though when it was all said and done, each were proud anglers with a Bumpie to each of their names. Hardy was in the thick of the action again and ended his time with us on Providence in style when he landed a 102 cm GT!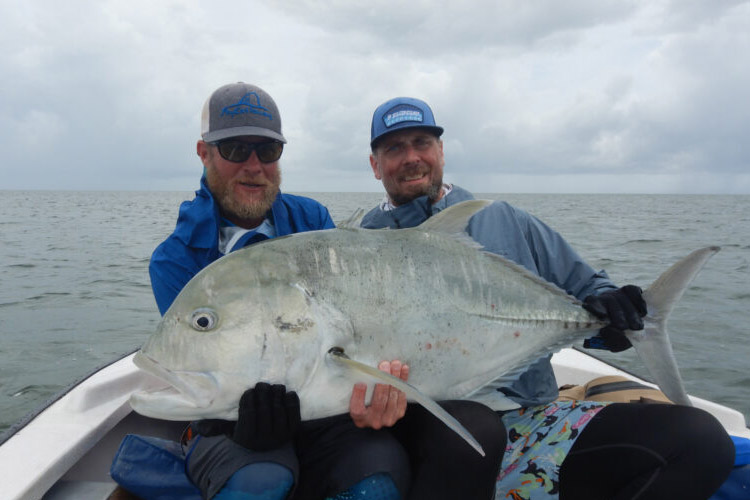 And so ends another week on Providence. Despite the challenging conditions our group enjoyed a successful week of fishing and we can't wait to welcome them back in the not so distant future!
The total tally for the week was as follows:
GTs – 42 (5 of 100cm plus)
Bumphead Parrotfish – 2
Napoleon Wrasse – 3
Tally of other species landed – 247
Until next week,
The Providence Guide Team
CONTACT US
If you would like to know more information about the amazing saltwater fishing on offer you can read our full tour page for Providence Atoll. Alternatively, you can contact our saltwater fly fishing expert Peter Collingsworth on 01603 407 596 or email at peter@sportquestholidays.com.