Week 4 of the Providence March – May 2023 fly fishing season saw us welcome 8 return guests and 4 new additions, all under the care of Justin from The Fly Shop. After a quick orientation of our mothership, we began readying everyone's gear for another week of flats fishing action.
The predicted weather for the week looked like it would be flat and calm. As it turned out the report was correct… flat and calm is what we got all week. The first day saw our group capitalize on the favourable conditions with 6 GTs, 5 Bumpies, 3 Triggers, and 6 Bonefish landed for the day. A special mention goes out to Steve who managed to complete a slam on his very first day on the flats, landing a Trigger, Bumpie, and GT. A special way to start a Seychelles fly fishing adventure, well done Steve! Brian also enjoyed a red letter day landing not 1… but 2 Bonefish that tipped the scales at 10lbs!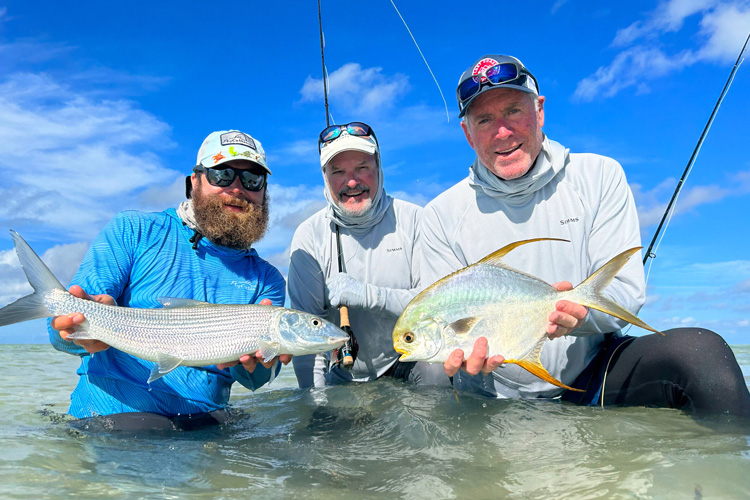 Day 2, and yet more fantastic weather and fishing action! Our group landed a total of 9 GTs between them with 3 slams recorded for the day. Peter, Justin and Otis all slammed with catches of GTs, Triggers, Bumpies, and Bonefish. A very special day was shared between 3 friends and the perfect incentive for a couple of extra celebratory beers that evening. Well done guys!
By day 3 we had begun to feel the effects of the incredibly hot & still conditions. It caused the water temperatures throughout the atoll to rise to a point that made things challenging on the trevally front. Despite this, Providence provided us with numerous opportunities at the tailing species that frequent the atoll. Our shift in focus still produced several catches of GTs, Bumpies, Triggerfish, Bonefish, and a lonesome Permit. Bill was the lucky angler who managed to get the sought-after Indo to hand. Well done Bill!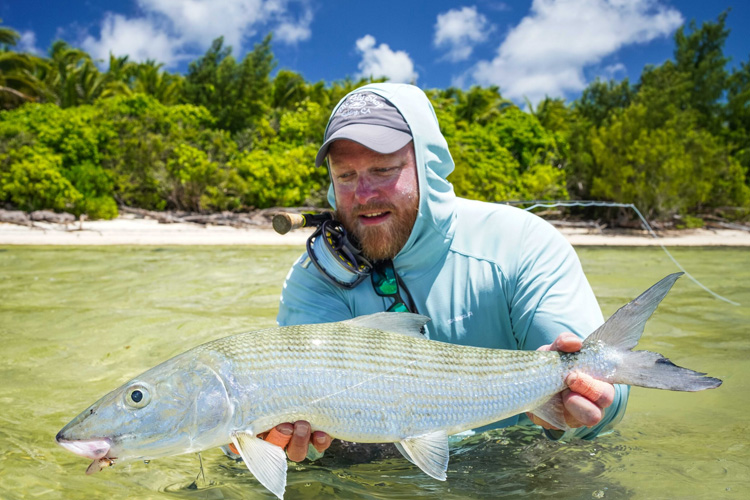 The sun rose on day 4 producing the same hot and calm conditions! Our group however hit the flats with the same enthusiasm as they did on day 1. It paid off for Ken, who found himself in a rich vein form and went on to land 2 GTs, 1 of which his personal best for the week, sighted and hooked by himself. In addition, Brian landed his third 10lbs bonefish for the week, while Justin and John shared a Bumpie double.
Day 5 saw our group encounter several large schools of Milkfish which resulted in mulitple hookups. Unfortunately however, only 1 was successfully brought to hand, the lucky angler in this case being Steven who did a great job fighting his fish! Brian went on to land a massive Bumpie, his first, while Austin managed to come right on the Trevally front when he landed a spritely GT caught off of a stingray late in the day.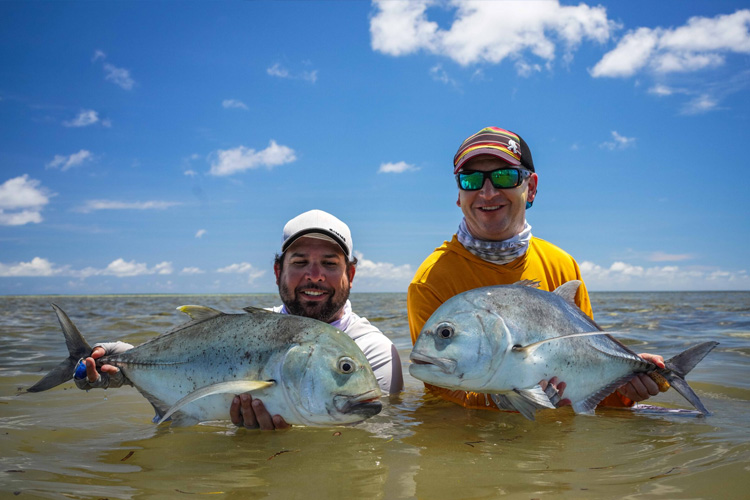 Unfortunately, there was only so much flat and calm weather the atoll could handle, and the fishing action slowed right down during the last day of the week. Despite this, Steve, Ottis, and Ken added to the GT tally which brought our week to a close.
Warm water certainly made fishing tricky by Providence standards, however, it was still an exceptional week from a tailing species point of view. We thoroughly enjoy our time with those who joined us during the 4th week and look forward to welcoming you all back to Providence in the near future.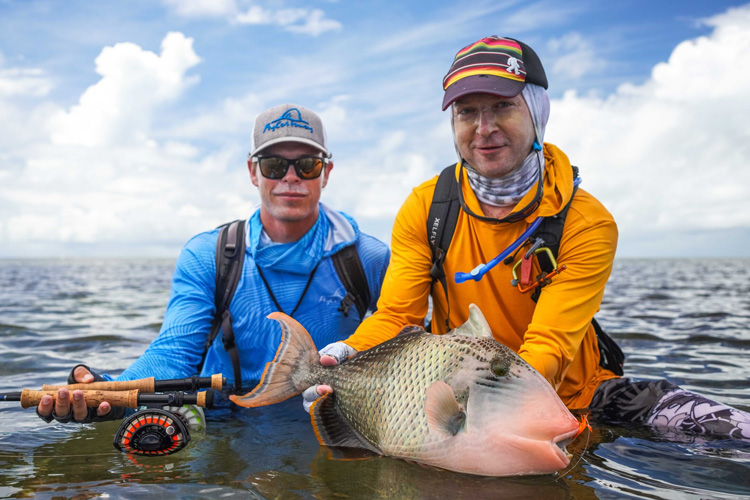 Our catch tally for the 4th week of our season was:
GTs – 34
Bumphead Parrotfish – 16
Triggerfish – 10
Bonefish – 24 (3 of 10lbs)
Indo-Pacific Permit – 1
Barracuda – 1
Milkfish – 2
Total tally of other species – 96
Until next week,
The Providence Guide Team

CONTACT US
If you would like to know more information about the amazing saltwater fishing on offer you can read our full tour page for Providence Atoll. Alternatively, you can contact our saltwater fly fishing expert Peter Collingsworth on 01603 407 596 or email at peter@sportquestholidays.com.