GTs, bumpies, triggers and sailfish, were just a few items that were on this week's menu at Providence Atoll.
The week saw the return of six very familiar faces. Ian, Ty, Andrew, Tom, Frikkie and Jay.
The trip started off with an epic blue water session on the first afternoon. Multiple Sailfish were teased up and brought to the boat, Ian and Frikkie sadly lost their Sailies, but Jay's fish managed to stay on for a quick photo before being released. The Dogtooth Tuna also came up to the spread and Ian and Tom both managed to land three great fish, with Ian's weighing an estimated 20 kgs.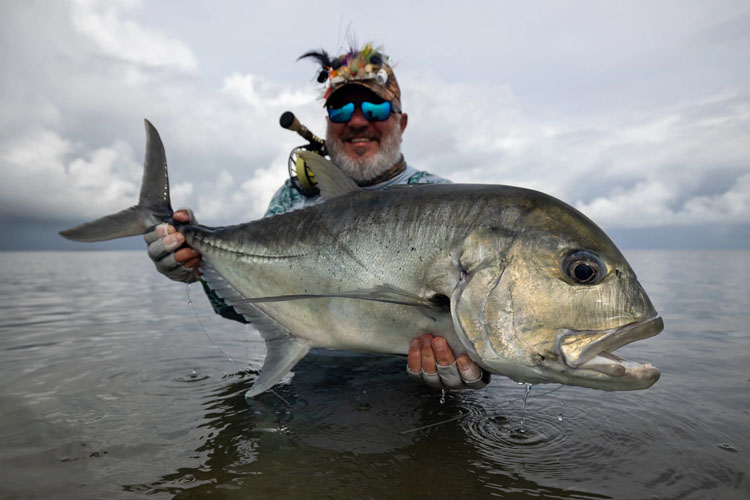 With almost perfect weather conditions and slower-moving neap tides on day one, each skiff had its own incredible Triggerfish session. Jay was the champion with his fantastic 54 cm Yellowmargin Trigger. Ty also got his to the net that day. However, Frikkie took it home for the day with an epic 49 cm Yellowmargin Trigger, a nice Geet and a solid Bonefish making a great Flats Slam.
Unfortunately, the weather turned and for the remainder of the week the team had to contend with high winds and rain. This didn't damper the spirits as the great catches still carried on throughout the week.
The fishing God's were good to Frikkie as he landed two meter plus GTs which measured 115 cm and 107cm. Frikkie also managed to land two Bumphead Parrotfish, of which one measured 105 cm.
Tom ended the week with 12 GTs, the biggest being 100 cm and he was top rod on the Bumpies, landing four of them.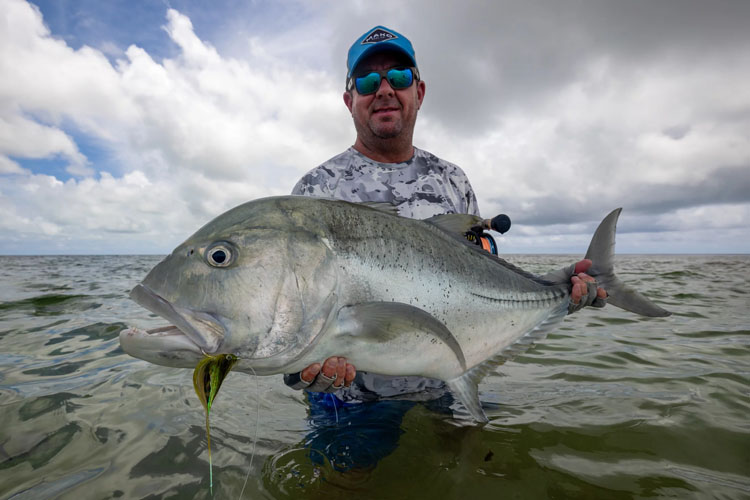 Jay was determined to land a Bumpie too and on day four he finally ticked that box by landing a great fish, he also went on to landing another Yellowmargin Trigger and together with his GT he earned himself the second Slam of the week.
Ian rounded the week off nicely with several GTs and added to the species count by landing a great Napoleon Wrasse that was tailing on the flats, he also managed the only Milkfish on the last day.
Overall, despite the challenging weather conditions, the team did exceptionally well.
Stay tuned for next week's report.
Tight lines,
Alphonse Fishing Co. on Providence Atoll
TOTAL CATCH STATS THIS WEEK:
Giant trevally 43
Bumphead Parrotfish 10
Bonefish 5
Milkfish 1
Triggerfish 6
Sailfish 1
Dogtooth Tuna 3
Napoleon Wrasse 2

CONTACT US
If you would like to know more about the fantastic fishing opportunities on offer on Providence Atoll, you can contact our saltwater fly fishing expert Peter Collingsworth on 01603 407596 or via email at peter@sportquestholidays.com. He would love to speak with you.