Another mixed group of anglers from around the world joined us aboard our mothership for the fifth week of the Providence March – April 2022 fly fishing season. Some of the group were first time visitors to Seychelles, while others were about to begin their second week of fishing with us. We had set our expectations for a diverse 6 days of fishing and this is how it went…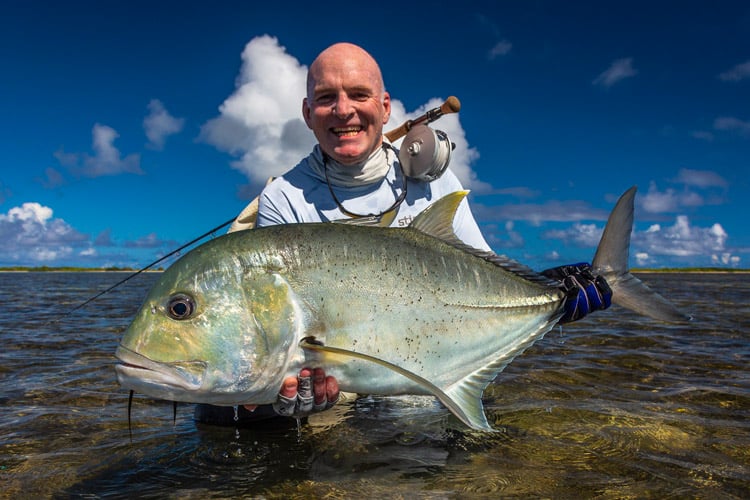 The first day of the fishing week saw our guests experience a picture-perfect day on the flats with little wind and bluebird skies. These conditions allowed for several sight fishing opportunities for GTs on the flats which resulted in our group amassing a total of 12 GTs for the day. The highlights included first time GT success for both Jim and David. David however, hit the ground running in a big way landing a total of 4 GTs and a Triggerfish on his first ever day on the flats in Seychelles. Well done, David, a wonderful way to start your Providence adventure!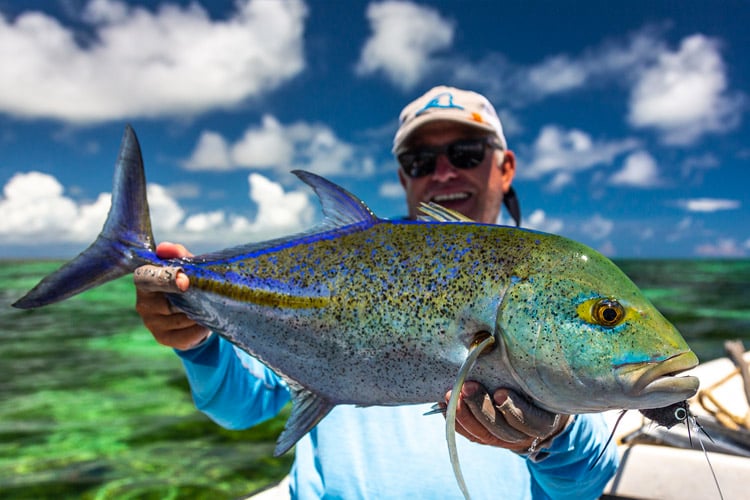 The second day provided plenty of action on the GT front with a total of 12 landed for the day. A special mention for both Joe and Paul who managed to complete their first ever GT catches on the fly, while Jim enjoyed success, hooking and landing his first ever and mighty powerful Bumpie.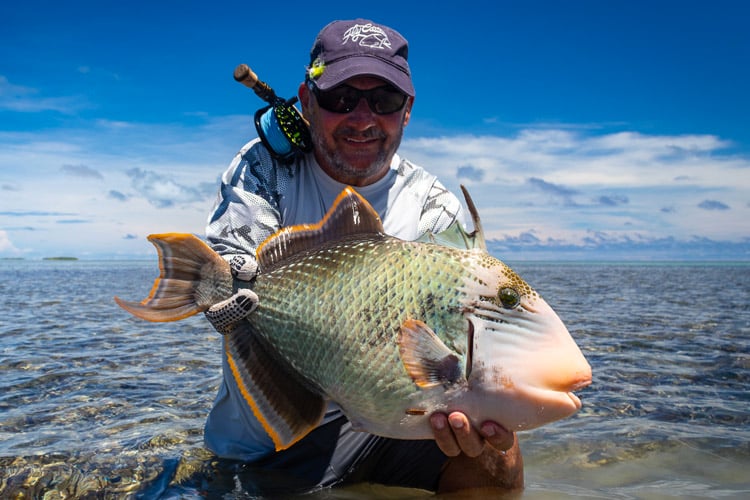 The third day brought with it wide variety on the flats with a total of 10 GTs, 2 Triggerfish, 1 Bumphead Parrotifsh, and a Milkfish landed. The GT catch of the day went to Dom who expertly fished a large bow waking fish that pulled the measuring tape to 101cm… excellent job Dom! Watts enjoyed first time success for the atoll's beautiful Yellow Margin Triggerfish, landing not 1 but 2 for the day. Well done Watts. Nico found himself in the thick of the action first thing on the third morning when his second presentation to a school of Milkfish saw him go tight and eventually land his first ever Milkfish catch. Nico then went onto to tame a monster of a Bumpie measuring 110cm. Well done gents, a momentous day on the flats with several first-time successes!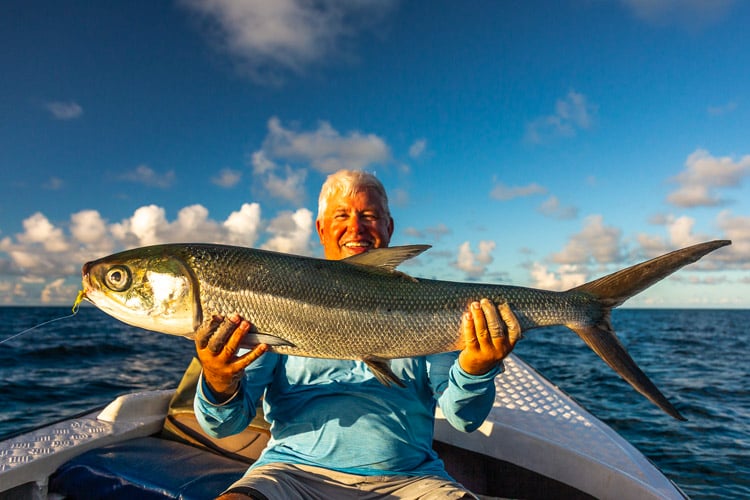 The fourth day produced a full house of catches on the flats with several of the atoll's iconic species brought to hand for the day. Our group made their most of their opportunities in front of the GTs and landed a total of 18. Nico and John both enjoyed stella days landing 3 and 4 GTs respectively. David and Peter also found themselves in the right place at the right time with each of them landing 2 Bumpies, well done guys! The atoll's large Bonefish made an appearance late on in the afternoon providing great skinny water flats fishing for Watts, Paul and David. Paul's Bonefish was a special fish as it completed his flats slam consisting of a Bonefish, GT, and Triggerfish… great work Paul!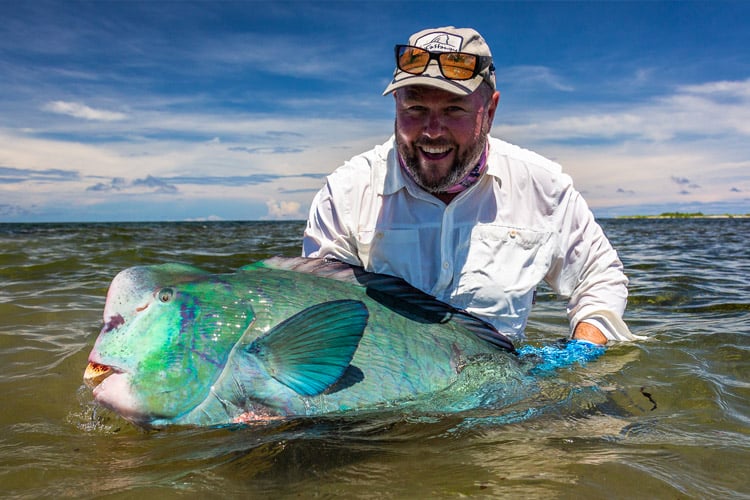 The fifth day saw a total of 5 GTs landed. The fish of the day was caught by David after it was spotted crossing a shallow flat with its back out of the water. Once David's presentation was acknowledged by the fish it blasted towards his fly, inhaling it with a violent splash which was followed by a powerful fight. David eventually managed to reel in a beauty which measured an impressive 101cm. David's run of good form continued and he went on land his first Triggerfish and first Bumpie to complete a flats slam… great work David! The Bumpies were encountered in substantial numbers with large schools frequently seen on the flats. Ian, Paul, and Watts all tasted success on this front with each of them landing their first Bumpies on the fly. Well done gentleman!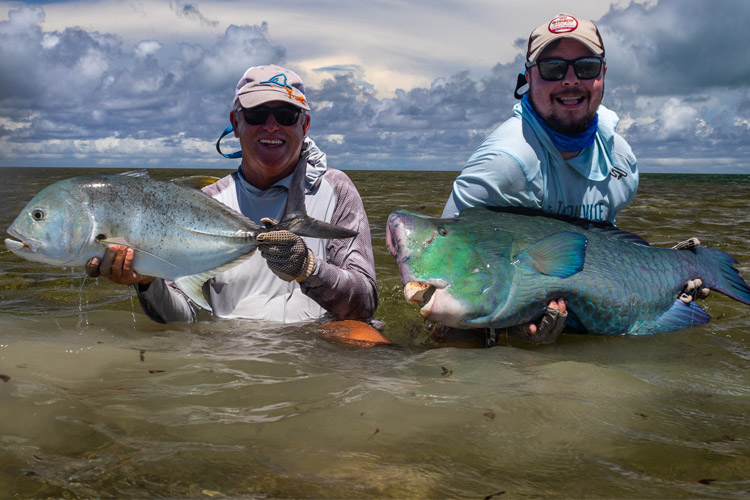 The sixth day dawned with dark clouds and rolling banks of rain. The tricky weather conditions deteriorated with the addition of lightning resulting in our group losing half of the fishing day. Despite this, our group still managed to land a total of 3 GTs and 6 bonefish.
This wraps up a wonderful week of fishing the flats of Providence. As always, we thoroughly enjoyed exploring this outlandish atoll with those that joined us and we look forward to welcoming you all back soon.
TOTAL CATCH STATS THIS WEEK:
Giant Trevally – 60 (2 GTs over 100cm+)
Triggerfish – 13
Bumphead Parrotfish – 11
Bonefish – 16
Milkfish – 2
Until next week,
The Providence Guide Team
CONTACT US
If you would like to know more about the fantastic fishing opportunities on offer on Providence Atoll, you can contact our saltwater fly fishing expert Peter Collingsworth on 01603 407596 or via email at peter@sportquestholidays.com. He would love to speak with you.