As the season ends in Providence Atoll our guides at the Lodge are now writing up their catch reports, the sixth of which is now in.
In what felt like a blink of an eye, we had already reached the start of the 6th week of the season. This week we welcomed a group mostly comprising of Providence regulars onboard our trusty mothership. The routine of tackle setup and safety orientation was at this point running like a well-oiled machine and we made quick work of both before we set sail towards the exciting saltwater wilderness of Providence Atoll.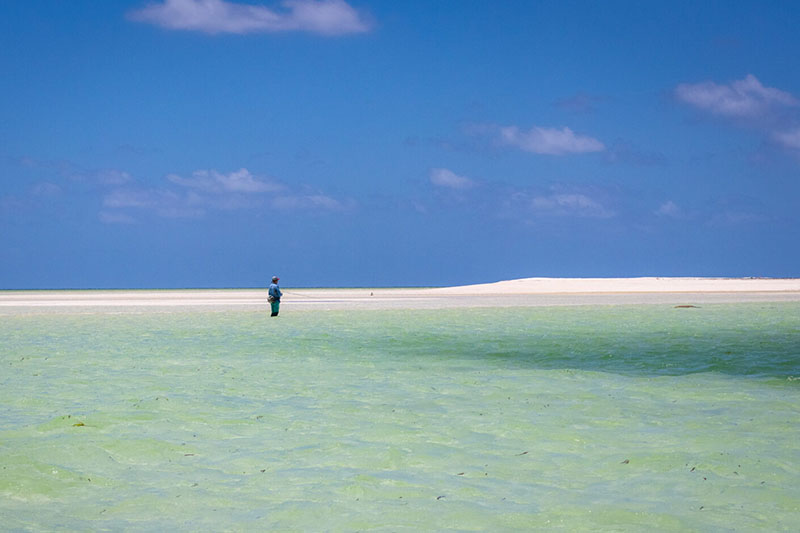 Day 1 began with clear skies and a light south-easterly breeze. The conditions allowed our guests to enjoy the full range of diversity available on the atoll landing a total of 3 GTs, 3 Triggerfish, 5 Bones, and 2 Bumphead Parrotfish for the day. A special mention for Guetye who enjoyed a great day that began with a GT, his first Triggerfish, and eventually a large Bonefish that he managed to entice with a shrimp fly imitation which secured his first-ever Indian Ocean flats slam. What a way to get the fishing week started! Great job Guetye.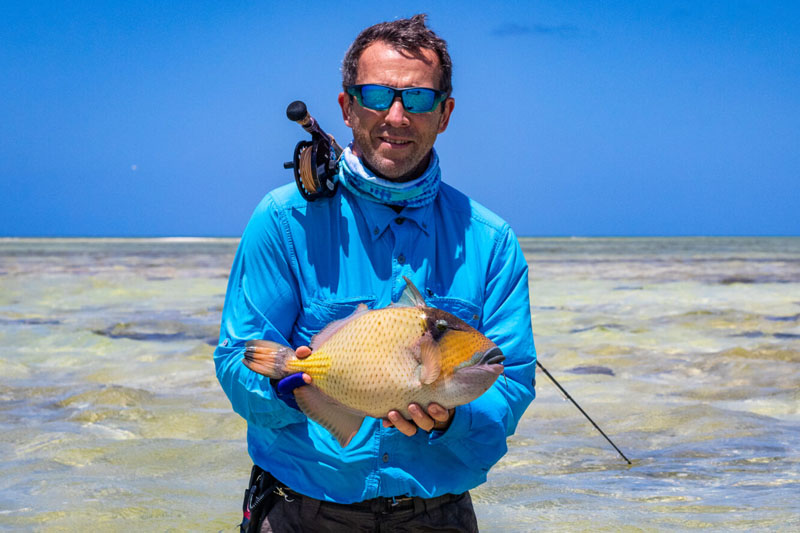 Weather conditions on day 2 were good, although somewhat windy with a stiff south-easterly blowing. Fly fishing for the Giant Trevally proved to be difficult on this day with a single fish coming to hand. Other catches of note included Guetye's first-ever Bumphead Parrotfish caught on the fly as well as an absolute monster of Bonefish landed by Miachel. Miachel's dream catch was encountered while he was wading the interior of a white sand flat when he saw a tailing Bonefish and after perfectly presenting his fly to the fish, he came tight. After surviving several runs into the backing he managed to land his biggest ever Bonefish which measured a staggering 31 inches. Great Job Miachel!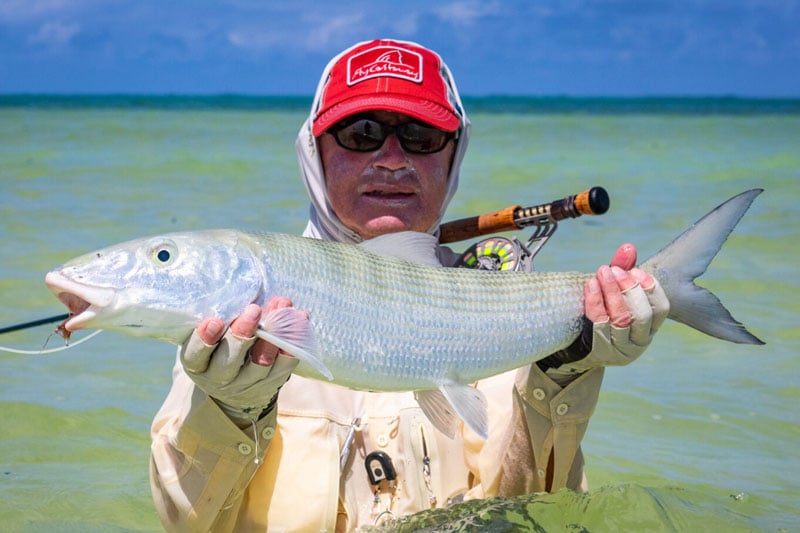 Day 3 dawned with clear skies and a continuation of the strong easterly wind. A total of 4 GTs, 1 Triggerfish, and several Bonefish were landed for the day. Stephane enjoyed some cracking moments of fly fishing hooking and landing a colourful Triggerfish and later landing a monster Bonefish that pulled the measuring tape all the way to 29 inches. Awesome fishing, well done Stephane.
Day 4 saw a marked improvement in the GT fishing, with a total of 11 landed for the day. Miachel had a great day managing to land a couple of Bonefish in the skinny water surrounding one of the larger white-sand islands of the atoll. Fly fishing for the different Groupers and Snappers available on Providence also turned up a couple of gears and some truly entertaining fishing was had by our guests while drifting over the various carol gardens scattered throughout the atoll.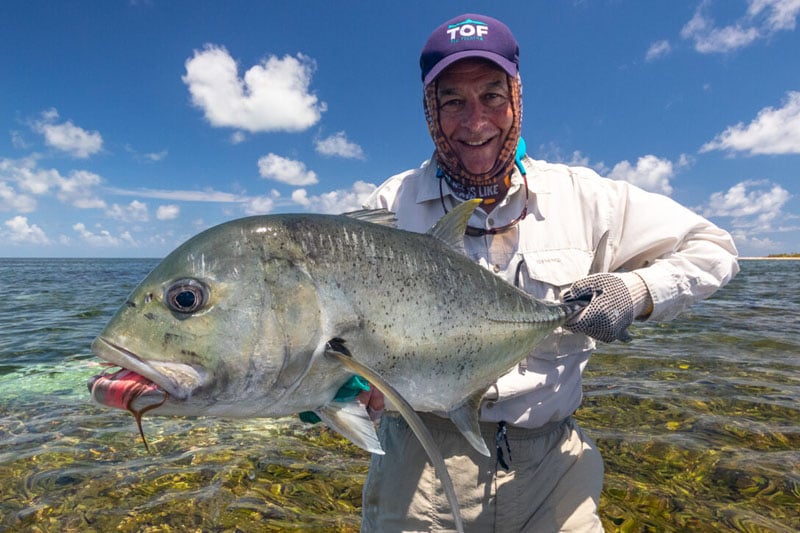 Day 5 and we welcomed a break in the strong south-easterly wind that had been blowing for most of the week thus far. Enjoying the somewhat improved conditions our guests went on to capitalize on their opportunities and landed a total of 7 GTs and 1 Bumpie for the day. John landed 2 energetic GTs and Guetye continued his good form with Bumpies landing yet another one for the week. A special mention for Igor who encountered one of his bucket list catches after wading through some deep water and onto a shallow coral head exposed by the spring low tide. Once perched on top of the coral head he saw a magical blue shape appear on the edge of another large coral head just inside casting range. Following the presentation of his brush fly and an energetic retrieve, he came tight to the almost mythical Napoleon Wrasse. After an intense fight trying to keep the fish away from the numerous coral snags in the area, he managed to land his dream saltwater fish. A well-deserved catch, well done Igor!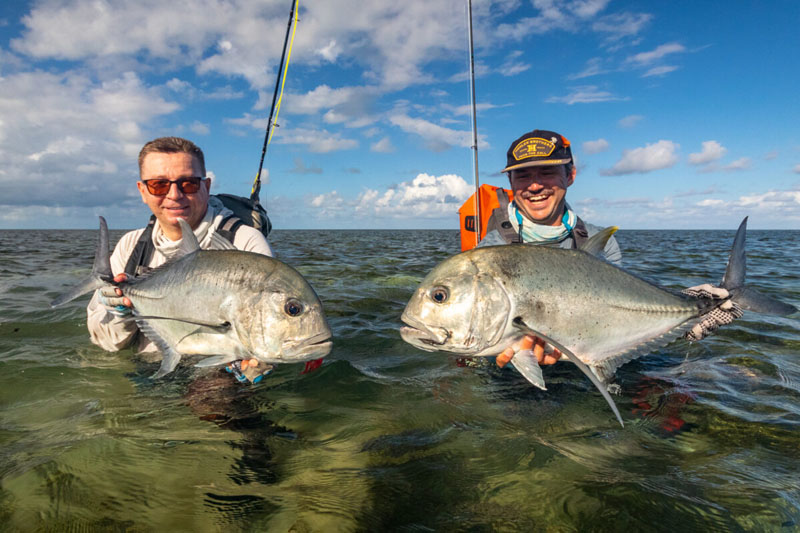 The last day of the fishing week dawned with gloomy skies and heavy rain. Fortunately, these conditions were short-lived and we enjoyed clear skies by midmorning. A great day was had by our guests with 11 GTs brought to hand! A special mention goes out to Hugo who managed to land and tame 3 of 11 himself. After landing a beautiful Bumpie, Rodolphe then went on to hook and land his first ever GT on the fly, a great achievement, well done Rodolphe!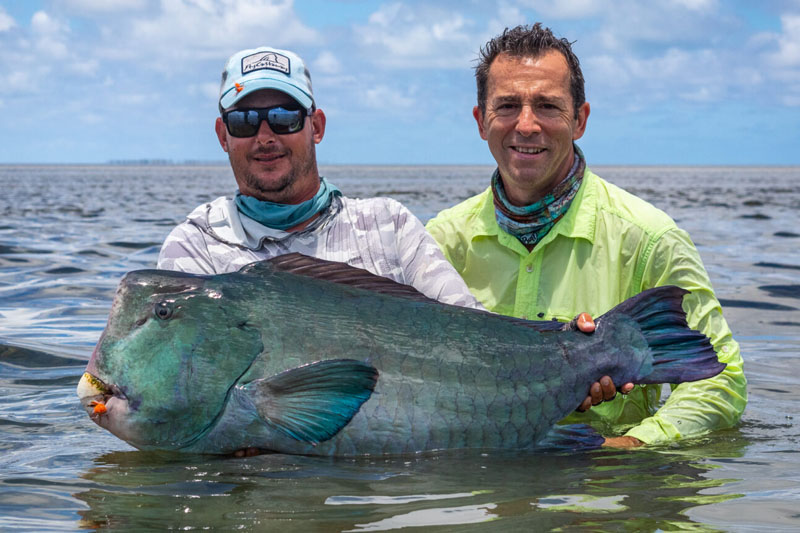 That brings us to the end of a fairly challenging but enjoyable week of fishing on Providence Atoll. The diversity of fly fishing scenarios available to our guests was on full display this week and we made the most of the opportunities presented to us with several epic catches coming to hand.
Our catch tally for the week was:
GTs – 37
Bumphead Parrotfish – 5
Triggerfish – 4
Bonefish – 9 (2 over 10lbs.)
Napoleon Wrasse – 2
Total tally of other species landed – 486
Until next week,
The Providence Guide Team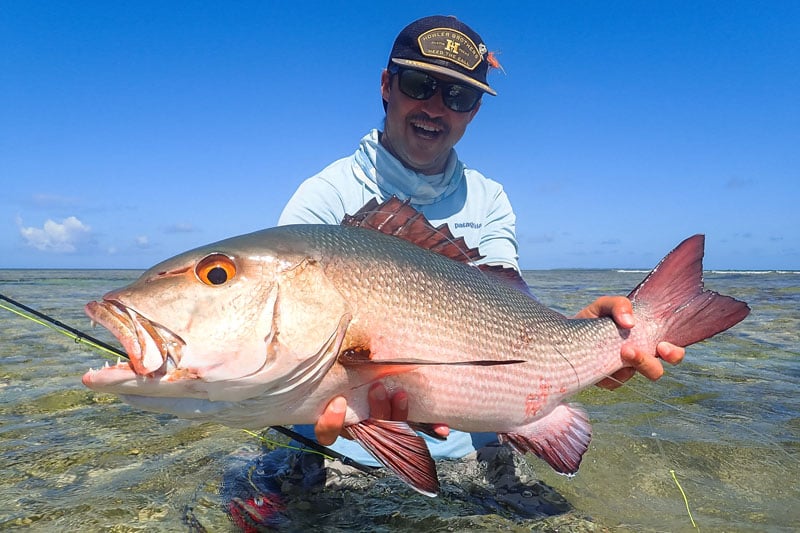 CONTACT US
If you would like to know more information about the amazing saltwater fishing on offer you can read our full tour page for Providence Atoll. Alternatively, you can contact our saltwater fly fishing expert Peter Collingsworth on 01603 407 596 or email at peter@sportquestholidays.com.