Welcome to the opening week of our Providence 2019-2020 season, a trip where we welcomed a couple of familiar faces who were joining us for the second time on the atoll with us.
DAY 1
The first day dawned with excitement and a slight south easterly breeze. With an early morning low tide, the boats were straight onto the flats and with that, the GTs came. Chris, Christiaan, Tom, Shiloh, Nic, Jordan and Jeorg managed to open their GT accounts, with Tom landing a great fish of 96cm and Chris landing a fish of an even 90cm. The Bumpies were up on the flats and Nic, John, Ron and Joerg managed to each land a fish. A special mention goes to Joerg, who, after landing a GT and Bumpy, managed to land an impressive 141cm Barracuda on the flat. With the water high on the flats later in the day we enjoyed a Sailfish session, with Tom and Joerg both landing a fish each before the day came to a close.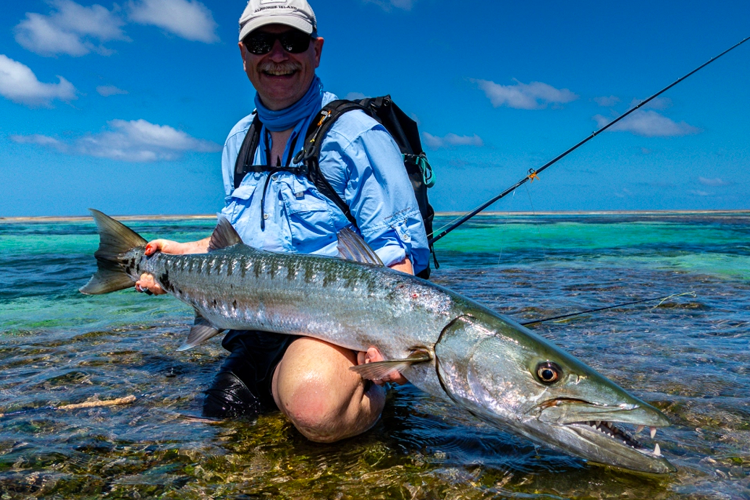 DAY 2
The second morning saw another enthusiastic start and the rewards were reaped as Tom, Chris, Shiloh, Jordan and Christiaan all landed GTs. A special mention goes to Christiaan and Jordan who managed to land twin GTs of 118cm each; Christiaan spotting his fish late on into the pushing tide crossing a turtle grass apex, he managed to present the fly in the perfect place and the big fish engulfed the fly on a second attempt. Jordan's fish was an exceptional tale of the magic of Providence. After teasing up a sailfish offshore he presented his fly to the fish, it was engulfed as it landed but instead of the customary Sailfish jumps, the fish sounded and after a tug of war was brought up to the side of the boat. He rounded off his remarkable day by managing to pick a Moustache Triggerfish out of a school of tailing Bumpies.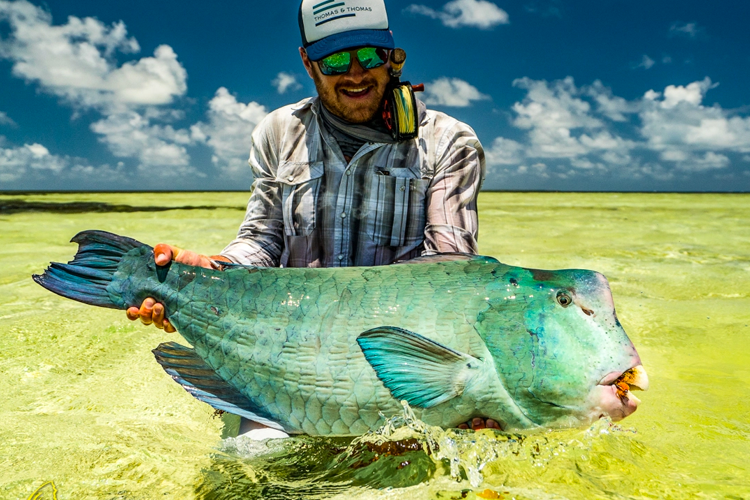 DAY 3
The third day brought a change of scenery as the boat was moved to the midpoint of the atoll and with a spring low tide at midday, the boats managed to access the eastern side of the atoll. A great day was had as a total of 16 GTs were landed. Christiaan had a cracking day landing 7 by himself. A special shout goes out to Joe and Mike, landing 3 GTs and 2 GTs respectfully. Jordan managed to continue ticking fish off his list, this time landing a Bumpy in record time.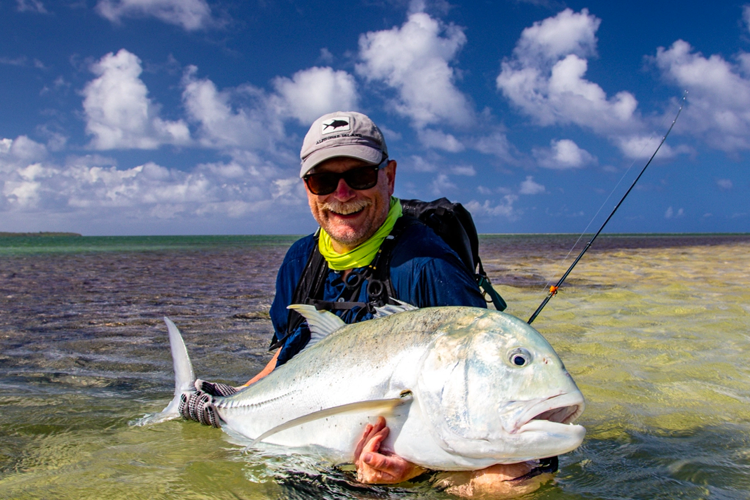 DAY 4
The fourth day dawned clear and breezy. With some higher water on the flats in the morning, the boats had access into the unique inner lagoon systems of Providence. It proved to be fruitful as Joerg, Giles, Shiloh, Jordan, Nic, Tom and Joe managed to all land GTs. Tom finally being able to break the one-meter mark with a beautiful fish who was bow waking in super skinny water. Joerg managed to continue his stellar week landing 4 GTs before lunchtime. With access to the lagoons, there is the potential for amazing Triggerfish fishing, and this was the case as Christiaan managed to land 3 Yellow Margin Triggers and Mike managing to get his first Moustache Triggerfish as well.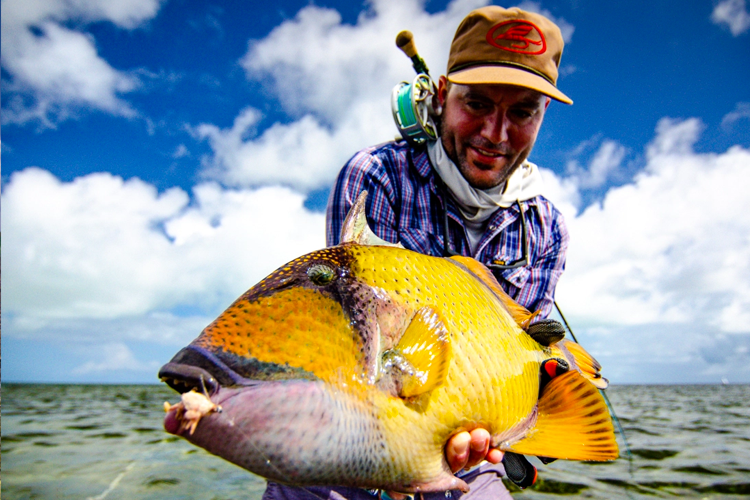 DAY 5
With the tides starting to move towards the neaps, the fifth day brought some more lagoon fishing. A total of 8 GTs came to hand with congratulations going out to Mike, Joe, Christiaan, Jordan and Ron. Christiaan managed to land another Yellow Margin Triggerfish and Shiloh managed his first Triggerfish. This was welcomed with great excitement after many previous disappointments. Joerg tamed another Sailfish in the morning to add to his incredible week.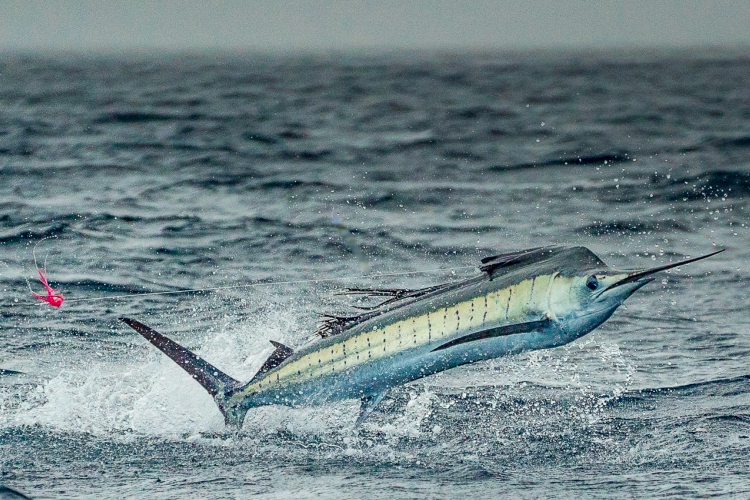 DAY 6
The morning of Day 6 brought in some heavy winds and the looming cloud cover forcing a move back to the relatively sheltered northwestern section of the atoll. After a slightly later than usual start the flats were hit. A tough day only saw 3 GTs coming to hand, although Joe managed to catch his first Moustache Triggerfish which was awesome!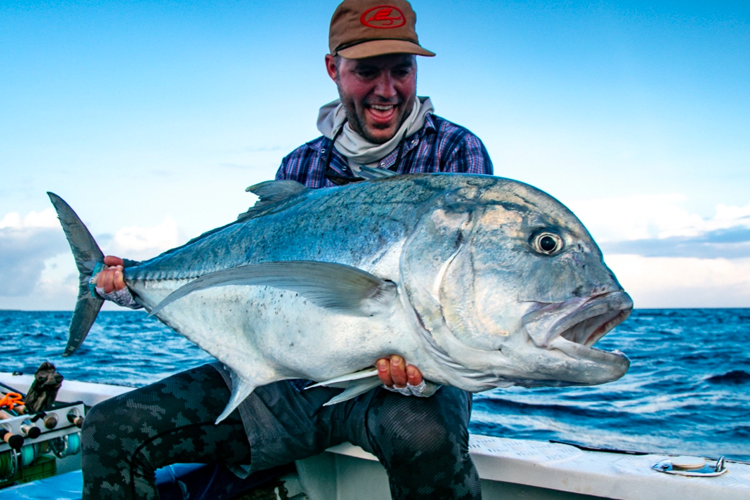 DAY 7
Day 7 dawned breezy again but with the mothership moored close to the flats the boats spread out for another day of fishing. A total of 8 GTs were landed, a special mention going again to Jeorg who managed a beautiful fish of 106cm. He wasn't done there though and managed to land his first Yellow Margin Triggerfish, almost completing his list of targeted species. It was a day for the tailing species and after landing two GTs Chris managed to land 2 Bumpies as well, finally catching a Bonefish to round off the slam. Christiaan also managed a slam, landing a GT, a Bonefish and 2 Triggers. John ticked the Yellow Margin Triggerfish off of his list to round off another stellar day out on the atoll.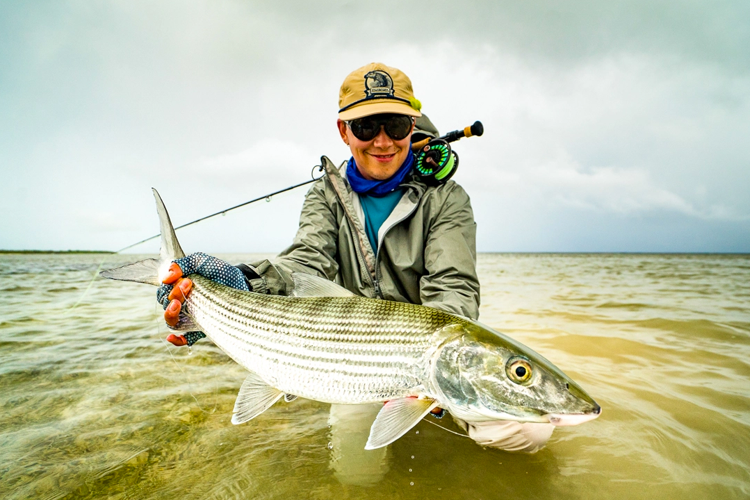 DAY 8
Dark skies and gloomy weather greeted us on the last morning of the trip. After launching off the mothership a large school of Milkfish were found feeding for the first time this week. The boats quickly got into position and it wasn't long before Giles managed to hook and quickly land his first Milkfish. After a few near misses, Tom and Christiaan managed to land their first Milks as well. A few pods of GTs were found in the eastern coral gardens and Joe, John and Mike managed to land 4 fish. A special mention goes to Mike whose fish came in at 102cm. With the high cloud cover, the water on the flats cooled off and brought with it some epic Bonefishing. A great session was had on the falling afternoon tide. With the fishtailing hard, Shiloh, Nic, Christiaan, Joe, John and Mike capitalized, landing many fish. Christiaan and Shiloh managed to land two great fish both going 10 pounds, a great way to round off the first week of the season.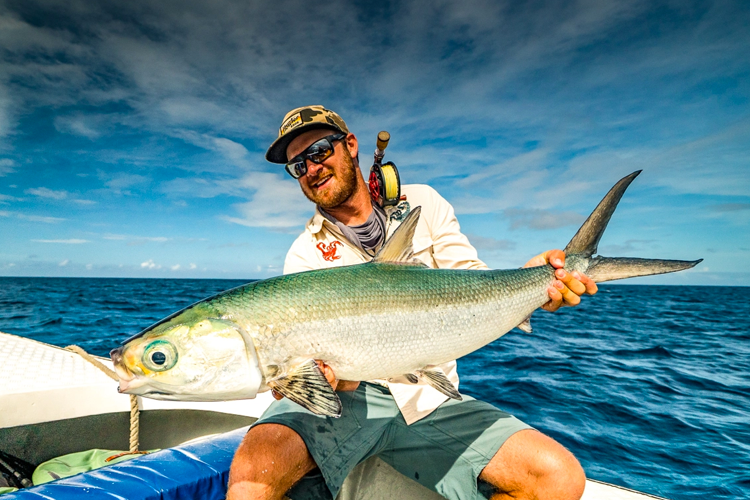 The numbers stacked up as follows:
GTs – 69
Bonefish – 41
Bumpies – 10
Triggerfish – 13
Sailfish – 5
Milkfish – 3
Until next week,
Tight lines,
Peter