The harsh weather we experienced last week unfortunately resulted in us losing a day's fishing of our final week of the season, an unfortunate and exceptionally rare occurrence. With 5 days of the season remaining, we were determined to make the most of the time we had left on the atoll.
Day 1 – We began the week coming off the spring tides and moving toward the neaps, which provided suitable conditions for the tailing fish species. The Triggerfishing was great with Stephane landing 3 Yellow Margin Triggerfish and Bertrand managing to land 2. Jack also got stuck into the Triggers and managed to get an awesome Yellow Margin Triggerfish, while George managed to get his first Moustache Triggerfish on fly; impressive fishing guys, well done! The GTs provided our guests with multiple shots of which we managed to convert with Marko, Stephane, Bertrand and Tim all opening their GT account on Day 1.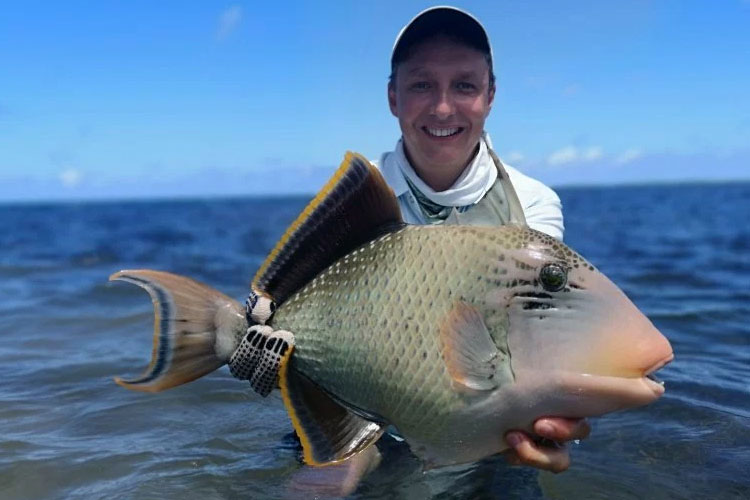 Day 2 – The GT and Triggerfishing continued to impress with Jack, Dominic, Malik and Harold all landing 1 each. Tim enjoyed a great day on the eastern side of the atoll and ended his day with 5 GTs in total. The species fishing was incredible with loads of Snappers, Emperors and Grouper caught for the day. All in all, it was a great second day out on the flats.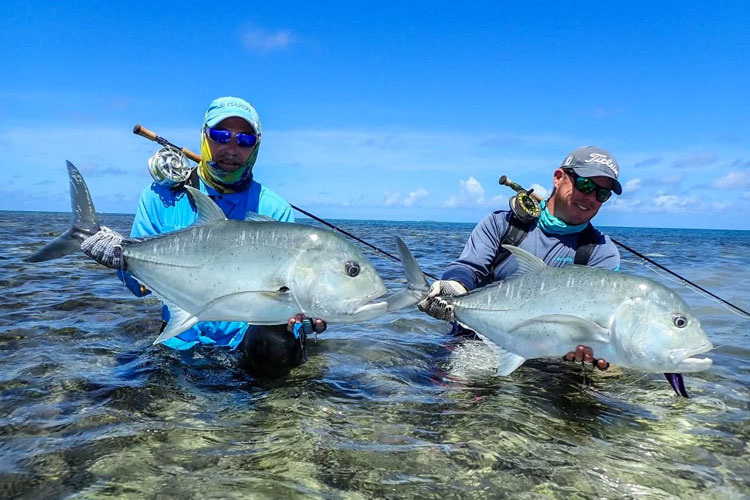 Day 3 – We encountered good numbers of GTs patrolling the flats, these fish were found to be following sharks or on the back of stingrays. Dominic enjoyed good fishing and managed to land 2 while George also managed to get a GT to hand. Dominic then chipped in with a strong Yellow Margin Triggerfish to add to his day's exploits. Tim, after travelling to the Seychelles previously and not having the best of luck with the Bumphead Parrotfish, managed to get one to the net, well done a beautiful fish Tim! The highlight of the day however was the amazing Bonefishing our guests were lucky enough to experience. Both Stephane and Bertrand were able to land fish over the 10lb mark, well done guys!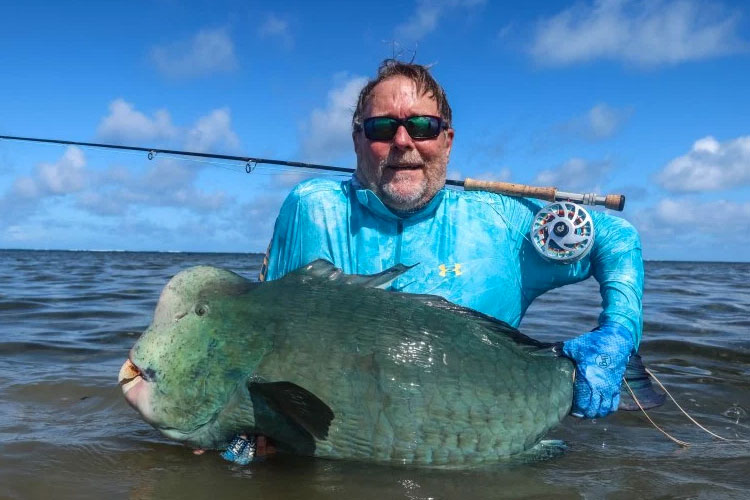 Day 4 – The GT fishing was incredible today with Bertrand tailing 5 GTs with his biggest measuring an impressive 105cm! Malik followed suit and landed a super strong fish that stretched the measuring tape to 104cm. Stephane managed to land 2 GTs and later added yet another great Yellow Margin Triggerfish to his already long list of catches for the week.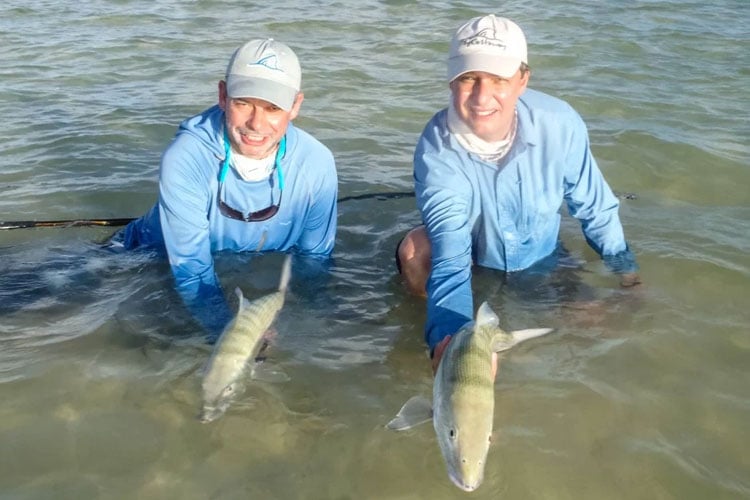 Day 5 – The fantastic GT fishing continued on the final day of the fishing week with Matthew landing 3 GTs. He then went on to complete a flats slam by landing a Yellow Margin Triggerfish and a Bonefish, well-done sir! Dominic and Tim both managed to land a good GT each while Stephane added another Yellow Margin Triggerfish to his name. Our guests were treated to some insane skinny water, tailing bonefishing which is a real treat to experience anywhere in the world.
All in all, another great week enjoyed by our guests and guides with some spectacular fish caught. This atoll is full of surprises and can produce a fish of a lifetime at any minute; as our guests realized during this week.
Our catch tally for the week was as follows:
GTs – 57
Bumpies – 1
Triggers – 21
Species – 283
With that we conclude another season on Providence Atoll, we look forward to the coming October – December 2019 season, till then, tight lines.