Sportquest Holidays partners 'Tropical Sea Angling' have just returned from their first adventure out to Rodrigues Islands headed up by guide Johan and Douglas, guides for Tropical Sea Angling.
They travelled to this amazing jigging destination along with 3 anglers to test fish the area and by the looks of their report and pictures, it ticked many boxes.
Along with Tropical Sea Angling, we have secured a few weeks based on single anglers travelling. So if you are interested in this truly amazing adventure then do get in touch with us. Please remember this is an extreme fishing adventure with nights away on board a Big Game boat and the fishing can be fairly tiring so as long as you go prepared then you will have the best fishing experience. Over the Johan and his report
Rodrigues Island 2019
Here comes the summary of our first trip to Rodrigues Island. As you have probably already seen on our previous posts, fishing has been absolutely amazing! The amount of fish and activity that we have experienced here is something beyond the usual. The only other destination where I have experienced such fishing is on Ascension Island.
Day 1 – The test!
The first day we fished around the island and caught over 30 fish with several amazing species. Our Captain, Cyril, explained that the first day is important to fish around the island to see the level of experience and if you can handle the sea. He calls it "the test" because the coming days would be pretty windy with wind forces that cut around 10 M / s and swell around 3 M, I was still holding out for our long trip to west Hawkins bank located 100 NM out to sea where we had planned to fish for a total of 89 hours…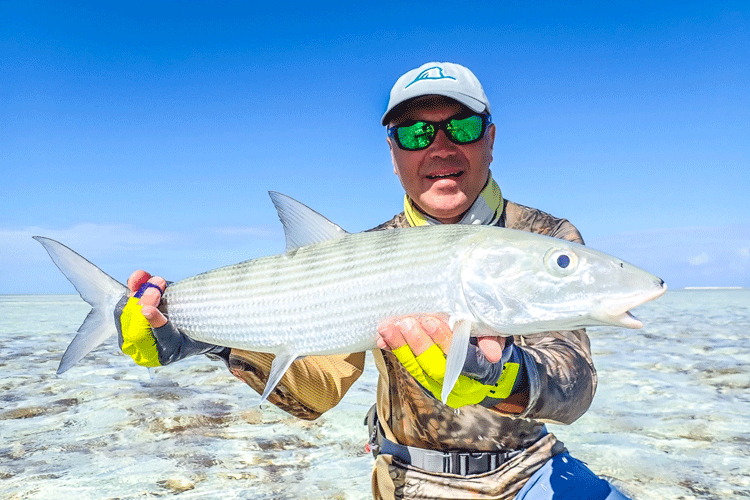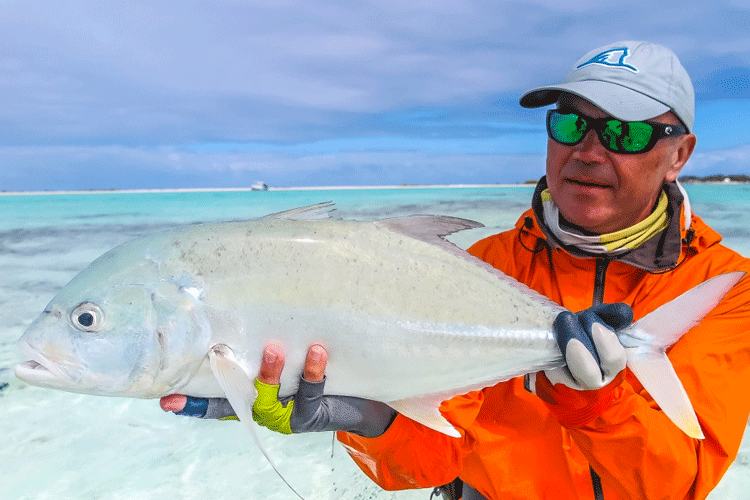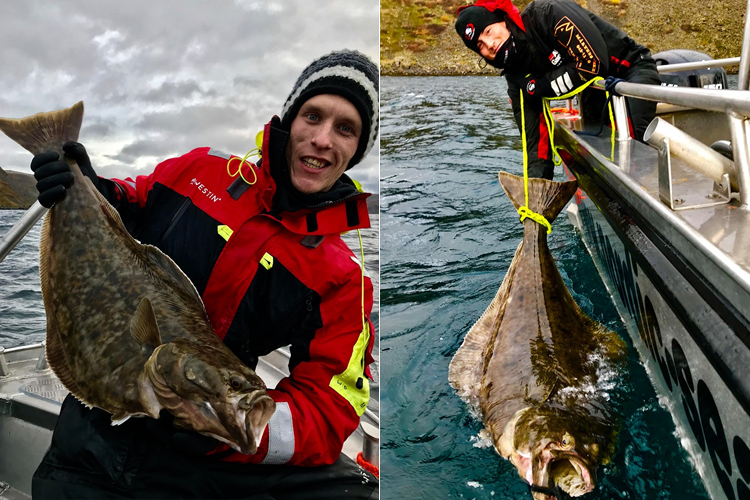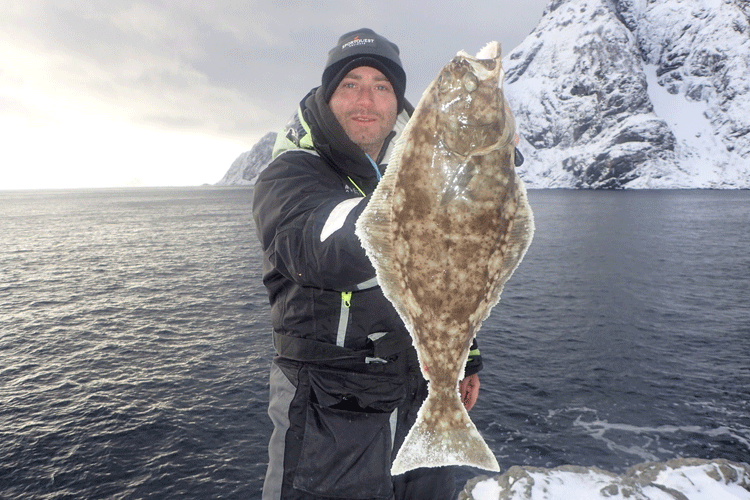 Day 2 – Hawkins Bank, here we go!
At 16.00 pm the next day, we met up with the captain and we were pretty much expecting him to say the sad news that we have to cancel. Instead, we were met by a confident Cyril with a tricky smile welcoming us aboard the boat and says "it's on the border, but the boat can make it without problems", he saw that we were a bunch of guys who could handle a big adventure on a rolling sea, so we set sail to the famous Hawkins bank. We could all feel the seasickness coming crawling, but we forced ourselves to bed and focused instead on being ready for first-day fishing out at Hawkins bank.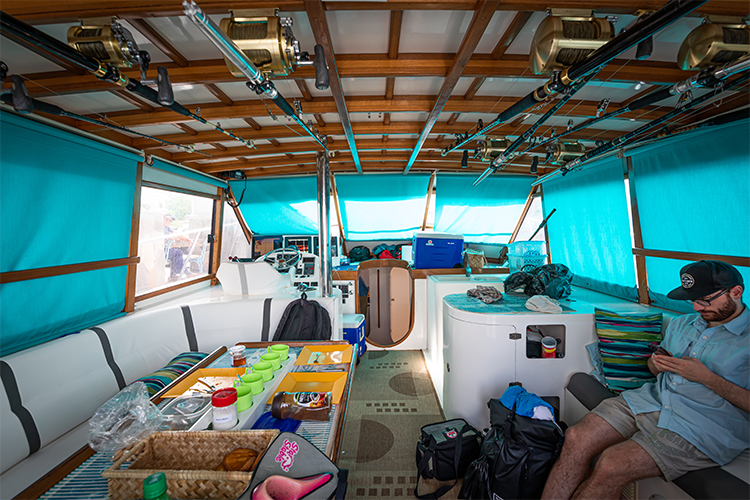 Inside of the boat during the first-night aboard 
Day 3 – Sea Sick, Sleep Deficiency and Crazy Fishing!
Now finally it was time to get up and shake off the seasickness and finally start fishing. We were all letting our jigs down and before everyone was down on the bottom, Matthias was now standing playing what looked like a sick fish! Not long after this hook up, another rod buckles and all sleep deficiency and seasickness was directly forgotten!
Full action and I lost count how many times we had both double, triple and quadruple hookups. Joy came from not only the multiple hookups, but it was also the number of different species. Throughout the trip, we landed at least 22 species, probably more… the day went on this way and as soon as fishing died off a little, we started looking for a new area.
Our first thought was, that now finally we could rest, but alas we were completely wrong!! As soon as we started to troll, it was fish after fish and even trolling we were getting triple hookups from Yellowfin Tuna or big Wahoo.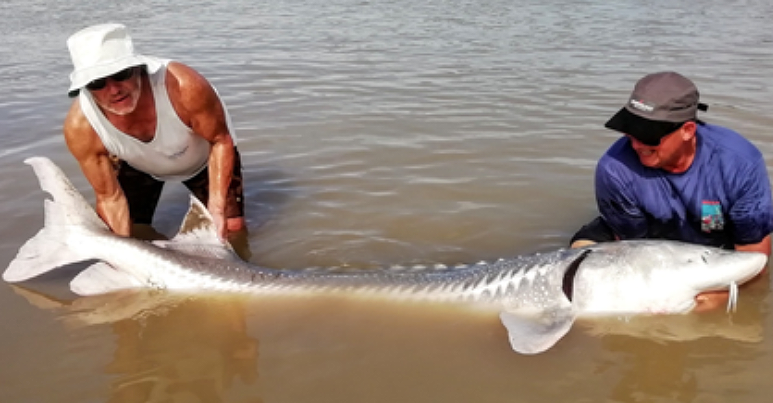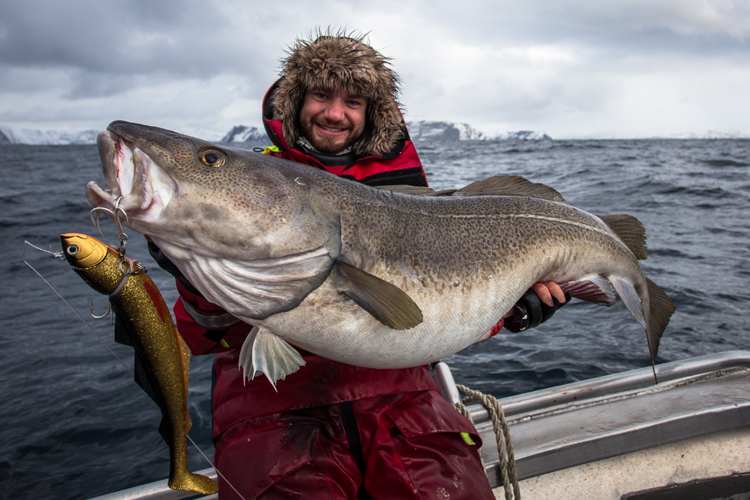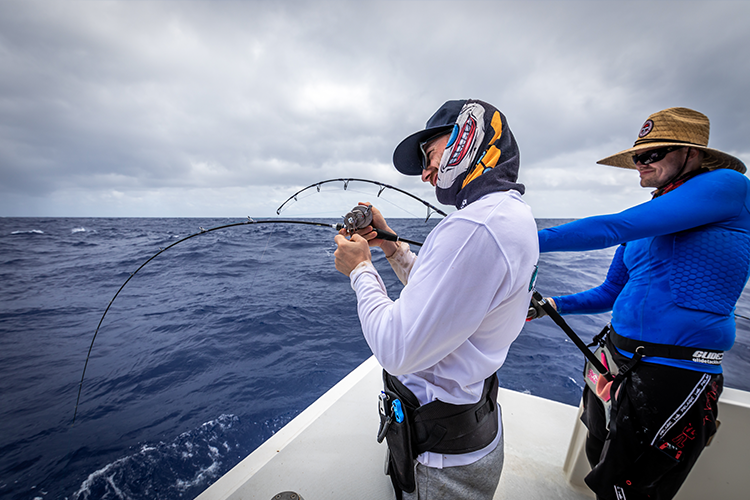 When our arms started hanging way down to our knees at the end of the day and the sun began to wander down towards the horizon then it was time to put in the next gear…. because it is now that the Dogtooth Tuna go on the hunt.
We all have to keep going even if the lactic acid starts to burn and as soon as the sun goes down, an awesome Dogtooth Tuna race started. A completely unforgettable experience that just needs to be experienced! Especially when you know you'll catch Doggies almost up to 100 pounds.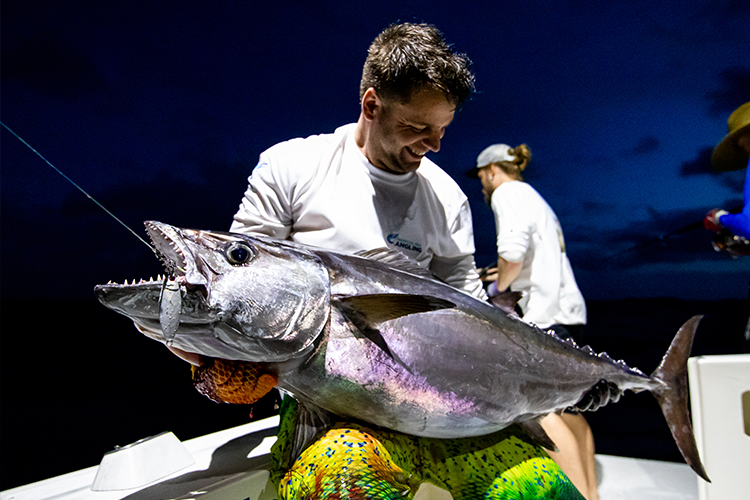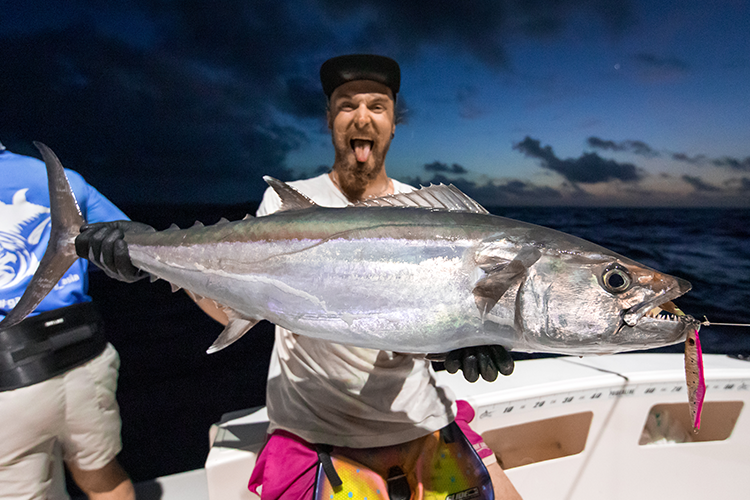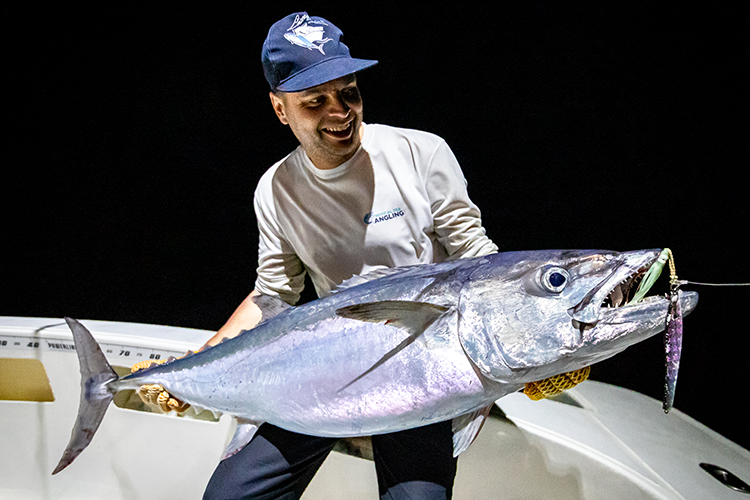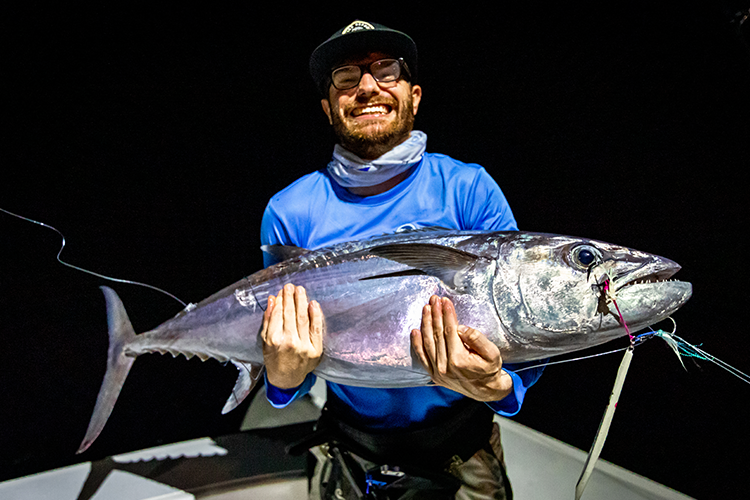 We stopped fishing around 19:00 and ended the day with a good dinner and discussed how we landed 55 fish on this day,  with many of these being Yellowfin Tuna, Wahoo and Dogtooth Tuna!
Day 4 – Rough Seas, Sleep Deficiency and even better Fishing!
It was hard to imagine that we could beat the first days' results, but we did once again! During the day, we drove to roughly the same mark as the previous day for both jigging and trolling! The Biggest Yellowfin Tuna of the day was about 35 kg but we also got to witness a huge sailfish chasing down our lures!
Then all of a sudden we had three behind the boat all fighting for the lures, one was hooked then another but as they started jumping around the boat one threw the hook, but we managed to land one of those that we estimated at about 40 kg that was marked with a satellite tag and then released back!
This was really nothing we had expected and is probably something we will never forget.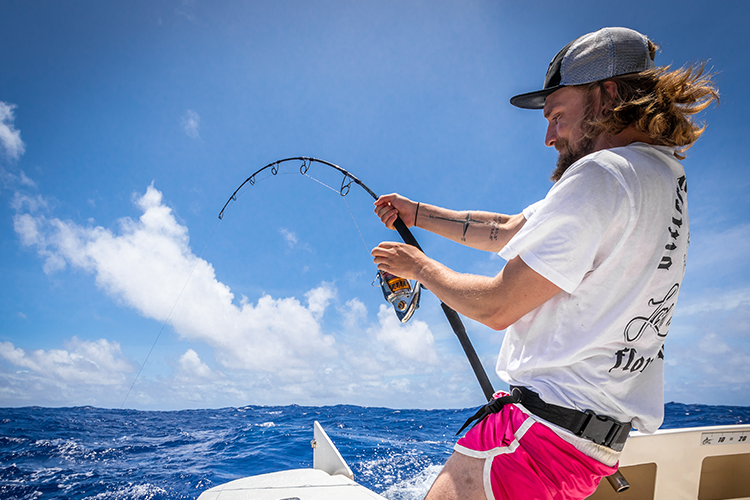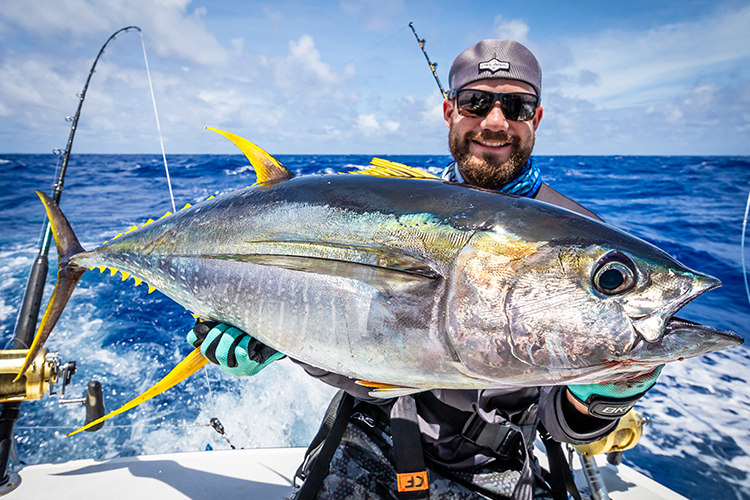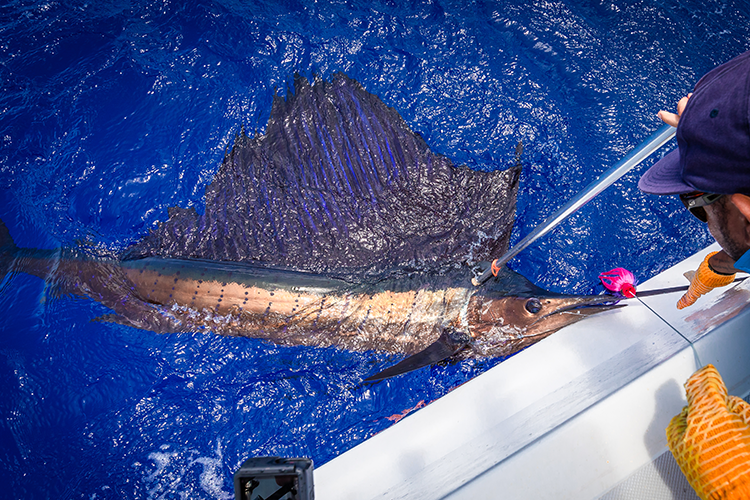 We then topped the day off with a completely crazy action-filled evening fishing after Dogtooth Tuna where we landed two around 40 kg and a majority around 10-20 kg!
It was non stop action and the most brutal time! At 20:00 we stopped fishing when everyone was completely exhausted… we were able to add up the total as 67 landed fish!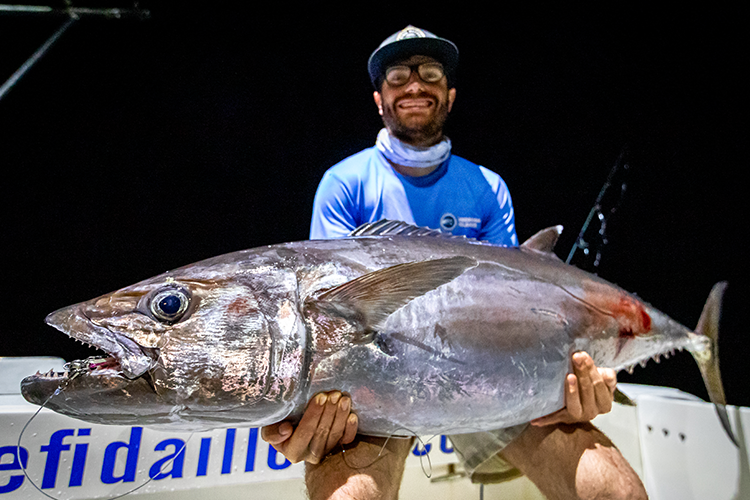 A Large Dogtooth Tuna caught during the night
Day 5 – Finally Good Conditions!
We woke up on the last fishing day and the sea had laid flat pretty much all night. We really felt like we had our energy back and today we're decided to go all out on our last fishing day at Hawkins bank.
Since none of us are fans of trolling, we started to realize that there's so many fish out there, so we might as well throw out some bait ourselves behind the boat as our backs were aching. This really took troll fishing to a much more fun level and several times we got both double and triple hookups when we trolled in this way!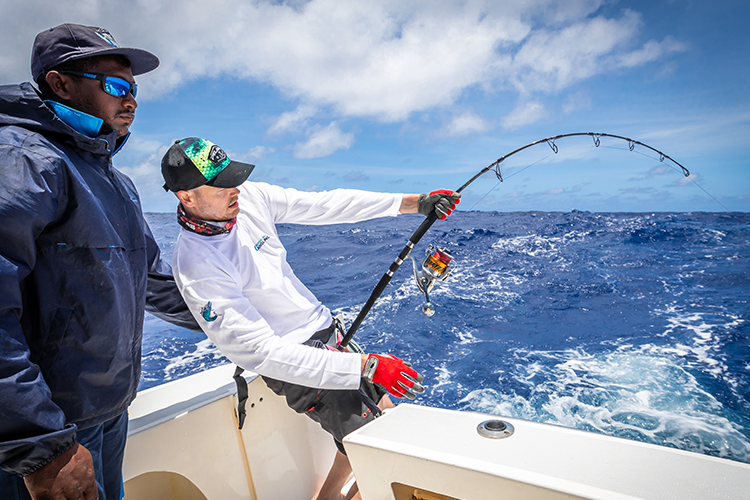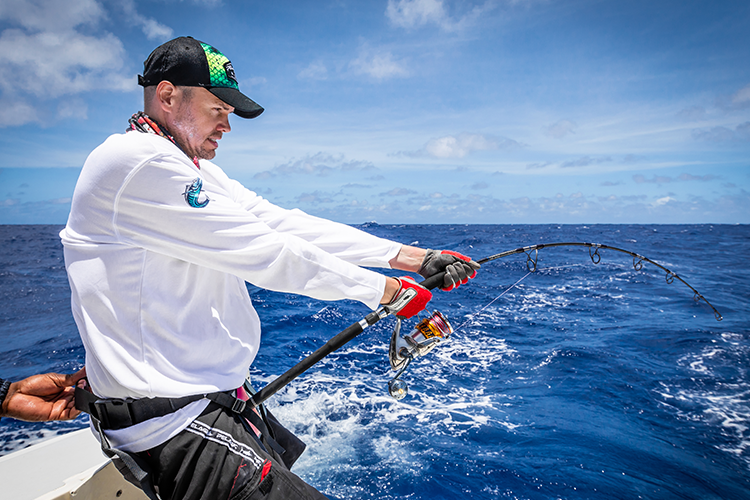 The fact that we then had a Marlin that went up and took one of our baits made it all even more exciting unfortunately it dropped it pretty quickly after the first bite. But knowing that they are here, made it all very exciting!
Fishing continued as usual where we exchanged between jigging and trolling. At the end of the day, we saw a big Dogtooth Tuna attempt to take Matthias popper that we were trolling behind the boat. We stopped the boat and all threw poppers out of the boat. Barely 10-20 feet behind the boat, it started to explode and there was full chaos on the boat.
We all switched between poppers and jigs and landed lots of Dogtooth Tuna, this was all in the middle of the day!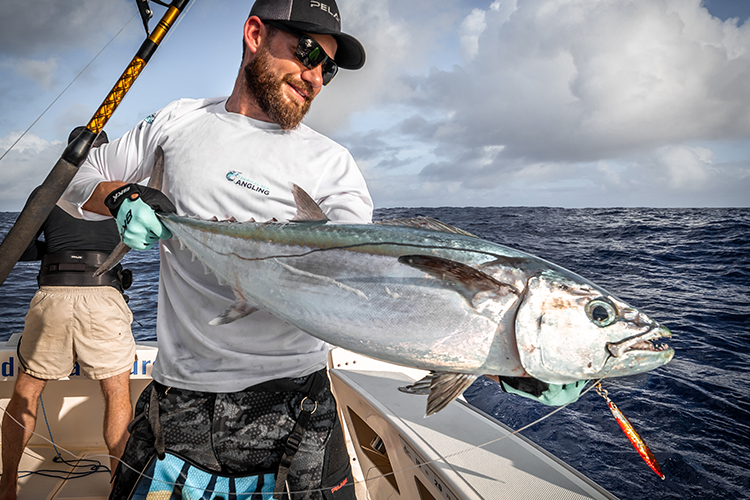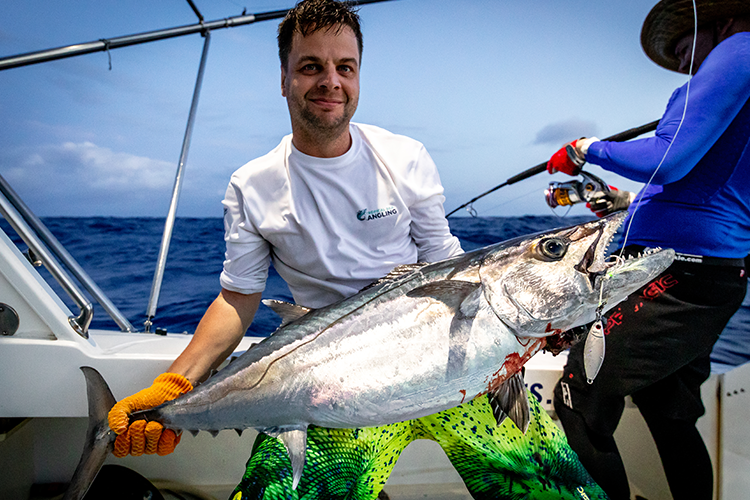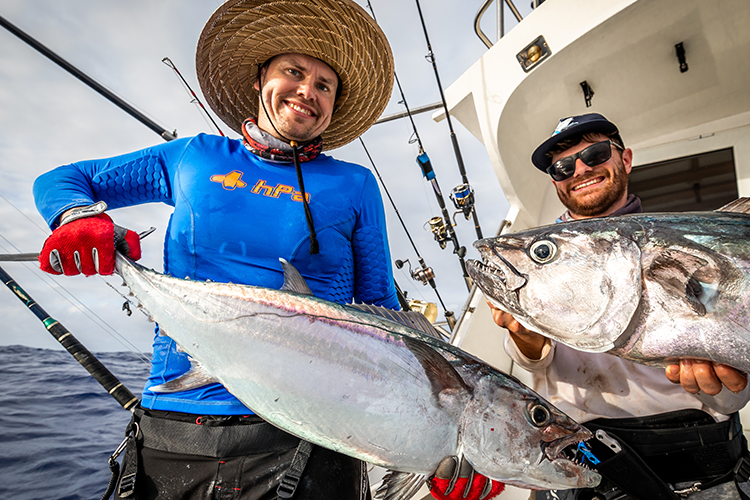 We then continued the trolling and not long after this Kalle hooked the biggest Wahoo of the week with a length of about 170 cm!! Unfortunately, we lost count of the number of fish on the last day, but we were more than satisfied when we then relaxed on the couch and talked about the memories!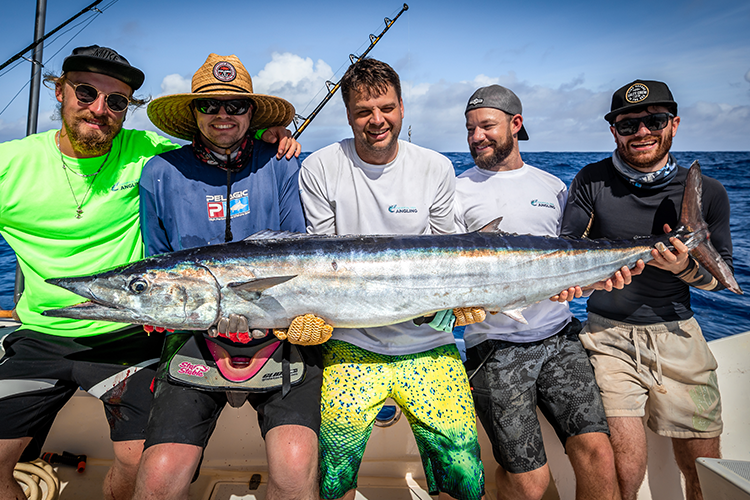 The colossal 170cm Wahoo
To sum up the trip up, I guess you could say that this is a hardcore jigging destination with the opportunity to choose some slightly more comfortable fishing around the island that still holds amazing fish!
We did not manage to land a brutally large dogtooth tuna that you dream of, however, the tuna we did land didn't disappoint. The number of fish we landed during our days was completely crazy!
Here are a few pictures of the inside of the boat…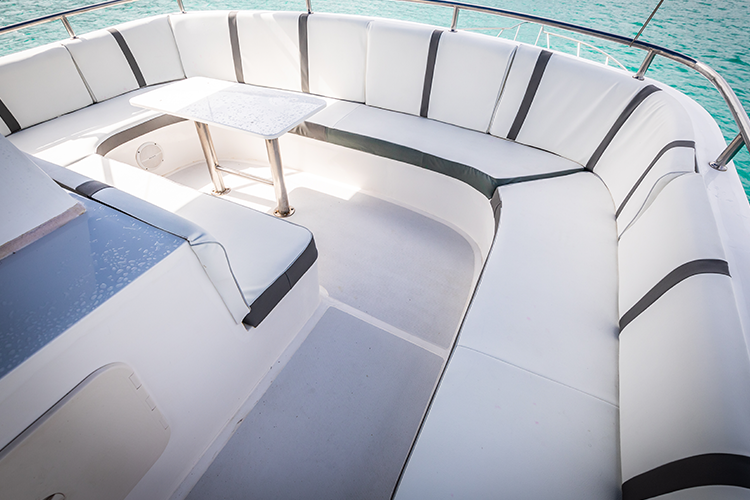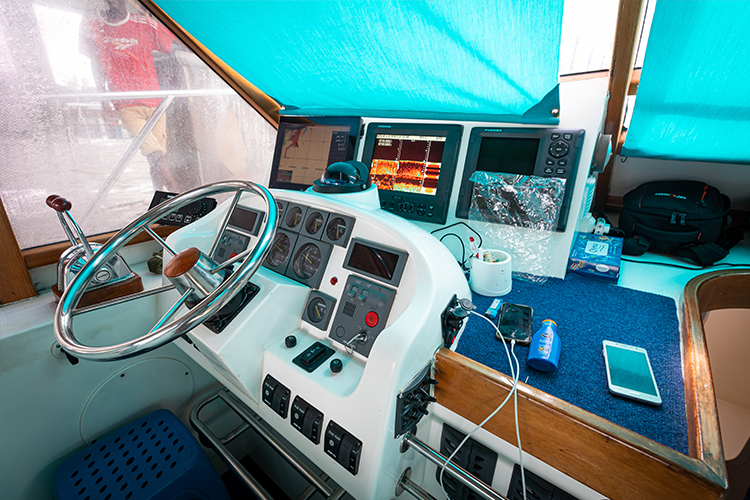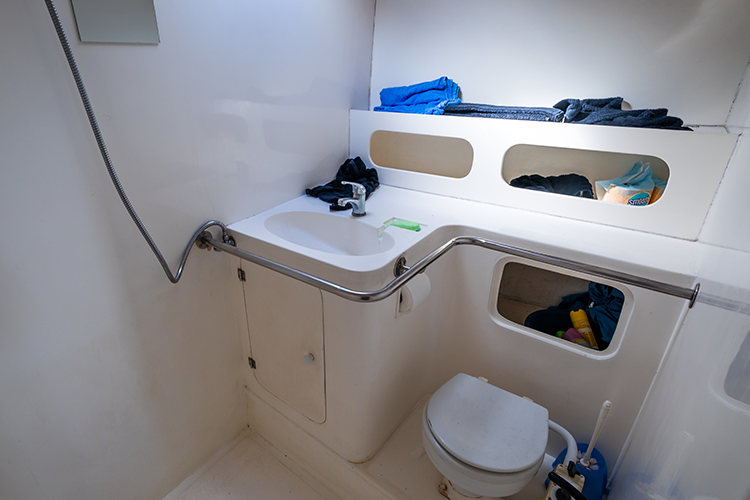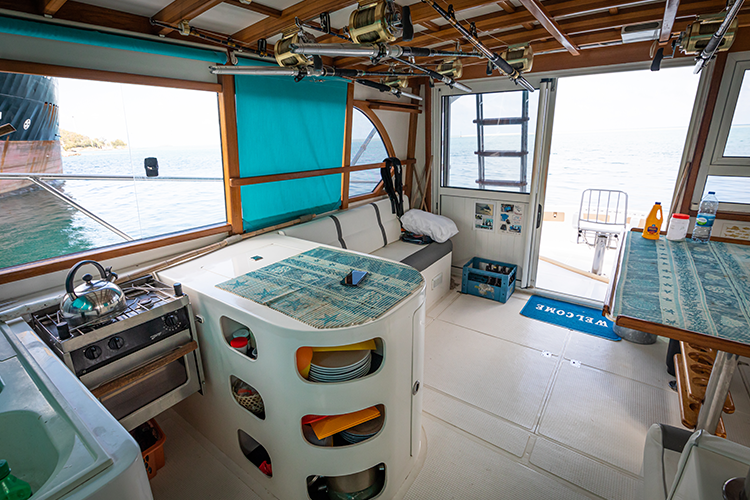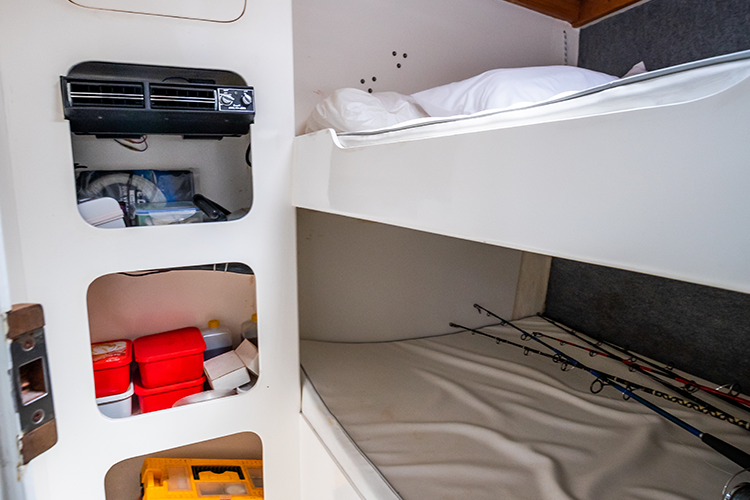 The report was provided by Johan Mikkelsen
Tight lines,
Peter