The Lesser Guitarfish is a member of the Shark family that can be found in and around the waters of Africa. These smaller cousins of the much larger Greater Guitarfish are great fun to catch on light tackle and at times have been known to invade beaches in almost plague-like numbers. Creating some amazing catches amongst anglers.
Name:
Lesser Guitarfish
Also known as:
Sandshark, Guitarfish, Lesser Sandshark
Scientific Name:
Acroteriobatus Annulatus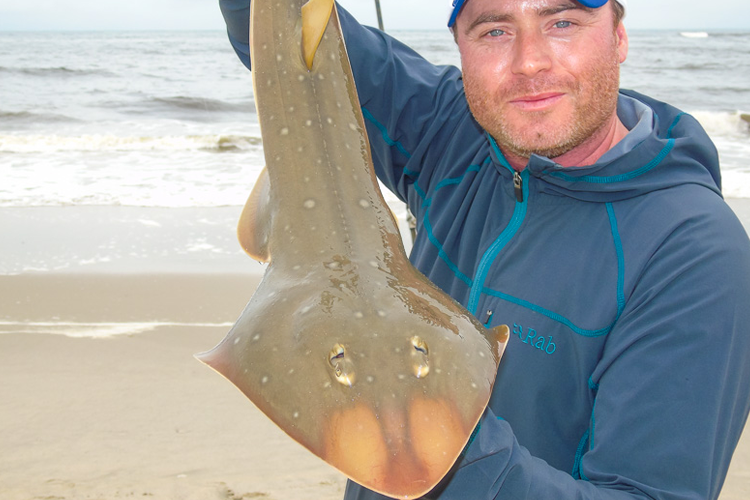 Description:
Lesser Guitarfish have a body shape between both sharks and rays. The tail of the Lesser Guitar Fish has a typical shark-like shape, but in many species, the head has a triangular, or guitar looking shape. This is totally different from the disc-shaped fins found in other rays.
Average Size:
The Lesser Guitarfish is a much smaller relative to its bigger brother the Greater Guitarfish, these Lesser Guitarfish can reach sizes of around 20lb in weight but the average you will catch is around 6-7lb.
Where to catch:
These beautiful Lesser Guitarfish can be caught around most of Africa's stunning coastline, the most prolific places to find them though appear to be the Skeleton Coast of Namibia, the wild and exciting coastline of South Africa and the beautiful beaches of Mozambique.
Fishing methods:
The Lesser Guitarfish is a bottom-feeding species that is best targeted by fishing a bait ledgered on the bottom. You do not need super heavy tackle for these fish so a 25lb snood with a 3/0 hook on the end is perfect. Bait wise small strips of fish are always perfect when fishing for these amazing fish but worms will also work along with squid too. By using beach casting tackle you will be able to catch these fish, the Lesser Guitarfish will come in very close, sometimes only a matter of yards out meaning that even people who can only cast a short distance will be able to catch them. Make sure your rod is safely secured in the tripod as even though these fish do not reach huge sizes they are extremely strong and when they hit they will double the rod over letting you know that a fish has taken the bait.
Contact us
If you have any queries or questions around catching Lesser Guitar Fish or any of our Sea Fishing holidays contact us today. You can call our office on 01603 407596 and we can put you on track to the best destinations around the world.