The moment that so many of you have been waiting for has come. We have finalised the location, dates and prices for our EXCLUSIVE NEW 2 day Halibut competition, which is taking place at our destination on the Lofoten Islands called Å. This camp owned by Nordic Sea Angling has for the last few years been the go-to place for any angler in search of record-sized Halibut and each year it doesn't disappoint.
It is with this in mind that this location was chosen to run our new annual Halibut competition. We have booked the entire destination for this event including all boats and all cabins.
We have listed below the rules, sample itinerary and the prizes on offer so far. This will get larger the closer we get as we are in discussions with a major tackle shop and also a certain tackle manufacturer to see if we can get some sponsorship for the event.
For all the people we have talked to already and have asked to be put on the list, your places are reserved and we will be in touch shortly.
To reserve your place please comment on the bottom of this or alternatively you can call Paul in the office on 01603 407596 and he can talk through the week. All we ask for is a small deposit to secure your boat. The spaces will be sold on a first-come-first-served basis. The competition is based on 9 teams, you must have a team of 4 anglers per boat to enter.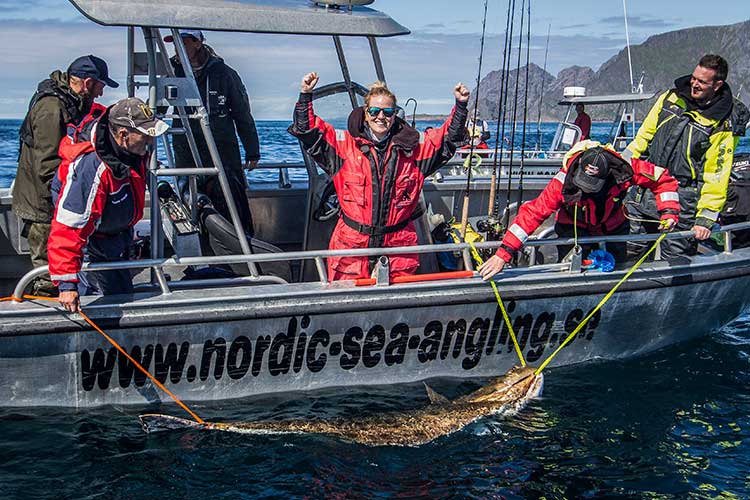 All there is left to do is to wish every angler entering the competition the best of luck and let's hope its you or your team that walks home with the top prizes as detailed below.
Now down to the prizes. There will be two main prizes with many smaller prizes.
Prizes

:

1st Prize – £4000 (Team event)

This will be the combined length of all the Halibut caught in your boat by your team over the two days. The longest combined length will take first prize.

2nd Prize – £1000 (Singles event)

This prize will be given to the angler who catches the longest single Halibut over the two-day event

Free to enter the raffle (For all entrants)

Everybody will be given a raffle ticket on the presentation night where one lucky angler will be picked at random and will win 1 rod and reel package.

There will be lots of other prizes up for grabs so make sure you keep your eyes peeled as we will be updating our prize list.
Entry Rules

:
Each boat must have 4 team members.
8 weeks before the trip you must have submitted your team name.
There are no Sportquest Holidays or Nordic Sea Angling Guides allowed to fish the competition.
Week Plan:
DAY 1: (Thursday)
Depart the UK
Arrive in Norway
Once you have arrived at the destination and checked in to your accommodation. You are then free to get all your tackle ready for the coming week.
DAYS 2 & 3: Free Fishing days. (Friday & Saturday)
Over these two days, you can fish for whatever you so wish or you can choose to practise for the competition.
DAYS 4 & 5: Competition Days (Sunday & Monday)
Competition starts at 7 am and all competitors will be required to have their boats loaded and pulled out of the harbour by no later than 06:45 am.
The main starting place will be just outside the harbour wall where a member of the Sportquest Holidays staff and a Nordic Sea Angling Guide will sound the horn at 7 am.
Each team must return back to the harbour no later than 5 pm to hand in your score sheets and pictures of the Halibut by no later than 6 pm (no exceptions).
On the Monday evening (2nd day of the competition) there will be a prize-giving ceremony. This will start at around 8 pm in the onsite bar/restaurant.
DAYS 6 & 7: Free Fishing Days. (Tuesday & Wednesday)
On your last 2 days fishing, you can fish when and where ever you wish.
DAY 8: (Thursday)
Depart Norway
Arrive in the UK
WHAT'S INCLUDED
All international flights
Transfers from Bodo airport to Ferry terminal return
Transfers from Moskenes to Å
All accommodation as per itinerary
Entry into the competition
6 days fishing via self-drive boat
Fishing Boat with Sonar, chart plotter (GPS), VHF & radar
Freezer storage for your fish
Access to professional guide for guidance
Bed linen, towels and final cabin cleaning
WHAT'S EXCLUDED
Ferry ticket
Fuel for boat
Fishing tackle
Personal holiday insurance
Meals
Final boat cleaning
PRICE: (This includes entry fee)
£2,101 per person based on a team of 4 anglers
On Saturday evening (the day before the competition starts) everyone will be invited over to the bar/restaurant where people will be allocated a competition number, score sheet and rules.
The competition will then start at 7 am on Sunday and run through to 5 pm. Then Monday 7 am to 5 pm
On Monday evening all competitors will again be invited to the bar/restaurant for the prize-giving at around 8 pm.
After the event, you will then be free to fish for your last two days.
Competition rules:
1. The captain of each boat must attend the meeting in the onsite bar/restaurant on the Saturday evening between 6–8 pm where you will be allocated a competition number.
2. All boats must be ready and out of the harbour by 06:45 am on Sunday morning. The competition will then start at the sound of the hooter at 7 am.
3. All boats must return back to the harbour no later than 5 pm and all score sheets must be handed into the competition officials no later than 6 pm. If any competitors are late then that day's fish totals will be disqualified. (no exceptions)
4. Each boat will be supplied with a number on a board and a ruler to measure your Halibut.
5. When a Halibut is caught and secured to the boat you will be required to take photographic evidence of the length of your Halibut along with your boat number. The photo has to be taken on a camera (not a mobile phone). The picture must include a clear picture from above of the ruler along the length of the Halibut along with your competition number included. The picture will only count if all of the Halibut is in the picture (head and tail) so the officials can see that the ruler is being held at the head and ends at the tail. (Fish will not be counted if the officials cannot see where the ruler starts and finishes)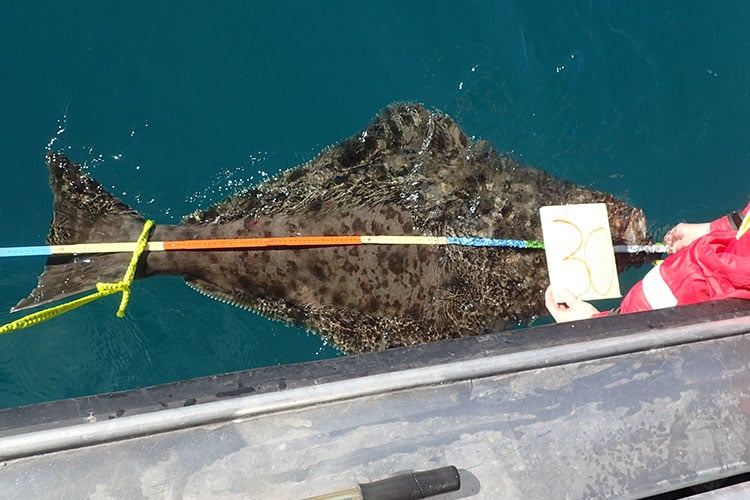 6. Each fish caught must be registered at the time of capture with the officials by the means of a call from your mobile. We will need to know your team name, number and size of Halibut caught. (This can either be a message or a call)
7. For the two day competition, we ask all competitors to catch and release ALL Halibut.
8. There can only be One Rod per team member at all times.
9. We strongly advise that no Halibut larger than 140cm can be taken inside the boat. Fish of this size must be secured to the outside of the boat, measured, picture taken and then once recovered must be released.
10. All boats will be required to return back to harbour NO later than 5 pm. Your score sheets must then be handed into one of the competition officials along with photographic evidence by no later than 6 pm. If there are any competitors late then that day's total will be disqualified. (no exceptions) The officials will be located in the bar/restaurant
11. After all the fish are verified there will be a scoreboard outside of the filleting house with the daily totals.
12. Day 2 the above rules apply. Once we have the score sheets from the second day there will be the prize giving at around 8 pm in the bar/restaurant
13. The official's words are final and if any competitors are found cheating in any way they will be instantly disqualified from the competition with no money refunds.
There will be a guide boat with a member of the Sportquest Team, a Nordic Sea Angling Guide and a photographer driving around and available for any assistance during the two-day event. We may pull up to your boat on the odd occasion to take some pictures or even video you playing your fish. So it would be great if once you have hooked a fish that you could call us over via the radio or mobile so we can document the capture.
Adverse Weather Conditions:
If for any reason the onsite guides say that the weather is too bad to go out fishing, we will look to reschedule the Competition for another day during your week. It may mean splitting the 2 day event or even worst-case scenario just hold the event over a single day. The guides and officials' words are final
All the best and tight lines
Paul Stevens
PS. Best of luck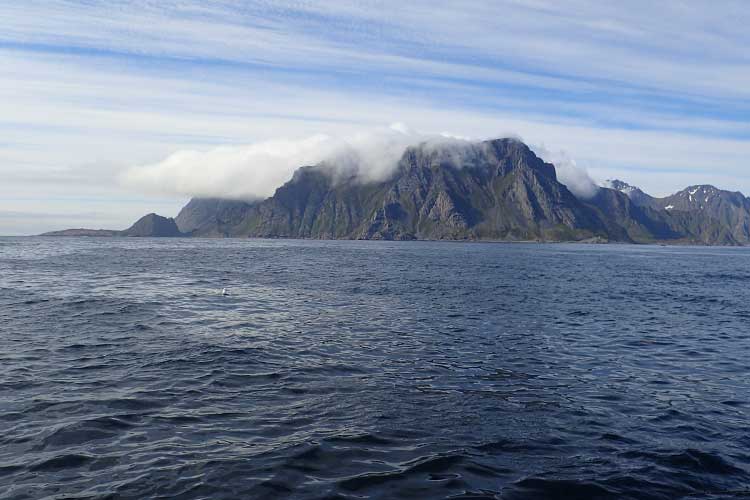 Contact Us
If you have any questions regarding the above, please do get in touch with our sea fishing expert, Paul Stevens, on 01603 407596 or by emailing him at info@sportquestholidays.com.