Part 1/2 A week written in the history books!
The week that has been, in short, has been something that probably no one else has experienced on Lofoten, when it comes to Halibut fishing! I would like to start by pointing out that 99% of all Halibut caught over 130 cm that come from our camp Å Nordic Sea Angling are re-released. This is so that we will have a longer and more sustainable fishery in the future.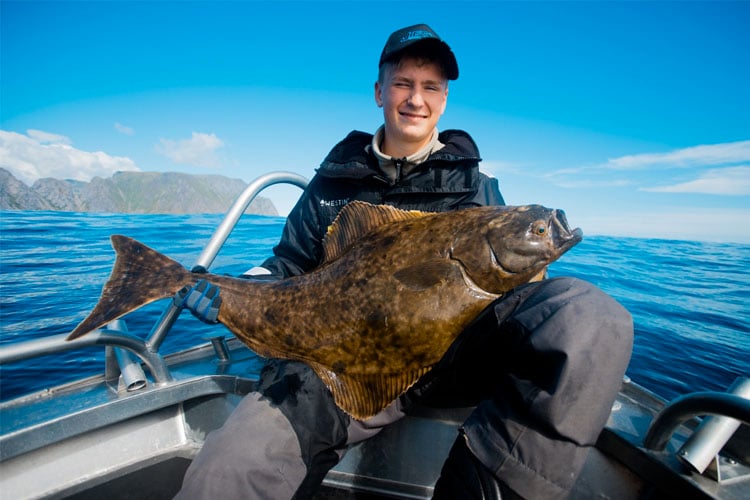 This period of the year has, as in previous years, also produced a couple of really big Halibut. Therefore, it has become a very popular destination, and which is highly attractive on the bookings on Å. This year in general has been completely crazy fishing throughout Norway, with many and large Halibut that have also been seen here on Å that there have been more large than usual. This week goes into the history book of world-class fishing! Not only for many large Halibut that may be mentioned the most, but very fine Cod are also caught with peaks up to 20 kg and large Coalfish in the surface up to just under 19 kg. Unfortunately we are missing pictures of these big Cod this week!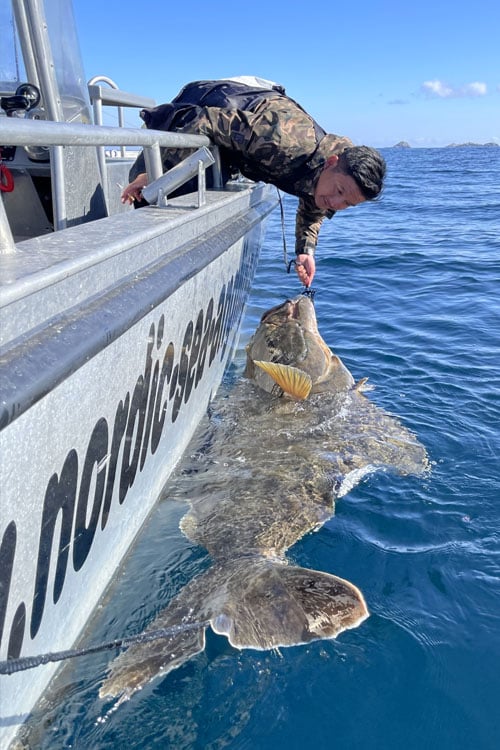 We start with Thursday, which is shift day. Many are currently coming with their own cars from Sweden when the prevailing SAS strike. Unfortunately, it will be a bit problematic for some travelers with flights and some now choose to drive themselves, which has made us practically full bridge this week anyway. Thursday begins as usual with information and boat reviews, some chose to drive out at once to try their luck and some chose to rest after the transfer and drive the first session on Friday morning. Stig "Maxell" Ludvigsen has been here with family and fished during the week. Already on Friday afternoon, Stig called me and told me how much Halibut they missed right at the gaffing moment. When they got the Halibut hook in the lower jaw of the fish, it went berserk and unfortunately jumped off the hook, and tore off the circle hook. This fish they estimated at 2m +.
In many of the boats it was a little harder to hook the Halibut that were up and peeked at the baitfish that was up and tasting, but difficult to get them to attach to the hooks. Of course, some boat managed to land a couple of smaller fish.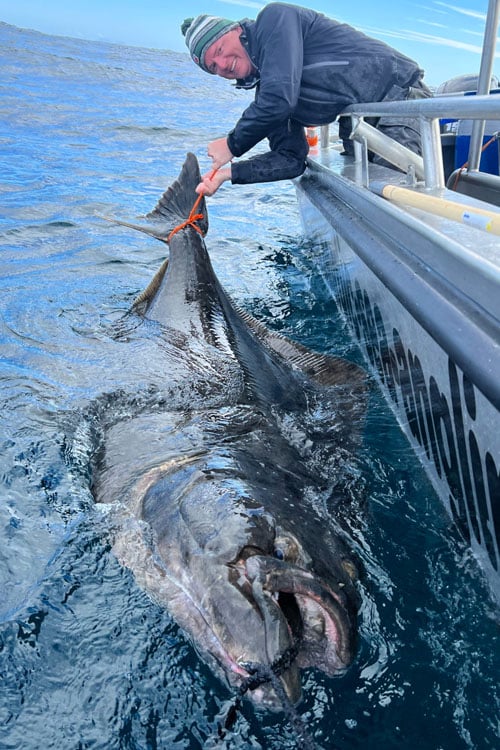 Saturday morning Marcus goes out with Stig and the family in order to get some Halibut! In the afternoon Marcus calls me via video call and in the background I see how Stig is struggling with a big fish. Minutes later, this fish breaks the surface and we can see it is a giant that had to turn down once more before Marcus could put the Halibut hook in the lower jaw of the fish. After measuring, we can state that it is a new personal best for Stig of 220 cm !! Congratulations to a magical fish and Giant # 9 this season!
Boat 2 with Daniel Hansen and Co they have also had really good Halibut fishing with many nice Halibut where their top fish during the first days is 177 cm and 180 cm. Unfortunately I do not have full control of how well the boys have fished in abundance but I know that they landed a bunch of fish between 80-130 cm in addition to these two dream fish! Jakob "Terminator" Lindberg is up with 4 friends this week and you can not help but be impressed by how good both of these boat teams are at catching both a lot and large Halibut. They arrived a little late when their luggage did not come with them to Bodö airport which made them sit and wait for it for a whole day without luck. Once in place, they came out to sea, without much success on Saturday. On Sunday, however, already in the morning I get a message that they landed a cruel fish of 195cm to Troels. It took until afternoon evening before the not so unexpected message reached us.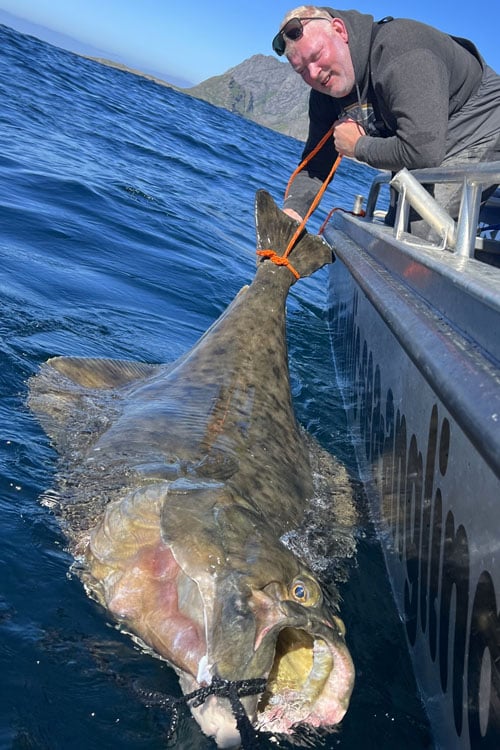 Jian Wang in one of the two Danish boats caught his first fish over the magical 2 meter limit of a cruel 201 cm and then we also get a text from Jakob that he caught his 5th giant in total this evening, which measures in at 210 cm! So giants # 10 and # 11! The best years before, we have landed on Å is 11 Halibut over magic 2 meters over a season and now there are 11 in early July and several nice fishing days left this week! Monday morning, people are tagged to a thousand and drive long shifts every day in the nice weather and fight like seventeen out there for all the different species we can catch.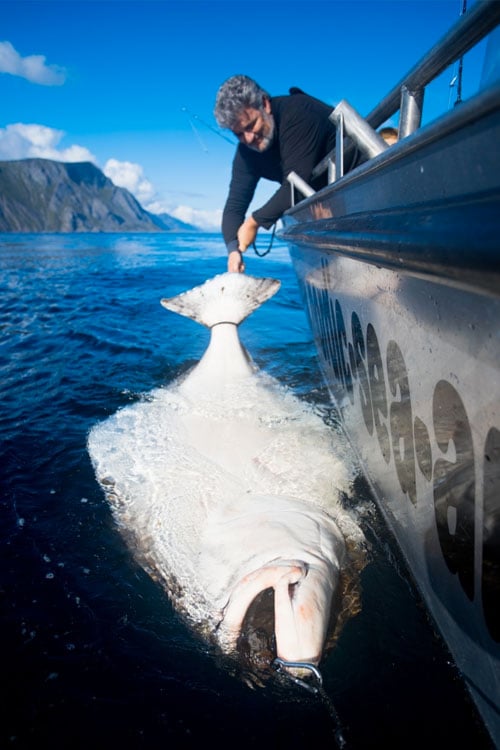 Marcus runs a guided tour together with the guest Fredrik Härnes who is here during the day and wants an experience of Lofoten, so they want to catch a little of everything possible such as Cod, Coalfish and Halibut! The Cod fishing starts a little harder as they do not really find the active shoals which can be a bit tricky in the meantime in the summer. After much trail and error they encounter the fish and it starts to nibble in each drop with fine food fish around 6-10 kg, but even here, after one crank with Cod on the hook, Marcus can see a giant big black shadow after the Cod all the way up to the boat. A Large Halibut devours their Cod in front of the eyes. Shortly after, it unfortunately spits out again and swims down to the deep. But what an experience they got to see this magic happen (estimated size is 2m +).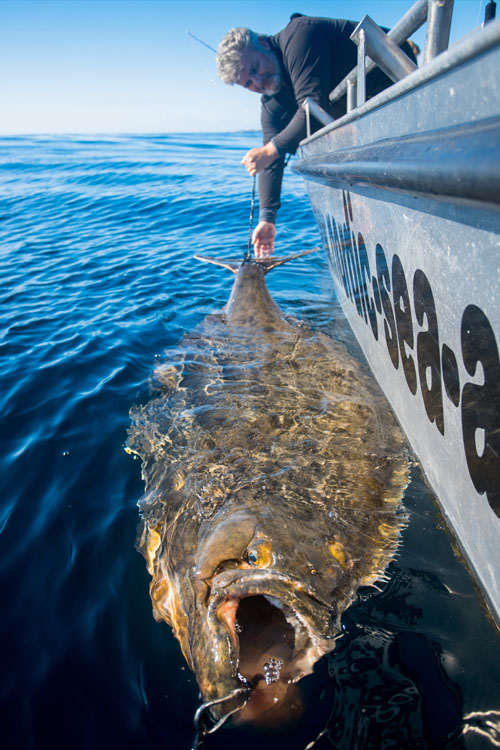 At the same time, Jacob and Co lie in and continue to hunt for the large Halibut. At 2pm in the afternoon, I get a text message that he AGAIN landed a monster which is a new record in the number of Halibut over 2 meters in a season here on Å !.
This latter fish is also a bit special as there is a 12/0 hook in the mouth which is the same as Stig and family missed 3 days before!?! The fish measures in at 221 cm and this is Jacob's 5th Halibut over 220 cm with a total of 6 over 2 meters !!!! Which I think he can be the only man on the planet to catch so many big Halibut !! (only speculation no facts on this statement.)
Even how cool it is not to catch the same fish twice within 3 days.
By the way, Stig got his circle hook back ;).
More about the week soon again from Å
Tight lines
Alexander Lindgren, Marcus Pettersson & Oscar Berntsson
CONTACT US
If you, like many others, have ever dreamt about fishing the prolific waters of Å on the Lofoten Islands and would like to know more information on how you can join us, you can contact our sea fishing specialist, Paul Stevens, on 01603 407596 or email at paul@sportquestholidays.com.