Autumn fishing is well underway at camp Å. The temperature in the sea is dropping and shallow water fishing is hot during the day! This week we have had good conditions with little wind, and good fishing!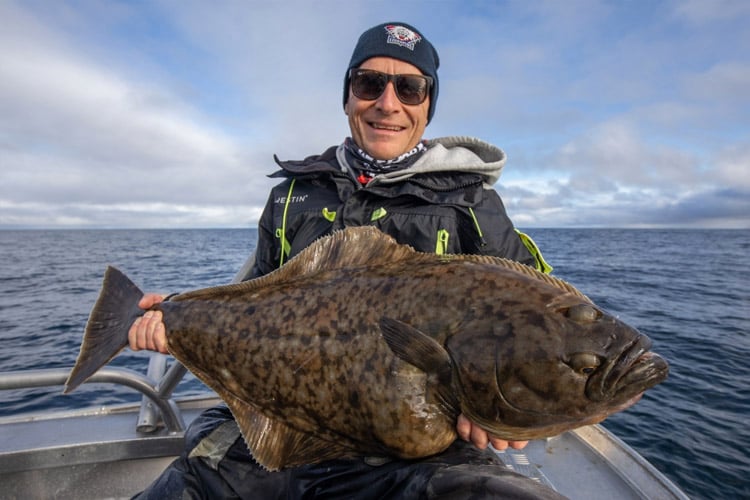 The week started at the exchange day, where guests were wanting a night trip after Plaice. Inside the coves, the fishing was good. And more bonus Halibut and Cod came up. A nice fishing to start the trip with. The Plaice were also caught and a good number of Plaice were caught with a top fish of 50 cm.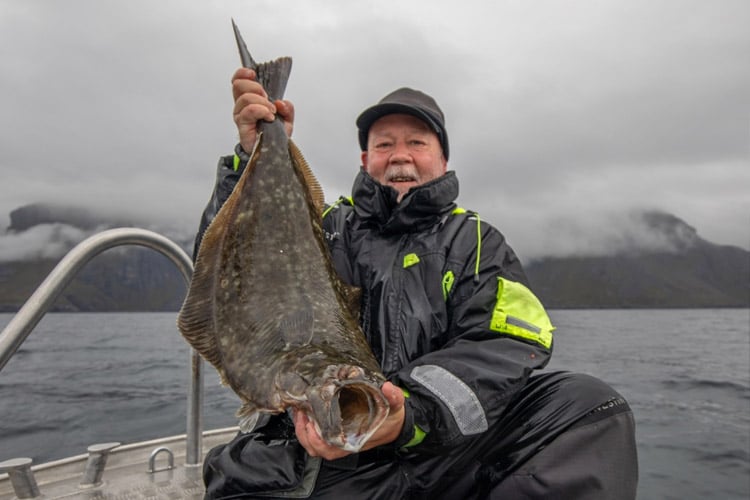 On Friday, the whole gang went out on the west side of Lofoten for fishing for Cod. It showed well with Cod and bait fish on the sonar, but the fish were not completely on the bite at the start. When it began to approach high water a little later in the day, the Cod became more active and the boats began to report good fishing with top fish up to 13kg. A lot of nice food fish were caught during this day. Over the course of the evening there was more fishing in the current, here there was good action for a while and the boys got big Coalfish and Whiting in good food size.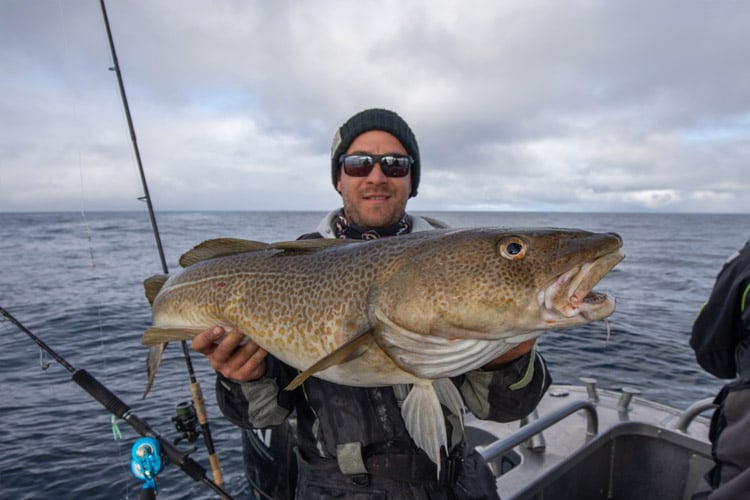 On Saturday, the weather forecast was very good, so we planned a long trip down to Røst sea. Guide Alexander, left with the guide boat very early in the morning, while the rest of the boats went down at 07 o'clock. While we were fishing for bait, Alexander could already report good fishing! with Halibut of 157cm and 125cm. All the boats were obviously tagged by this, so we quickly set course for the fishing area. The boats spread out, and after a while more boats had found the fish! It was the Swedes in boat 9 who pulled the biggest of the day! After a hard fight in a relatively strong current, they could see a dream fish rise up under the boat. The landing went perfectly and they were able to measure the Halibut to 192cm! On the way home, there were several boats that stopped to test ground water fishing for Halibut. Guide Daniel drove his guests to a place that tends to be good in autumn. They had a lot of contacts in the beginning and eventually they landed several Halibut in good food size. Spinning with small jigs was what was needed to get the fishing going. They also had a better Halibut that used its powers, and fought hard inside the sandbar. This one they landed, and it was measured at 125cm. Over the radio, there were reports from several boat teams about a good amount of Halibut fishing.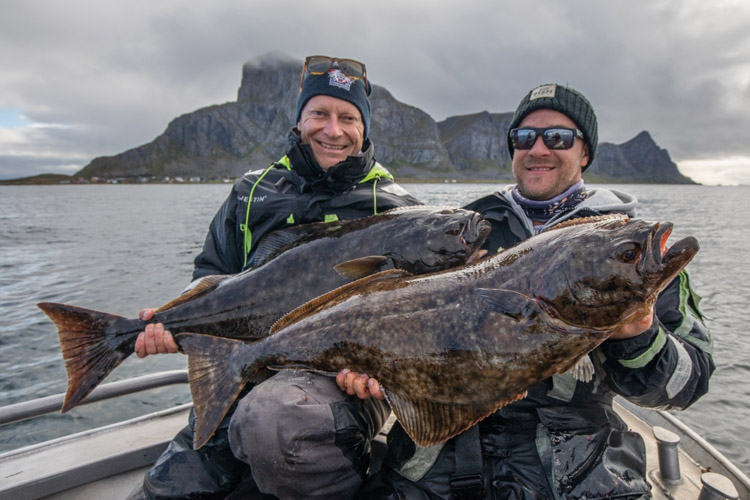 The next few days the focus was on varied fishing for Coalfish/Cod and Halibut. Many boats chose to fish out on the shallow tops for Cod, it has been challenging at times to get the fish to bite. But there are always some chopping periods of 30-50 minutes where you have a real chopping rush, and then you have fun fishing for Cod! A lot of nice food Cod was caught but landed, with the largest around 14kg. On Monday, several boats were on the west side and the test was successful after Halibut. In the guide boat, a really nice fish of 139cm was caught, as well as several Cod in nice eating size. It has been nice conditions these days with a little wind, so you can fish effectively. Another group that also had good Halibut fishing, were the Swedes in boat 8. They had continued their shallow water fishing, but now they had been in contact with a large Halibut. At a depth of 10 metres, something took the bait fish and set off at full speed! They tell of a long and intense fight on light equipment. They landed the Halibut and it was no less than 176cm!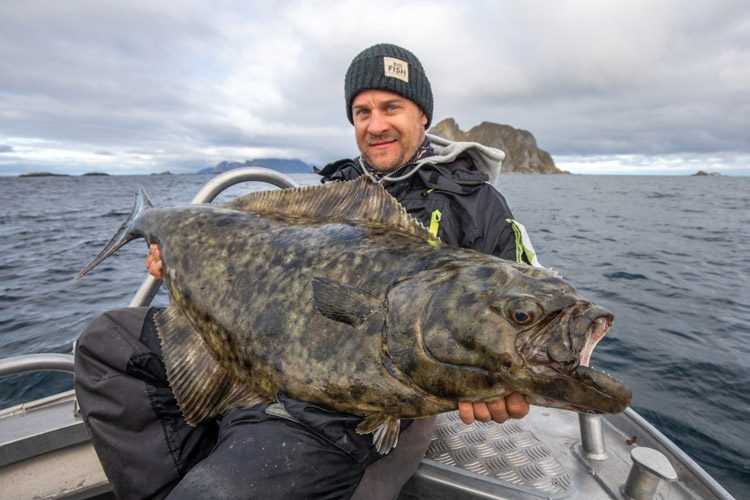 On Tuesday the wind picked up, and it was blowing considerably more now. The guide boat decides on a longer drive to a Halibut place where the wind was not a problem. Several boats were stuck on this day. Already on the first drift we had several bites while spinning, but they did not want to sit properly. But after a small move, Spiro got a better fish that took his Sandeel. On light gear it was a good fight, and a nice Halibut of 123cm was secured by the boat. Just afterwards we saw another boat trolling a good fish, up came an adult Halibut of 151cm. Several boats had some good contacts, but it was a bit difficult and they hooked properly. After a few small Halibut rounded the meter, there was a dead period. Various places in the area were tested, but it didn't feel hot anymore. The gang in the guide boat were satisfied so we started driving back towards the camp. We lay a few drifts over a base peak on the way back. Here there was a lot of medium-sized Coalies, and Cod.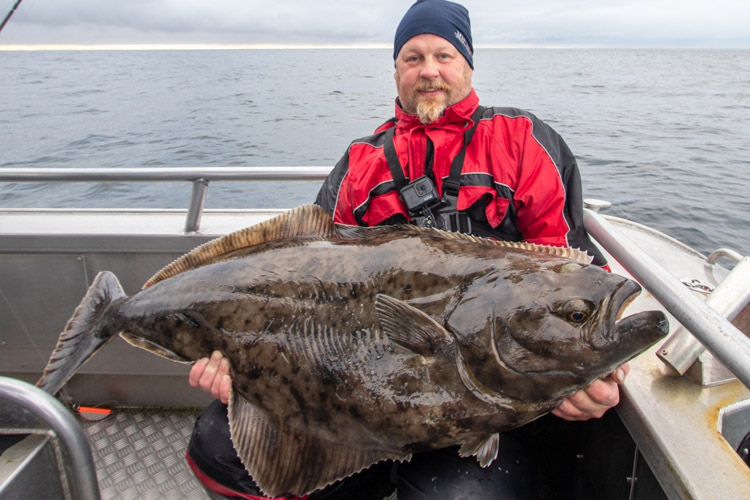 The boat that fought in the current tells of a day with a lot of wind, but also good fishing in the right places. On Wednesday, the last day of fishing, there was unfortunately too much wind to go out. But with a slight breeze and 20/ms in the gusts, it was best and stayed on land. We still had a good uke, with big fish and lots of action! We thank our guests for this week!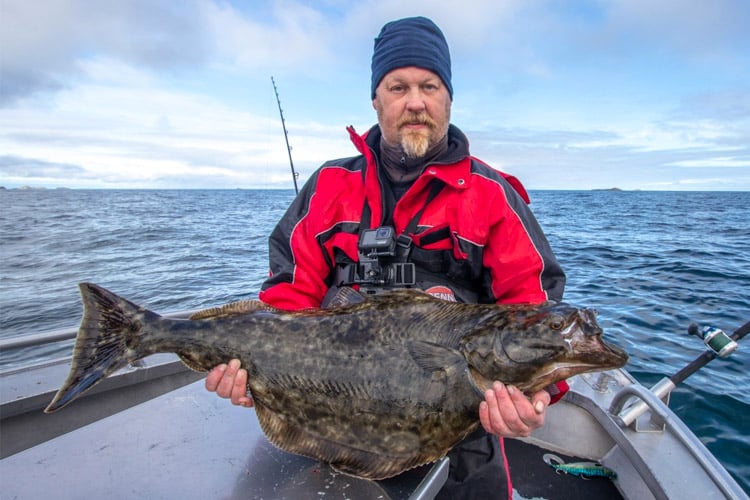 Tight Lines/ Kristian Hauske, Alexander Lindgren and Daniel Freland
CONTACT US
If you, like many others, have ever dreamt about fishing the prolific waters of Å on the Lofoten Islands and would like to know more information on how you can join us, you can contact our sea fishing specialist, Paul Stevens, on 01603 407596 or email at paul@sportquestholidays.com.