Tuesday comes and it brings fine weather for us on Å. Brilliant sun and close to flat water! Most of the boat teams were prepared for a really long session out at sea today to take advantage of this weather. Already in the morning, Alexander was able to gossip in the guide boat two really nice Halibut of 145 and 160cm! The day has started really well! The report is starting to come in from the boat teams on fish ranging from 80cm to 120cm Halibut! Boat 6 reports fish after fish and is sizzling hot during the day!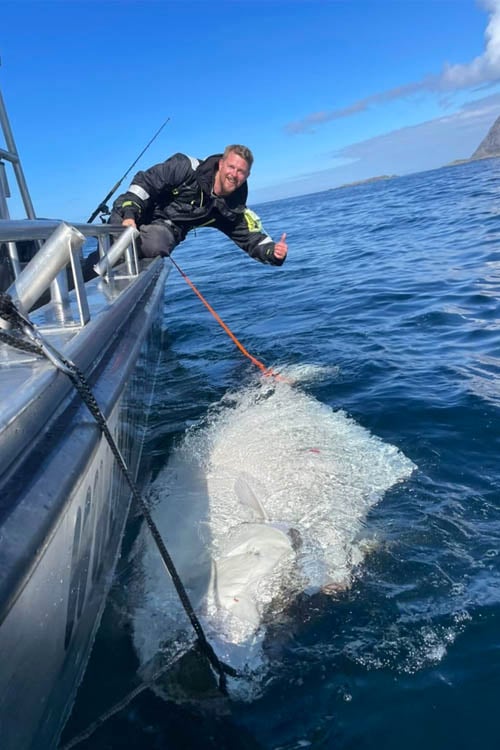 Marcus' family has driven out to Lofoten, and of course they wanted to take part in this fine weather. They head out to sea to test their luck after the incredible Halibut fishing that takes place at our camp Å. Right from the start it will be an adventure they won't soon forget. When they go to pick up baitfish, something big swims around the boat, which looks neither like a porpoise nor a whale. It turns out to be a larger Herring shark (Håbrant) on the shallows where we usually catch our agent for the day. Many of our guests have reported seeing these sharks during the season, but none that we guides have yet been able to see with our own eyes.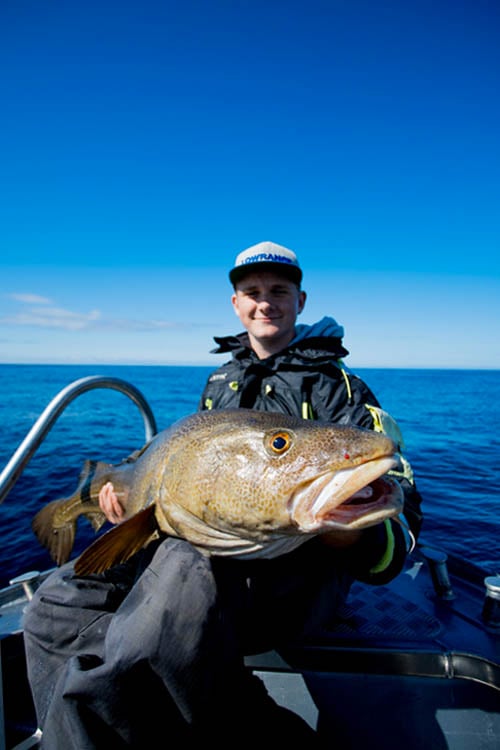 After a display of the shark, Marcus steers the boat to the first fishing spot. During the transport, it is heard on the radio that someone has dropped a real Halibut right under the boat. It's scorching hot today! Already two nice fish in the Guide boat that Alex steers, and that there are reports all the time from the other boat teams. What else will happen today??
Once Marcus is in place, a shout of joy is heard on the radio! They have secured and landed something gigantic! Boat 3 has just landed a 217cm Halibut! and will then be number 15# over 2 meters this season! Crazy! and hats off to the guys in boat 3 who managed the landing and release really nicely!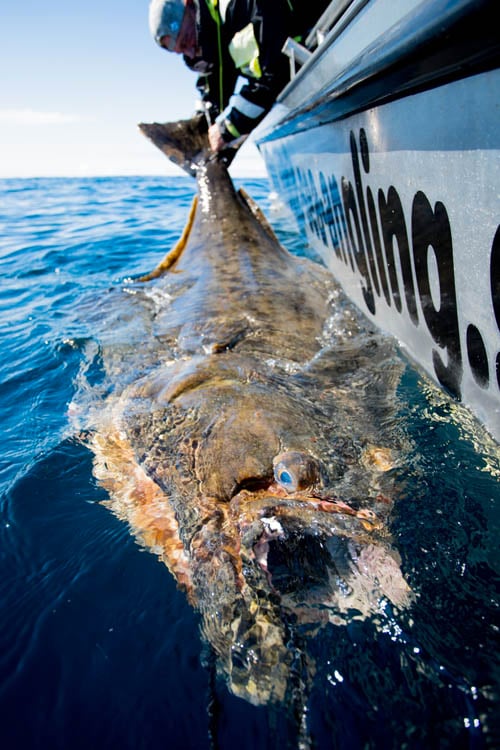 Marcus and his family set out on the first drift, and it doesn't take long before Mikael's rod grabs hold of the stern. Once the fight has begun, another rod grabs onto the bow of the boat, and Gabriel points out that something big is on his rod. After only a minute when these gentlemen are standing and drilling, a third fish bites Daniel's rod, and we manage to get a triple bite!
After a somewhat chaotic experience with a triple hook and Marcus running around the boat to help, a nice food fish comes up to 82cm, as well as a Halibut of 127cm and Gabriel with a huge Cod! What a start for all boat teams! Where will this day really go?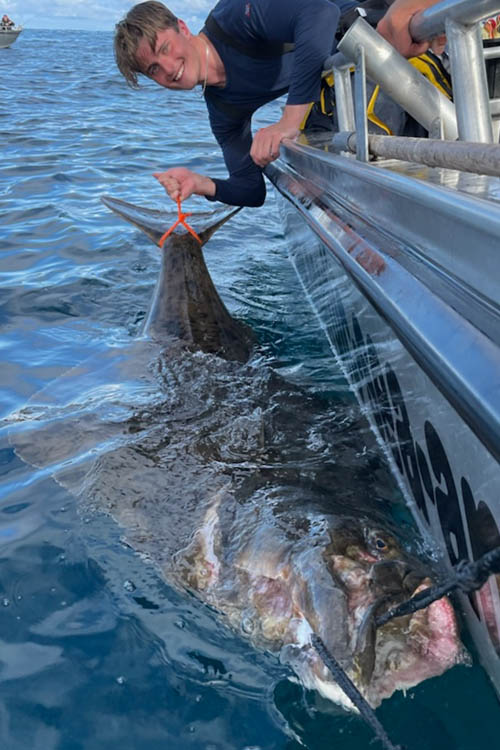 Marcus chooses to move the boat to another location to try his luck there. It doesn't take long before it hits Mikael's rod again in the stern. But this time it's something big. Completely dumbfounded and Marcus sees that there is something very big about it.
Marcus sends a signal to Alexander, who is with the Guide Boat just a short distance away, to tell him that his father Mikael is standing in the stern with a giant Halibut. Alexander chooses to move closer to watch the fight. After two rushes down to the bottom and a sick rush where Marcus had to drive after the fish with the boat, it chooses to let go of the bottom and start coming up to the boat. This fish is huge! When Marcus and Alexander see it, they immediately see that this fish is big!
The fish is landed with the Halibut hook on the first try, and the happiness that arises in Marcus and Alexander's boat who gets to be there and experience this. The fish measures in at 229cm! And Gigant #16 has landed! After a quick photo, the fish is allowed to swim back.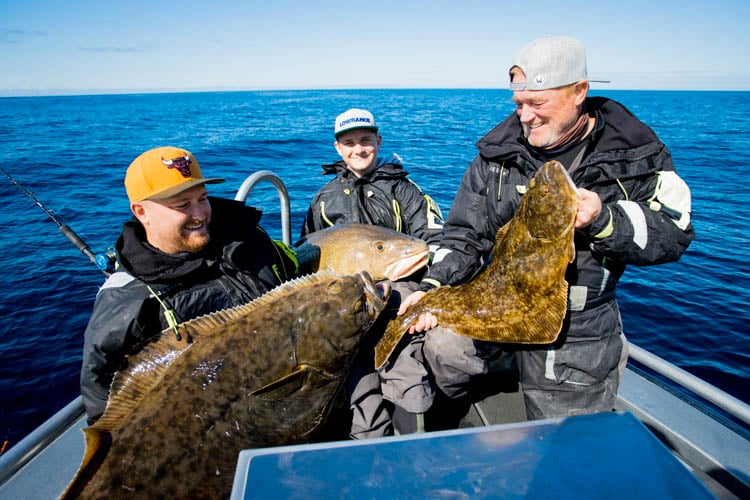 This is not enough.. Reports continue to come in from other boat teams with many incredibly nice fish between 80-130cm. This day is perfect!
Many boat teams choose to go in during the afternoon to recharge for the evening/night in order to make the most of this day. Even us Guides have the same plan.
Once we get ashore and are on our way to get some sleep, a boat calls and says they have hooked something really big! That they hooked something that really doesn't want to come up from the bottom and they had to chase the fish on several occasions.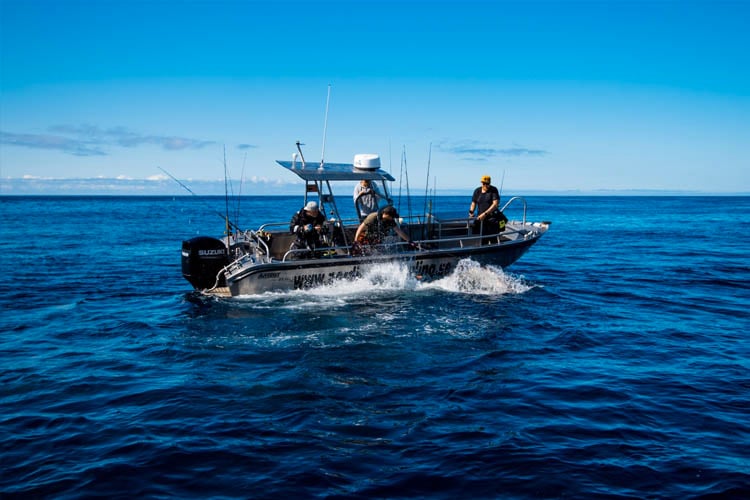 After a while waiting for another phone call from them, Marcus decides to call to check how things are going. With a broken voice they say that they just released a really big fish! The fish has been measured at 202cm and is then the 3rd Halibut over 2m this day! And is 17# Halibut over 2m at this camp! There will be many new PB baths tonight!
Some boat teams choose to stay out at sea until the night, while Alex plans to wait for the tide to turn and go out again at 8 o'clock, with a few other boat teams who have the same plan.
Once they go outside the harbor, they see something big that is up on the surface. Something that is visible from a very long distance. They go there and see 2 humpback Whales that passed right outside our camp! After a little show from the whales, this wraps up this week with an incredible finish!
CONTACT US
If you, like many others, have ever dreamt about fishing the prolific waters of Å on the Lofoten Islands and would like to know more information on how you can join us, you can contact our sea fishing specialist, Paul Stevens, on 01603 407596 or email at paul@sportquestholidays.com.