We recently had a visit from Anders and his sons, Arvid and Axel, as well as a group from Holland on Å. The day's weather offered a bit of wind in the outer fishing spots and therefore we chose to continue this year's theme chasing Halibut, which consists of fishing in shallow water with baitfish and lures.
Daniel drove the boat with his father in boat 3 and the rest of us drove to the same area. We were in the guide boat and barely had time to stop the boat before Daniel reported 2 landed Halibut, both around 80-100cm.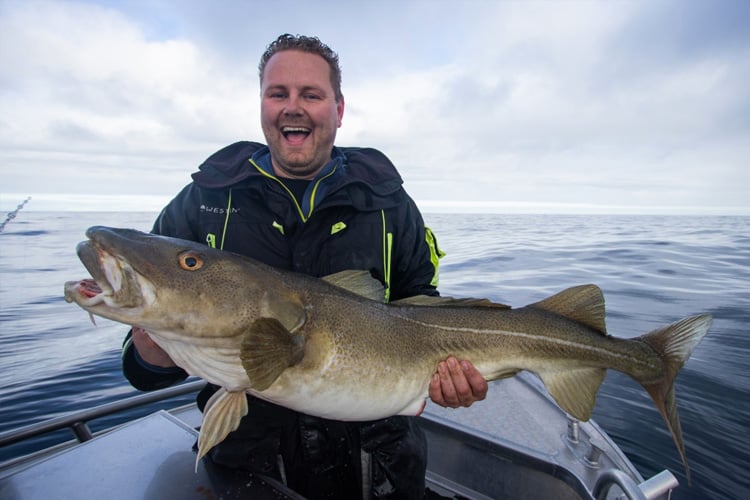 The Dutch anglers followed me a little south of Daniel's position, and they also had a flounder in the boat really fast.
The guide boat fought a little longer before we had our first bite of the day but unfortunately came loose two times in a row. Daniel and the Dutch reported several nice fish, and we can see that the Dutch are working with slightly larger fish and we soon found out they landed and secured a very nice fish of 143cm.
With no action in the guide boat and after hearing about this fish I put on a new drift, and not far into the operation, I see Anders in the front of the boat, having a proper battle before he gives over the rod to the oldest boy, Arvid who now has to fight this fish. A few minutes later, we land a really magnificent specimen of 142cm and on lure gear. It is an entertaining technique for Halibut.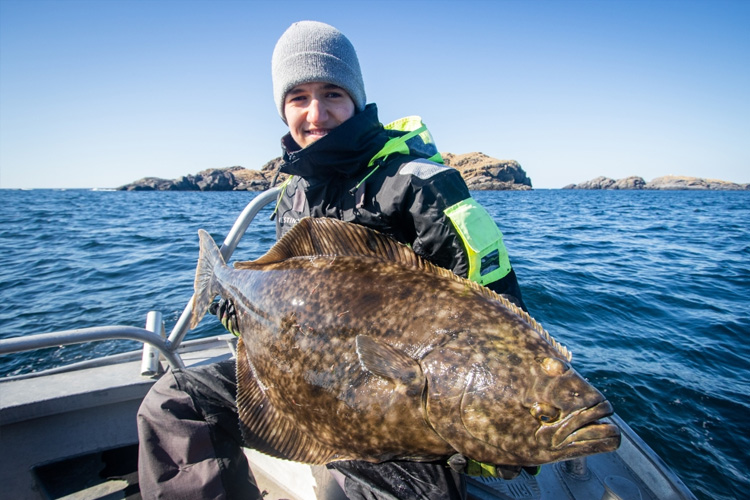 Tuesday morning had some big Cod the schedule. We drove out and around Lofoten. Fishing was a bit sluggish and "our measurements" if you'd like were off, so a little adjustment period was needed. But we got a good amount of fish and continued to land some good Cod. Unfortunately, nothing huge this day but still good fish with weights of around 6-14 kg. The Dutch had found another place that we, unfortunately, found out after the day, but they had really had a really good Cod session with lots of fish between 6-12kg and a couple bigger that were closer to 20kg.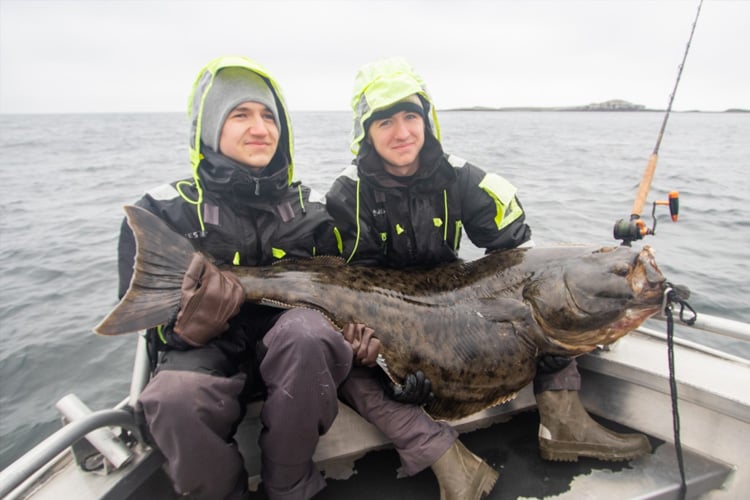 After we fished for Cod in the guide boat, we chose to run one last drift for the day on Halibut, and it was in the first drift that Anders was fastest to see how one of our rods with a baitfish on bowed, and we were quick to set the circle hook before we knew the level of the situation, the youngest boy Axel is now fighting the first Halibut of his life as well. After a couple of minutes of fighting with a couple of minor rushes, we can land a very nice fish of a lovely 121 cm.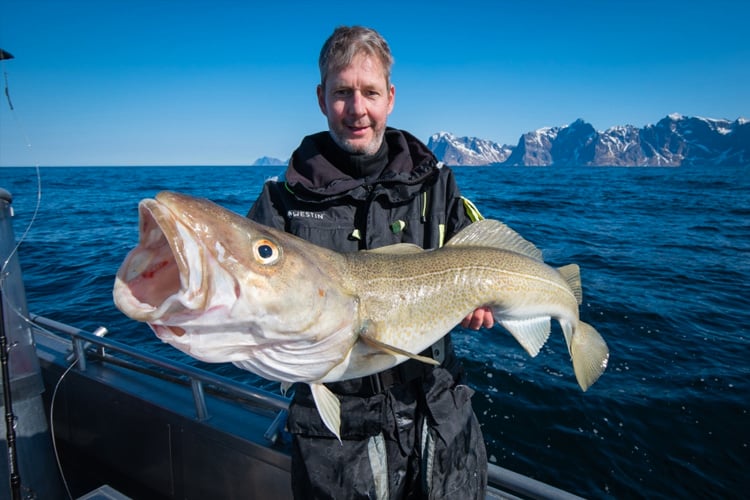 The week that followed, we only had a group of Dutch people who arrived on Wednesday, and we fished our first day on Å.
The day would be about them wanting to learn as much as possible about fishing in general and we started with Cod fishing on a very nice and calm sea. We caught a bunch of good Cod to a good size up to 15kg before the seasickness hit and from there we decided to drive a bit further for some calmer water. When we arrived we re-rigged for baitfishing and then we drove with the lures again when we fished at 8-18 m depth the week before.
After maybe 10 minutes into the first drift, we hook into the first halibut which we manged to land and measure to 102 cm. The day ended with 5 landed Halibut between 80-108 cm, so a very good first day.
In the evening, a group of Swedes arrived with Melker in the lead who would fish with us in the coming days. On Friday morning, it was game time for the Cod. The day was quite sluggish according to the guests and not much to report except for a lot of Coalfish starting to migrate towards the coast. The Dutch managed to lure a nice Halibut of 92 cm just a few minutes from the camp in one of the bays on a lure.
Saturday morning I decided to go with the Dutch guests one more day when the weather was absolutely fantastic and we chose together with the Swedish group to drive south and try the year's first long trip for Cod.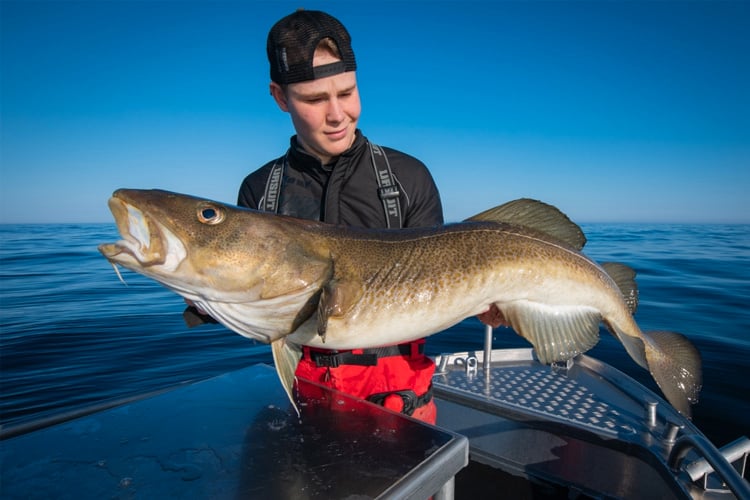 Once in place, it did not take long before we stood with bent rods and landed some fine Cod from a depth of 95-110m. The first few fish turned out to be around 7-9kgs and then we could increase the sizes a bit, you could say.
Today's second drift, we got fish up to 131cm and about 18kg and it ended up with us getting a huge Cod of 139cm, weighing around 25kg.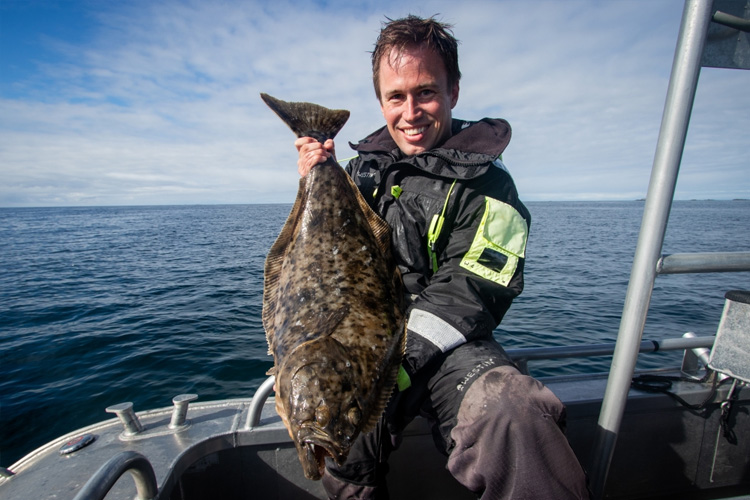 From Wednesday we have significantly more guests on Å and it will be really fun to see how the fishing will now be with more boats and people fishing!
It should also be added that we have now also received a proper facelift at our office / store on Å, so we warmly welcome all of you who are coming to Å in 2022!
Tight Lines from Å!
Alexander Lindgren, Daniel Freland & Marcus Pettersson
CONTACT US
If you, like many others, have ever dreamt about fishing the prolific waters of Å on the Lofoten Islands and would like to know more information on how you can join us, you can contact our sea fishing specialist, Paul Stevens, on 01603 407596 or email at paul@sportquestholidays.com.