This week we had five fishermen eager to make the most of the excellent fishing at this time of year with the arrival of the south easterly.
The first day was spent fishing Alphonse with plenty of Bonefish being landed, as well as a nice Giant Trevally caught off the back of a mudding Ray.
The second day held more of Alphonse's well-known specialty. The anglers opted to continue fishing around the island which produced plenty more Bonefish and ended with a flats slam consisting of a Giant Trevally, Bonefish, and an epic 50 cm Moustache Triggerfish.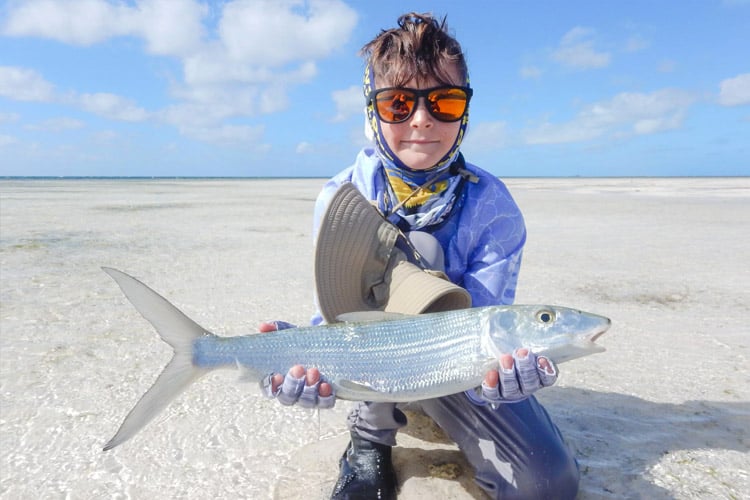 The anglers headed to the prolific St. Francois Atoll on the mothership towards the end of the week. There was lots of activity on the flats, and everyone had plenty of opportunities to target all the main species. Another flats slam was landed, and both Moustache and Yellow Margin Triggerfish were caught.
Although no Permit were landed, good catch numbers were seen on both Alphonse and St. Francois. There were plenty of opportunities narrowly missed, leaving the anglers all very keen to return next year!
Stay tuned for next week's report.
Tight lines,
Alphonse Fishing Co. on Alphonse Island
TOTAL CATCH STATS WITH 5 RODS THIS WEEK:
Bonefish 39
Giant Trevally 4
Triggerfish 4
CONTACT US
If you would like to know more about the fantastic fishing opportunities on offer on Alphonse Island you can contact our saltwater fly fishing expert Peter Collingsworth on 01603 407596 or via email at peter@sportquestholidays.com.