The latest report from the Alphonse Atoll has arrived and the fishing has been superb.
With the spring tides rolling in, we managed to rack up a number of superb fish, both on the flats and on the bluewater boats.
The guests and guides pulled off an impressive number of Bones which had our stats at 448 fish for the week, the largest specimen reaching a staggering 62 cm caught and released by Brendan.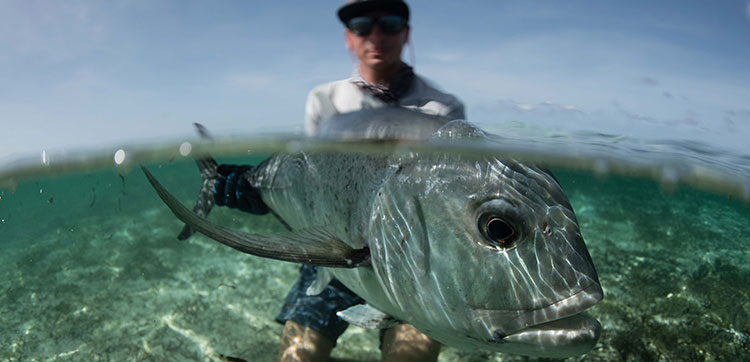 The Triggerfish seemed quite willing to take a stab at a crab or two due to the good weather conditions and constant wind direction. A total of 6 Moustache Triggers came to the net and a few others coming un-stuck during the week.
The most impressive statistic was our Giant trevally roundup. The guides poled and pulled their skiffs all over the atoll in pursuit of these behemoths. The tally reached a total of 24 GT's with 3 fish over a metre.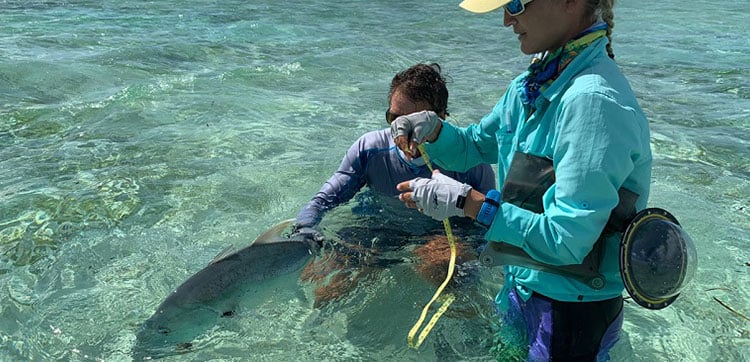 Matthew, stretching the tape to 107 cm, caught the first fish of the week. The second fish coming off the flats was landed by Scott beating the previous fish at 109 cm, but the cigar had to go to our dear friend Ronald landing an impressive 110 cm GT in the surf. Lastly, Ron also managed to catch our first recaptured GT from our tagging project in association with The Bonefish Tarpon Trust, landing a 74 cm GT.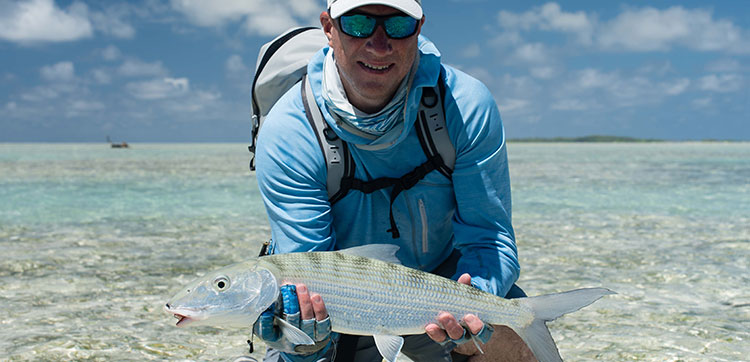 Our Bluewater Team was kept busy for the week chasing Sailfish and Wahoo. Matthew and Richard managed to pull off a double hook up on sails on day one, also adding a large Wahoo to the mix. Twelve fish raised, five hook-ups, one double and a single fish landed ended off our great week.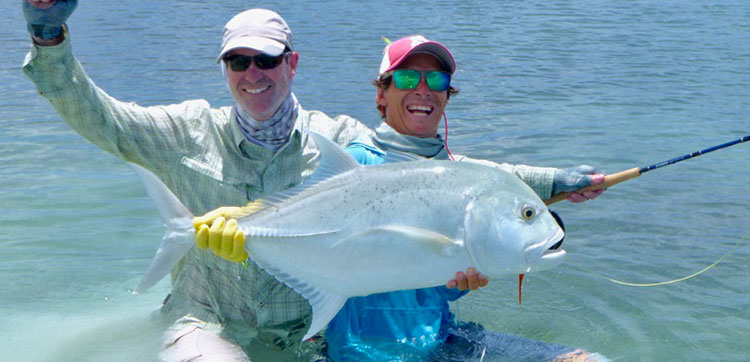 Update on the GT Tagging Programme:
It was a very exciting week on the GT Tagging Project with quite a few fish caught, including our first recapture of a previously caught and tagged fish!
This fish (74 cm, pictured) was initially caught by guest Mike on 5 February 2019 (tagged by Head Guide Kyle) and recaptured exactly one month later in almost the exact same location.
This may be further evidence that some fish are resident to particular areas or they may tend to use the same corridors for movement between the reef and the flats.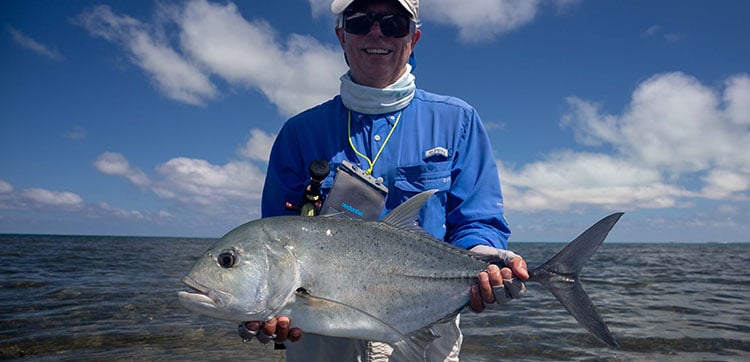 Additionally this week 14 new fish were PIT tagged and three new GT's was outfitted with acoustic transmitters, including the smallest fish of the project to date (59 cm). This individual is likely just reaching sexual maturity and may provide interesting insight into whether there is a size-related difference in GT behaviour.
Tight Lines from the Alphonse Guides on Alphonse Island!
TOTAL CATCHES OF THE WEEK:
Bonefish: 448
Giant trevally: 24
Triggerfish: 6
Sailfish: 5
Wahoo: 1
Thanks for the report guys, this truly does look like some amazing fishing.
To visit Alphonse Island and experience this incredible fishing contact our expert team who will plan and book everything for you.
Tight lines
Peter