Its great to see even in these much shorter sessions that such a multitude and amount of fish being landed! We will now hand you over to the head-guide to talk about the session –
This brief report was put together last night. Water levels continue dropping as forecasted and fishing is at excellent levels at the Omero Lakes in our North East Zone, which typically enjoys low water this time of year (see map below). At this writing, a total of 6 anglers, fishing with party leader Higgins on Fly-In River Train II had landed 257 fish on Monday, of which 20% weighed more than 10 pounds, with 5-6 peacocks in the 18-19 pounder category.
Fishing numbers in terms of mid-sized peacocks cannot get any better. We mentioned this possibility in our last fishing report.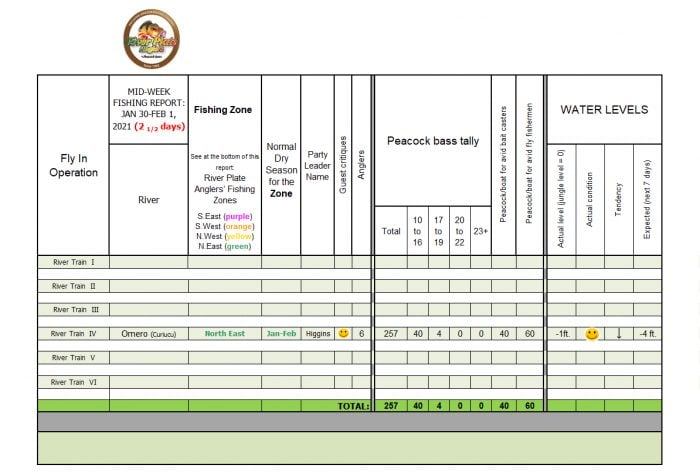 Water levels are expected to continue to drop on the Omero, and maintain a low level for at least another 2 weeks. This trend is further evidenced in today's 10-day forecasts which is similar to last week's (see below).

Today's 10-day accumulated rainfall forecastsare for the small towns marked in green. These forecasts have a direct impact on the Omero lakes in North East Zone.The 10-day rainfall below the threshold of 1.8 to 2.0 inches means that water levels should continue dropping on the Omero even though the lower basin is flooded.
Caracarai: 0.61 inches (this town's location can be seen below as "2" in the 3-Month Rain Forecast Map)
Boa Vista:: 0.06 inches (idem "3")
Rorainopolis:: 0.72 inches (idem "4")
Barcelos: 2.47 inches (idem "5")
Manaus: 3.34 inches (idem "6")
Note: The Omero Lakes are marked number "1" in the 3-Month Rain Forecast Map.
Last week's 10 day accumulated rainfall forecast:
Caracarai: 0.65 inches
Boa Vista: 0.12 inches
Rorainopolis: 0.7 inches
Barcelos: 1.83 inches
Manaus: 3.33 inches
Contact us
For more information on our Amazon river basin destination make sure to take a look at our tour page. If you have any questions regarding any of our tours, get in touch with us at 01603 407596 and one of our dedicated professionals will help you with your query.
Tight Lines,
Peter