The change in weather and water conditions made for a tough week's fishing, but this did not stop the anglers from bringing in some exciting catches.
Although the wind was relatively strong, water conditions were fishable. The first day out was good, with Bonefish for everyone and a couple of Bluefin off the backs of rays. Martinus quickly grew an itch for Triggerfish after catching a Moustache Trigger while Jim, Dale and Ricky brought in Bones and Bluefin throughout the day while poling the surf.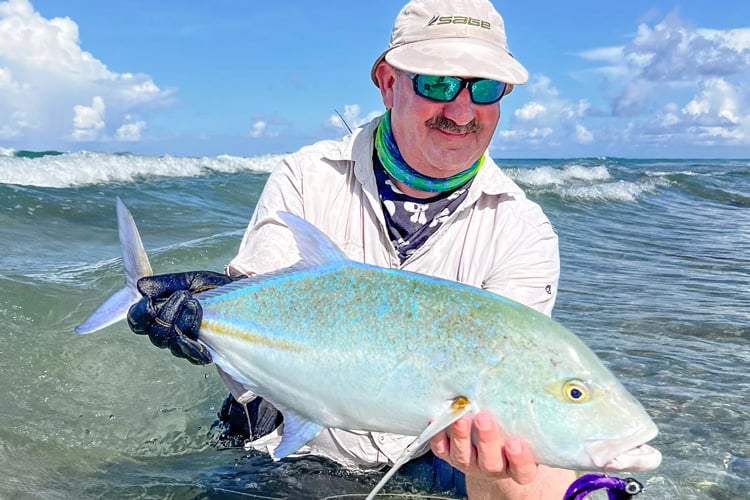 The following day, Dale went on to catch some big Bonefish; and Ricky managed to land two Moustache Triggerfish between the fun of broken hooks, parting leaders and crazy amounts of coral. Martinus caught a 78 cm GT on his 9 wt in the lagoon. Ricky and Martinus collected a good amount of Bones in the lagoon before heading back.
Midmorning brought on much excitement, with Dale catching a rare Blue Triggerfish directly in front of the lodge. This Triggerfish was, without doubt, a highlight, as they live in deep waters. After lunch, a surf walk brought in some big Bonefish.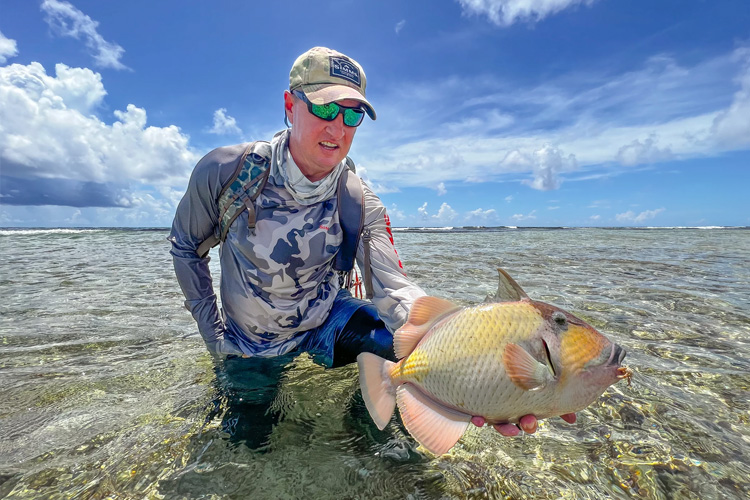 Due to windy conditions midweek, Martinus and Jim started in the lagoon on foot, proving worth the walk with a good number of Permit fish spotted and Martinus hooking and landing one shortly after landing a few small GTs. Jim managed to convince a Moustache that his flexo crab was the one. Ricky got an 80 cm GT on the wall drop-off after the pressure was on to land him.
A boat day was in place for the final day of fishing due to overcast conditions. Jim started off dredging, landing a nice Bluefin. He landed four Bluefins around the 60 cm region. Dale also managed a nice Bluefin on the dredge before losing half his fly line to an unknown creature.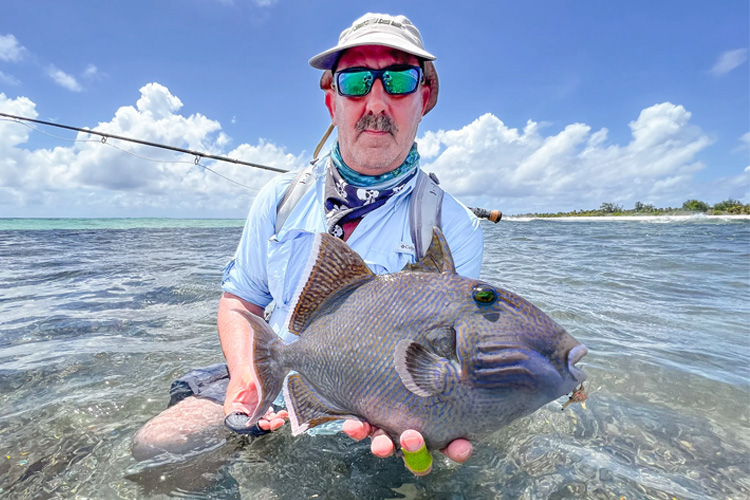 The anglers ended the week with an exciting amount of Longtooth Jobfish and Grouper caught.
Stay tuned for next week's report.
Tight lines,
Alphonse Fishing Co. on Astove Atoll
TOTAL CATCH STATS THIS WEEK:
Bonefish 80
Giant Trevally 3
Bluefin Trevally 20
Triggerfish 4
Permit 1

CONTACT US
If you would like to learn more about this fishing that is on offer at Astove Atoll, you can contact our saltwater fly fishing expert Peter Collingsworth on 01603 407596 or via email at peter@sportquestholidays.com where he can discuss this trip in more detail.