Although this week on the Belousiha and Voronya were difficult towards the end, the anglers this week still managed to land some fantastic fish on the fly…
Belousiha River 19/07/2019
On Friday, July 19th, the camp welcomed three Scots: Justin, Graham and Galvin. And also guests from France: Piam, Yves and Uber.
The weather the first few days was really nice. The sun was shining bright, with almost no wind. At the end of the week, it began to rain, winds started to blow from the North and the water in Belousiha got warmed up to 15 degrees with an average level. The Voronya was at 9-11 degrees at the beginning of a week, 7 at the end and the level fluctuated from low to high.
In spite of the fact that was hot and very sunny, fishing at the beginning of the week was quite good. The majority of pools worked at the Belousiha. The pools that performed were the First Rapid, Three Steps, Swedish Table, Two stones, the Canyon – much more fish came out in an upper course. The lower part of Belousiha did not produce aswell: Glinka, Birch and Obkom yielded daily results however. Catches were generally on Hitch, Cascade and Collie Dog. A lot of fish are already in the slow pool. This year has a big run of Pinks and Pacifics in very few numbers coming through the big rapid.
The beginning of the week on the Voronya was promising, a large number of fish was spotted on Tvins Run. In the same place, we caught several sea-liced Salmon. By the end of the week, fishing became more intense, water suddenly fell and became cold – 7 degrees, meaning that the fish moved to the bottom and rarely rose, and we started to find them blind casting. Only three Salmon for the last 2 days were landed, it was on Hunter pool. On the Voronya, the flies that worked were Hitch, Sunray and Monkey.
For all anglers fishing, it was not bad in spite of the fact that sometimes it was difficult. Everyone caught several fish, including a very annoying loss of a big Salmon on the Voronya. Piam will return to us in September. We hope he will update his record on Voronya and Belousiha.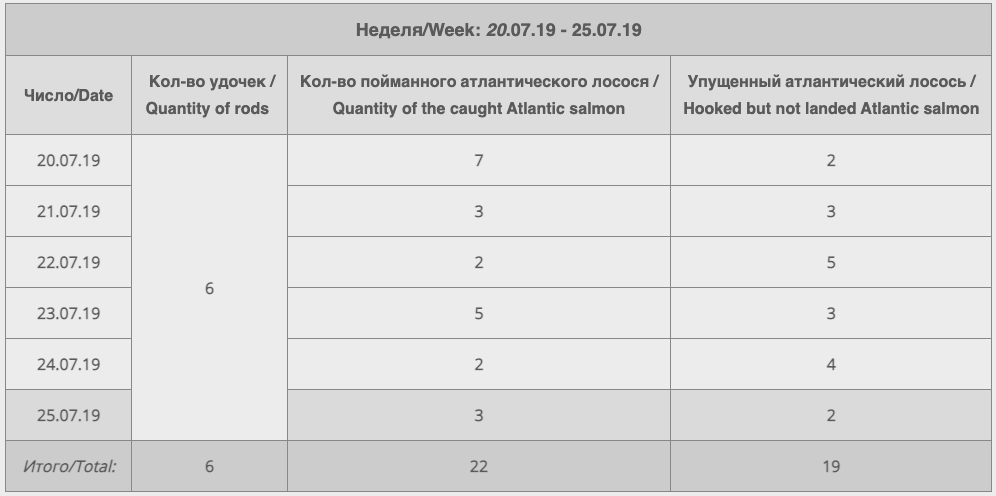 Records of week:
79 cm Atlantic salmon caught by the class #8 single rod on Kinermony killer fly on the Belousiha River.
90 cm Atlantic salmon caught by double-hand rod #7 on Sunray Shadow fly on the Voronya River.
Contact us
If you would like to learn how you can fish the Belousiha and Voronya rivers for yourself, make sure to take a look at our tour page for all dates, pricing and availability upon release, which will be announced via our weekly newsletters. If you have any questions regarding any of our other freshwater fly fishing tours, get in touch with our freshwater fly fishing team at 01603 407596 or via email at info@sportquestholidays.com and one of the team members will help you with any queries.
Tight Lines,
Peter