Its week two on the stunning waters of Camp Bonadventure, it looks like the lodge saw some familiar faces this week, which all managed to land themselves some amazing fish!
14th to 20th, June 2021
This was a truly wonderful week to be on the river and in Camp! But then again, when isn't it? Camp Bonaventure had the pleasure of welcoming back some wonderful friends this week and I believe it's safe to say that they are leaving very satisfied. The weather conditions were almost all in our favour, the food was delicious as always, the company was amazing and the salmon have entered all three rivers! Now, due to Covid and the uncertainties it continues to present our guests, I will be creating one river report for all three camps. I will mix in the best pictures of the week but since we are not yet running at full capacity, I'm thinking this is the best way to proceed. 
Our weather this week was a great combination of everything. It was an even division of nice casted over days vs. sunny ones. We received a bit of rain here and there. Our evenings and nights were cool and crisp which allowed our rivers to remain at a healthy temperature for our little friends. The wind remained at bay and this was greatly appreciated by all our anglers.  
The ever-clear Bonaventure River continues to flow at approximately 25 cubic meters per second. The rain received allowed all three rivers to slightly rise and end their week around the same levels as where it began. The magnificent Grand Cascapedia River is flowing at 22 cubic meters per second. The Petite Cascapedia River has been consistently flowing at approximately 16 cubic meters per second this week.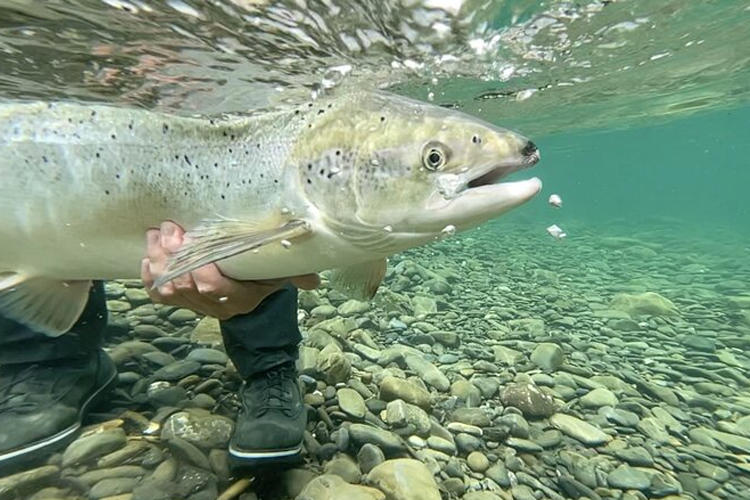 Our flies have been all over the map this week. Most salmon were landed on dry flies but the wet flies still produced some great salmon on our rainy days. The wet flies of choice for the salmon were the Silver Rat, Black Bear Green Butt and Green Machine. The dry fly patterns that were takers this week were light browns, blues and greens. 
Until next week, here's to health, happiness and tight lines, 
Julia 
Contact us
Does this sound like an adventure you'd like to take part in? Think you could handle the fish that reside in the flats of Camp Bonaventure? Then why not take a closer look at the tour page, you'll find all the information you need to get you ready for the trip of a lifetime!
If you have any questions, call our offices on 01603 407596 and one of our experts can assist you with any queries.
Tight lines,
Peter