Week 13 on Cosmoledo welcomed 11 anglers and neap tides. The weather has plagued a little this season but the angler's spirit and conviction in the pursuit of great fish and personal bests have not faltered.
While the weather was tough the fish were still around and in every ray of light, there was some great fish seen and caught. We had four new Canadian guests to the Seychelles who had all caught their first GT by day 4.
In amongst the GTs, they also landed several other species including bluefin, bohar snapper, emperors and multiple grouper. Greg Robertson is definitely one to mention as prior to this trip he hadn't held a fly rod and managed to land his first GT and bonefish by the end of the trip.
Bo Ribauldo and Kajsa Larsson being regulars to the Seychelles held the lion's share of GTs for the week and managed 21 of the 45 GTs caught. Bo also landed the fish of the week which was a 52 cm yellowmargin triggerfish.
Tight lines, from the Alphonse Fishing Co. Team on Cosmoledo Atoll.
Fishing Stats:
Giant Trevally 45
Bonefish 10
Triggerfish 1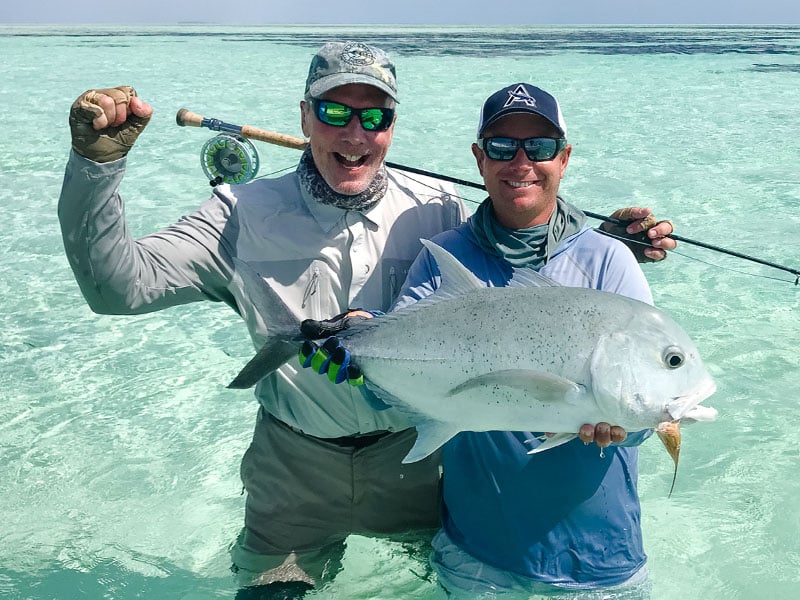 CONTACT US
If you would like to know more about the fantastic fishing opportunities on offer on Cosmoledo Atoll in Seychelles, you can contact our saltwater fly fishing expert Peter Collingsworth on 01603 407596 or via email at peter@sportquestholidays.com. He would be delighted to speak with you.