The week's new moon spring tides seemed to have brought a number of Giant Trevally onto the beautiful, white sand flats of Cosmoledo. The result for the week was the highest number of Giant Trevally caught for the season so far, with two fish stretching the tape measure to over a meter.
Jako managed to catch a variety of different species including an Emerald Parrotfish, a Moustache Trigger and a beautiful Yellowmargin Trigger. Among his catches was one Giant Trevally that stood out at 109 cm.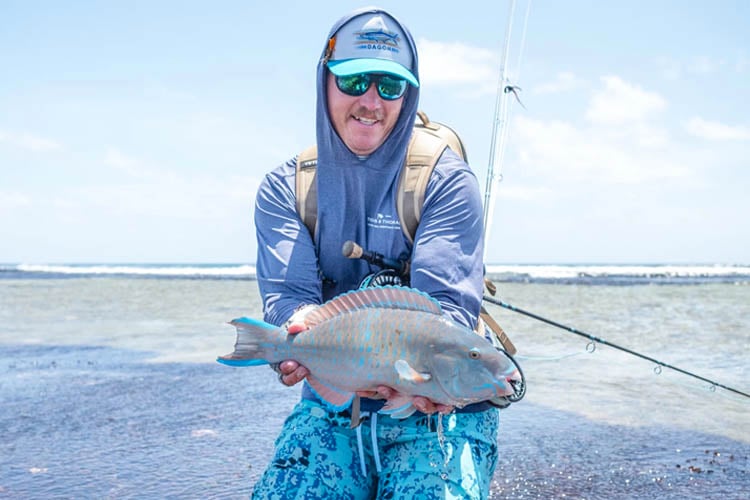 Corby landed himself the fish of his dreams this week, one that he had set his heart and eyes on before arriving. Corby landed a Geet measuring a very healthy 116 cm. This was a truly special moment for him and it is surely one that won't be forgotten for a long time to come.
Multiple anglers landed the first Giant Trevally of their fishing careers, and a couple of them went on to bag a handful for themselves throughout the duration of the week, contributing nicely to the impressive catch tally.
Stay tuned for the next report from Cosmo!
Tight lines,
Alphonse Fishing Co. on Cosmoledo Atoll
TOTAL CATCH STATS THIS WEEK:
Giant Trevally 80
Bonefish 9
Yellowmargin Triggerfish 1
Moustache Triggerfish 2

CONTACT US
If you would like to read more about the fantastic fishing on offer on Cosmoledo Atoll in Seychelles, you can contact our saltwater fly fishing expert Peter Collingsworth on 01603 407596 or via email at peter@sportquestholidays.com. He would be delighted to speak with you.