This last week on Cosmoledo was a special one for the guests and even more so for the guides and the rest of the team here on Cosmoledo who are pushing hard to end off the Cosmo season. The incredible energy and attitude that was brought along with this group made for an awesome week.
The week started off patrolling the white sand flats in search of Giant Trevally within the lagoon. The turtle grass flats seemed to hold good numbers of Giant Trevally, which were predominantly on rays in very skinny water. These fish were easy to see by identifying tailing fish on rays in the shallow water and really good light conditions for most of the week aided in spotting the fish on the turtle grass.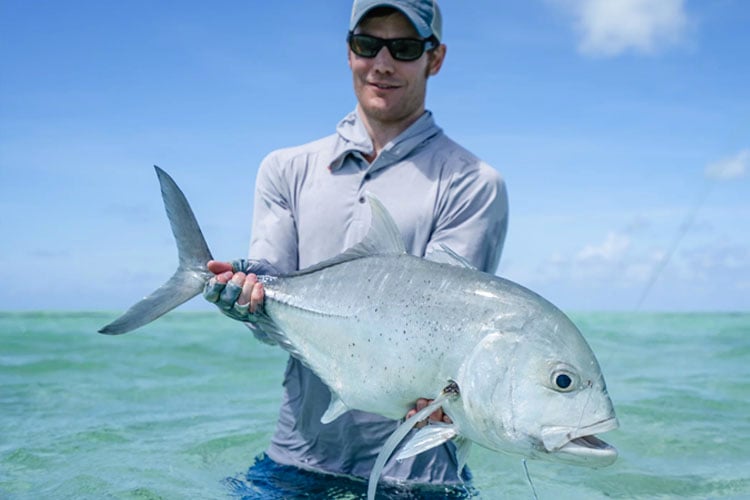 Triggerfish were seen in really good numbers both within the lagoon and in the surf later on in the week. Some very large Moustache Triggers were taken from the surf at the end of the week. Which was a great way to end off a good week of tricky Trigger fishing.
Fairly large amounts of Bonefish were seen on the drop and the push coming up from the Horseshoe and up to Menai. Most of the guys were able to get a couple of Cosmo's big Bonefish during the week.
Eric Y and Eric M were two of the very lucky gentlemen who were able to outsmart some very large Triggerfish at the end of the week on the perfect tides for them. Eric Y was able to catch his first Moustache Triggerfish measuring in at a whopping 53 cm long. The Trigger pulled hard and right into the backing before being netted and celebrated by both angler and the guide! Eric M was also fortunate enough to land himself a Moustache Triggerfish which measured 52 cm long! The Trigger followed the fly out of a deep pothole in the surf, into ankle-deep water to eventually eat the fly on his side, an epic experience.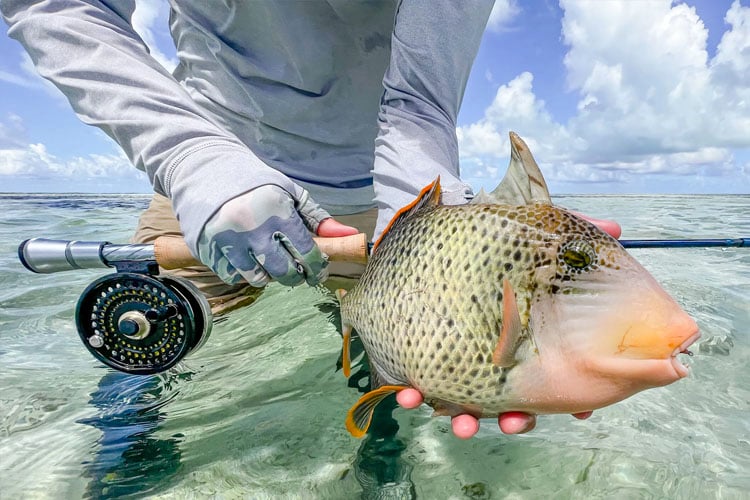 Corey, Scott, Daniel and Chris all managed to catch their first Giant Trevally in the Outer Islands of Seychelles. A phenomenal fish to tick off of your bucket lists.
A huge thank you to everyone who was able to join us here on Cosmoledo for a very special week. We all hope to see you back here in the near future for some more fun-filled fly fishing action!
Stay tuned for the next report from Cosmo!
Tight lines,
Alphonse Fishing Co. on Cosmoledo Atoll
TOTAL CATCH STATS FOR 12 ANGLERS THIS WEEK:
Giant Trevally 41
Bonefish 19
Yellow margin Triggerfish 1
Moustache Triggerfish 3

CONTACT US
If you would like to read more about the fantastic fishing on offer at Cosmoledo Atoll in Seychelles, you can contact our saltwater fly fishing expert Peter Collingsworth on 01603 407596 or via email at peter@sportquestholidays.com. He would be delighted to speak with you.