The week was perfect weather-wise and held up to the high Seychelles expectations. The calmness allowed for the elusive Milkfish to make an appearance, which was welcomed with open arms by the anglers.
Steven was named the GT king for the week, having managed to land 13 in total. Despite being so busy with the beets, he did not miss out on the Milkfish action and also bought one to hand. He also brought in a Yellowdot Trevally which deserves a special mention as a cool and unusual catch.
Lenny was lucky enough to cross paths with a 103 cm GT using a fly he tied himself. A special fish made even more thrilling by the way he caught it.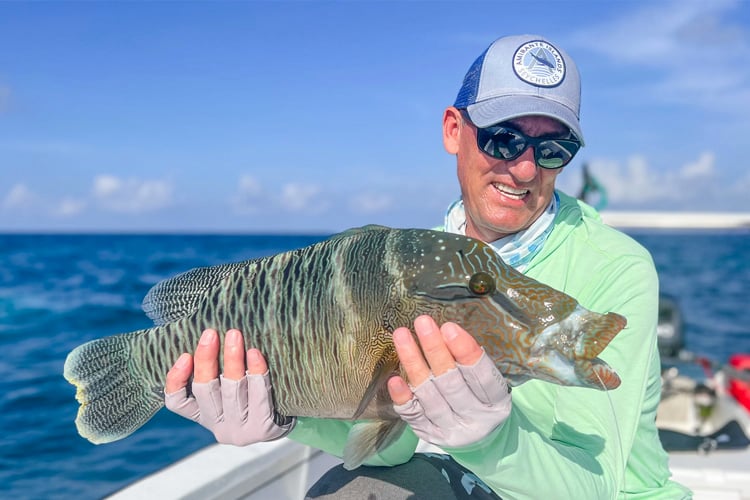 Chris managed six GTs for the week and also caught an Emerald Parrot fish, a truly special fish that many people have never caught even after having fished for years. It was the perfect warm-up for his next week on Cosmo.
Valerii a long-time Alphonse Fishing Company guest showed us his skills, catching six GTs and a beautiful Milkfish.
Last, but certainly not least, Alex took a liking to deep-water fishing and took full advantage of both the flats and the outer atoll fishing. He easily racked up the most species and some special mentions go out to his 14 GTs, male and female Saddleback Grouper as well a beautiful Napoleon Wrasse.
Stay tuned for the next report from Cosmo!
Tight lines,
Alphonse Fishing Co. on Cosmoledo Atoll
TOTAL CATCH STATS THIS WEEK:
Giant Trevally 41
Bonefish 2
Milkfish 2
CONTACT US
If you would like to read more about the fantastic fishing on offer on Cosmoledo Atoll in Seychelles, you can contact our saltwater fly fishing expert Peter Collingsworth on 01603 407596 or via email at peter@sportquestholidays.com. He would be delighted to speak with you.