The last week on Cosmoledo was over the neap tides, leading up to the new moon spring tides. The first few days on the atoll had a fair amount of wind which meant the anglers had to pull out some good casting skills. Throughout the week, the gents had to very quickly perfect their casting, bringing in more fish as the week progressed, despite the strong winds.
This week, David, Bob, Scott, William, Mike, and John landed their first-ever Giant Trevallies. The fish were all caught in different scenarios, from fish on sharks and rays to single fish on the white sand flats or a couple caught in the surf zone. The anglers shared their firsts, which meant great stories unfolded in the evenings around the bar and over the dinner table.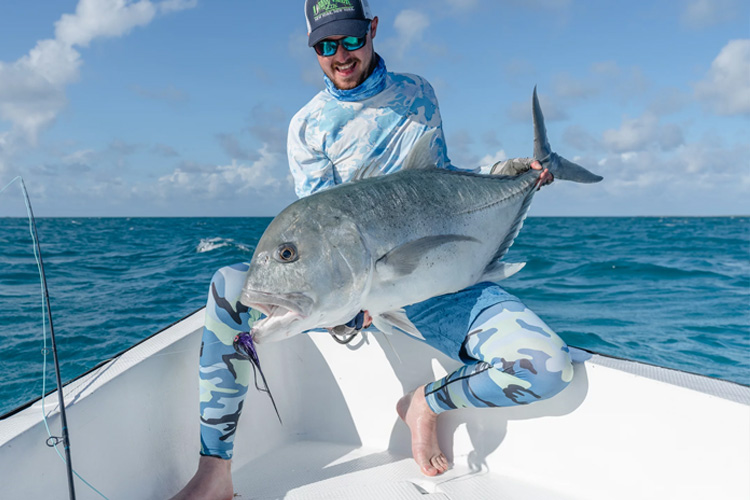 Fergus and Mike were fortunate to land some of Cosmo's bigger fish. Fergus made a long cast onto a 108 cm Giant Trevally, sitting high in the water column over a coral head in the deep. Fergus was able to land this giant specimen of a Geet in the last hour of the day. Congratulations to Fergus on a phenomenal fish.
Mike managed to land himself a fish exactly 100 cm, just breaking into the triple digits. He caught the geet in a small group of fish on the back of a Lemon Shark. Congratulations to Mike on your first meter Geet.
The anglers were thrilled with their catches and a pleasure to guide. Thanks to everyone who joined us for our last week of the season. We look forward to seeing you back on Cosmoledo!
Tight lines,
Alphonse Fishing Co. on Cosmoledo Atoll
TOTAL CATCH STATS FOR 8 ANGLERS THIS WEEK:
Giant trevally 44
Bonefish 6

CONTACT US
If you would like to read more about the fantastic fishing on offer at Cosmoledo Atoll in Seychelles, you can contact our saltwater fly fishing expert Peter Collingsworth on 01603 407596 or via email at peter@sportquestholidays.com. He would be delighted to speak with you