The week started with neap tides and slowly headed towards springs as the end of the week approached. GT fishing in the deeper water off the edges of the atoll was quite special this week with large numbers caught when the sea conditions allowed. The Bonefishing this week was also an absolute treat and something we know the anglers will remember, a total of 127 Bonefish were caught for the week, all significant in size.
Ian left his mark on Cosmo, he is also an incredible artist and drew on everything from old motor props to shells. His fishing was decent too and he had the highest tally of flats-caught GTs to his name at the week's end with four on the charts. On his last day fishing, he also managed a slam consisting of a 57 cm Permit, a GT and a Bonefish. Well done Ian!
Dick had an amazing week catching some special fish. Not only did he catch three GTs and 10 bonefish for the week he managed to catch a Napoleon Wrasse well over the meter mark, a special fish in anyone's book.
Roger was the GT and Bonefish king for the week catching most of both species with 24 Bonefish and 10 GTs, the largest measuring in at 92 cm.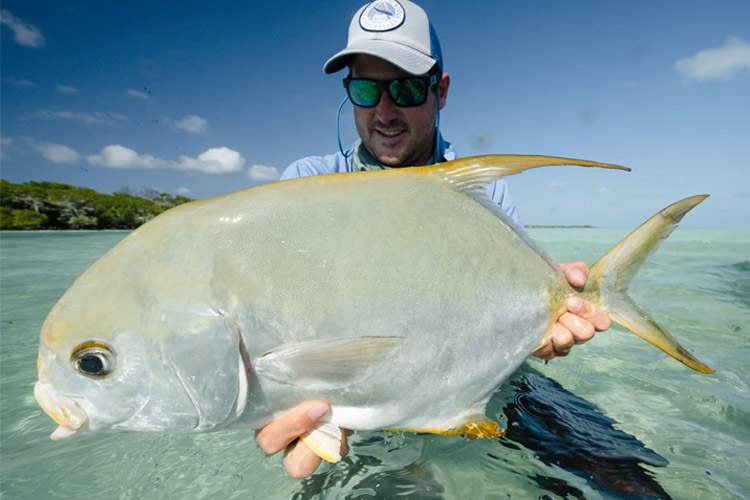 Victor and Charlie being long-time friends shared a boat for the week and did not waste any opportunities that came their way. Charlie managed four GTs, a beautiful Moustache Triggerfish and 11 Bonefish for the week. Victor's tally included three GT, a lovely Moustache Triggerfish and 20 Bonefish for the week. There are few things that measure up to a shared skiff with an old friend, great memories.
Stay tuned for the next report from Cosmo!
Tight lines,
Alphonse Fishing Co. on Cosmoledo Atoll
THIS WEEK'S CATCHES & RELEASES

Bonefish 127
Giant trevally 48
Moustache Triggerfish 2
Indo-Pacific Permit 1
CONTACT US
If you would like to read more about the fantastic fishing on offer on Cosmoledo Atoll in Seychelles, you can contact our saltwater fly fishing expert Peter Collingsworth on 01603 407596 or via email at peter@sportquestholidays.com. He would be delighted to speak with you.