The Cosmoledo Atoll had fantastic weather this week and a vast choice of waters to fish from. The week faced the tail-end of the April full moon spring tide, with the full moon being on the change-over day. The anglers were fortunate to enjoy the back end of the spring tides, which slowly tapered off into neaps as the week progressed, giving the fishermen consistent weather.
Giant Trevallies were the main point attraction this week for the anglers. There were also some occasional Bonefish landed. Although the anglers did not target many Triggerfish, they produced some big fish once the neaps started to kick in.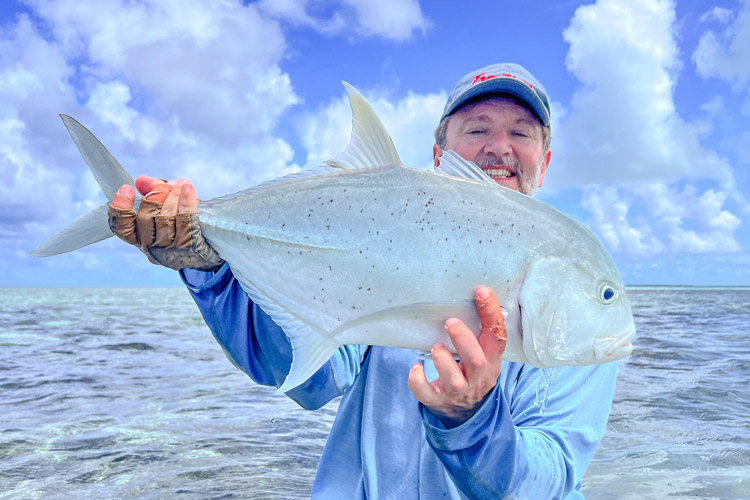 Sergia landed one of Cosmos' meter fish in the deep waters, an incredible fish. At the beginning of the pushing tide was a shoal of big Geets moving up the channel, which found themselves feeding along the edges of the pancake flats in the main channel. Sergia cast into the shoal and managed to land the Giant Trevally, measuring 112 cm fork length. Congratulations to Sergia on an outstanding personal best GT that forever be a story.
Alan had the opportunity of a lifetime with one of Cosmos' monsters! He had been on the search for this fish the entire week until dusk rolled in on day five. On Alan's late afternoon drift, his final blind cast hooked a 110 cm fish. After a good fight, he caught the fish with confidence and was lucky to share this moment with a good friend and a very excited guide! Congratulations to Alan on this spectacular fish. You deserved it for all the hours spent on the water.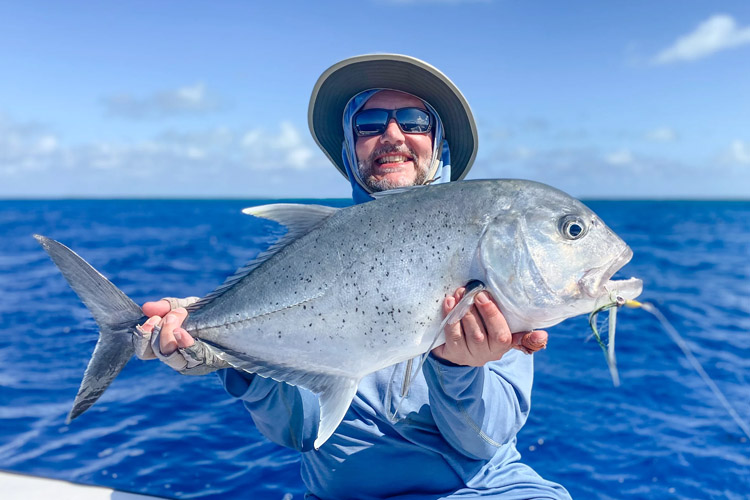 Towards the end of the week, tides were high, and the flats were not ideal, which meant fishing outside the atoll was in order. The outer atoll brought in a good number of various grouper species and Snapper on the dredge. Saddleback and African marble Grouper were plentiful. Some big Blue Trevallies and the occasional Boha Snapper also stretched the fly line this week.
We had a fantastic week of fishing on the last trip of the season and cannot wait to see you back on Cosmo next season!
Tight lines,
Alphonse Fishing Co. on Cosmoledo Atoll
TOTAL CATCH STATS FOR 8 ANGLERS THIS WEEK:
Giant trevally 44
Bonefish 6

CONTACT US
If you would like to read more about the fantastic fishing on offer at Cosmoledo Atoll in Seychelles, you can contact our saltwater fly fishing expert Peter Collingsworth on 01603 407596 or via email at peter@sportquestholidays.com. He would be delighted to speak with you.