This week Cosmo was full of long-time Alphonse Fishing Company guests, spirits were high and the attitude was impeccable heading into the week! We started off on spring tides and paired with the eager and experienced anglers, we had the perfect recipe for GT fishing and surf walks.
Justin, well-known in the fly fishing industry, came to show us what he was made of, catching six Giant Trevally and an absolute tank of a Yellow Margin Triggerfish stretching the tape measure at 52 cm.
Mike did not miss out on the action either and had a few incredible days. One day in particular he managed a slam consisting of a Giant Trevally, Moustache Triggerfish and a Bonefish. His GT tally for the week was six.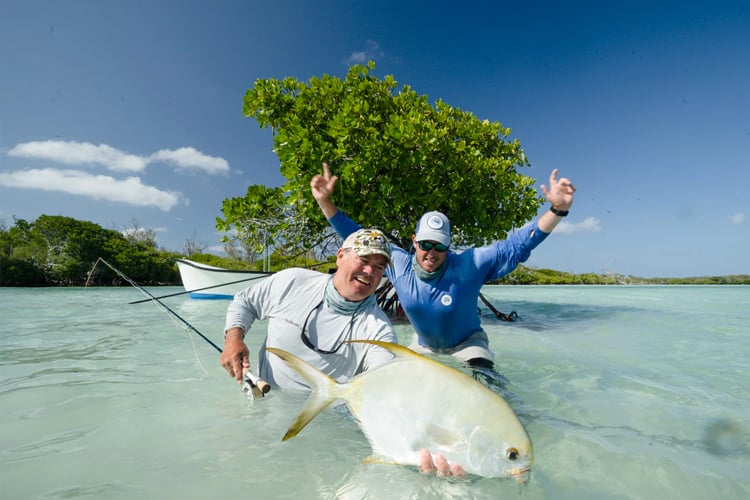 Lance was the big GT king for the week having landed a 101 cm fish. A special fish in any circumstances but in open surf on foot, just makes it that much more memorable.
David was the only angler who had never saltwater fly fished prior to this trip, it didn't show and he managed each day to land at least one, or on some days multiple, Giant Trevally. His total tally for the week was eight, an absolutely cracking first week of saltwater fly fishing.
Stay tuned for the next report from Cosmo!
Tight lines,
Alphonse Fishing Co. on Cosmoledo Atoll
THIS WEEK'S CATCHES & RELEASES

Bonefish 15
Giant trevally 46
Moustache Triggerfish 1
Yellowmargin Triggerfish 1
CONTACT US
If you would like to read more about the fantastic fishing on offer on Cosmoledo Atoll in Seychelles, you can contact our saltwater fly fishing expert Peter Collingsworth on 01603 407596 or via email at peter@sportquestholidays.com. He would be delighted to speak with you.