Another week has passed on the flats of Cosmoledo Island. This week saw a fantastic range of species coming in, even a tricky Napoleon Wrasse was landed. Ill hand you over to the Alphonse team for their write up of the week. –
11th March – 18th March 2021
Spring tides and good weather was the anticipation for the week, unfortunately, a small depression off Madagascar made the first two days tough. Despite the weather, everyone managed a few GTs and spirits were high.
Day three was a cracker of a day and the group put in max effort coming home with some incredible catches. Marc managed a moustache triggerfish in the surf with multiple GTs. Paul started with a magical Yellowmargin Trigger and on the push in the surf batted a 110 cm GT in knee-deep water. Philippe and fishing partner for the day had 11 GTs and crazy action in the skinny waters of the lagoon. The fish of the day had to be Stephan with a 98 cm Napoleon Wrasse fished in the surf.
Day four with great weather again had all the makings of a special day and it began for Jasper with a 116 cm GT sight fished off a coral head in chest-deep water. Biggest fish for the week and certainly fish of a lifetime. Marina added to the day's brilliance with two Triggerfish and a 106 cm GT. Mitch was on form on this day and managed a super slam with a Trigger, GT, Bonefish and a Milkfish.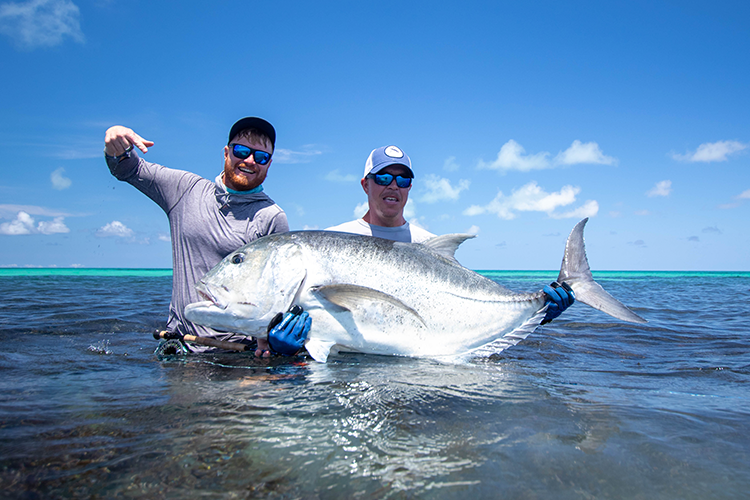 The week had so much action that it would be impossible to put it all in this small write up, but the way the week ended must be mentioned. Jasper, Marc and Philippe all finishing with slams and four Milkfish landed throughout the day.
Simply an unbelievable week.
Tight lines,
from the Alphonse Fishing Co team on Cosmoledo
Contact us
For more information on our Cosmoledo destination make sure to take a look at our tour page. If you have any questions regarding any of our Saltwater fly fishing tours, get in touch with us at 01603 407596 and one of our dedicated professionals will help you with your query.
Tight Lines,
Peter