Hi Shipmates,

What a difference a day makes! Today was Day 5 of our Big Adventure in Costa Rica and the Shipmates were hard at work all day. Crab Pott Chris and myself were again with Humberto and had a plan A with a backup plan for Tuna. Plan A started well with a big Jack and a couple of Africans and a few smaller species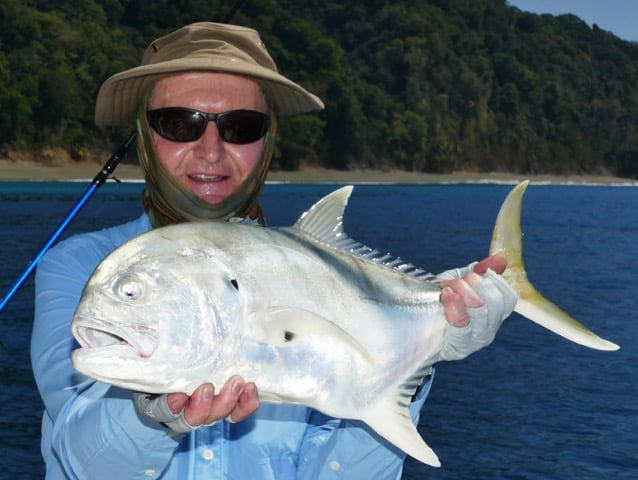 The species count was also slowly increasing with some fish I had never heard of including a Margareta fish. I had another Big Eye Jack and a Bonito that put our species count at 23.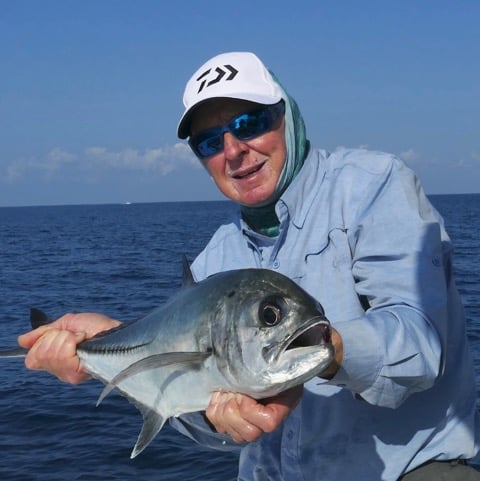 The radio chatter told us the Tuna were back in town so without hesitation we left our bottom fishing and raced the 14 miles to the Tuna hotspot. Today there were only 4 boats in the zone so it was obviously going to be fun. Hundreds of Dolphins were chasing the small bait fish, in front of the Dolphins were the Tunas at varying depths. This is an amazing site and the boat had to be in the right position to hook a Tuna.
Cutting to the chase, the fishing was awesome, the photos say it all. My highlight was a battle with a 60lbs Tuna on my Daiwa 12-20 Kenzaki which was bent to maximum. I could see the Tuna some 20' down in the clear blue water. Suddenly the Tuna shot to the top and below it came a huge Marlin, and I mean huge! Let's face it, anything that even tries to eat a 60lb Tuna is a mega beast. For a few seconds, it lit up like a neon light then disappeared back into the depths. I was having a right battle with my Tuna, if that Marlin had taken my hook it would have been an Ernest Hemingway story similar to "The old man and the sea." The end would have been different because I think with my light tackle the odds of me ever releasing such a fish I would have more chance of winning the lottery. Below is a smaller Tuna that the Marlin was chasing.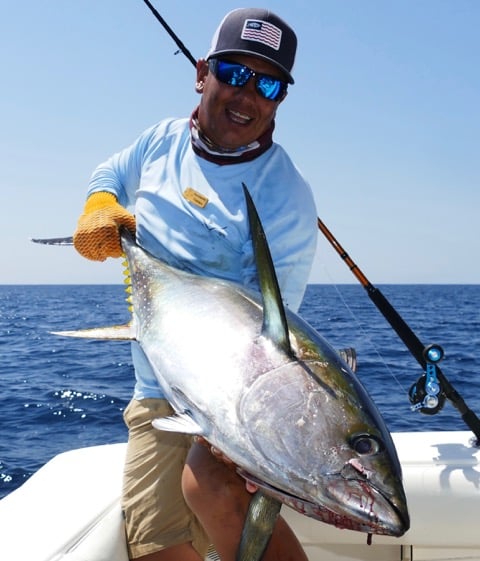 We caught most of our fish on jigs and spent most of the day fighting Tuna, in all we boated 13 Tunas up to 60lbs. All were safely released to grow bigger.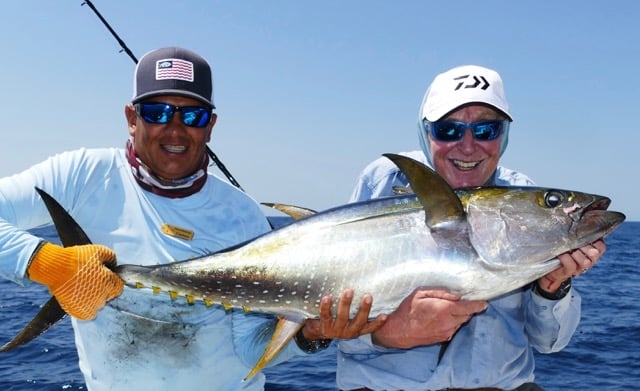 What an amazing day, most of the fish were landed on our light Daiwa Jigging rods, they are unbelievable bits of kit. It was time to head for the barn where more cold drinks were waiting for us. Fishing alongside us all day was Tim from the Valleys and Cuda Tim, they were with Captain Anthony. They also had a ball and had some fantastic photos that tell their story.
I asked Tim to write a blog today, it can below a bit like war and peace.
Tuna Twosome
Hi Roy as promised…. please can I ask that you put the pool picture of me and Tom in the pool at the end of the blog. cheers (No you can not, it will go another day Admiral Marlow).
Tuna twosome …..
(This supposed to be a fishing blog)

First of all hello Sam and Olly daddy is missing you loads and will be home soon….
Well it's my turn to do the blog even though I'm tired and got a headache…..
Today we were lucky in that only three boats went out and our two boats decided to make a plan and stick together. We went to a new further out mark and Tom and I started the day jigging in 300 foot of water to fish on the finder. We ended up catching what looked like small Dogtooth Tuna in the 2-4lb range and finished with a double hookup…and 6 fish in total.
These fish were impressive for their size but not what the doctor ordered and because of the these fishes teeth and the dwindling number of our jigs (the tax on everything you buy in Costa Rica is so high that you can not obtain tackle whilst out here) we decided on pastures new…. we ended up on another mark further along the coast and in about 140ft jigging live baiting and with Tom using a live and dead Bonita for a big old Cubera but there was no one worth bothering with at home. We caught some snapper and a half decent for Costa Rica AJ and that was about it…..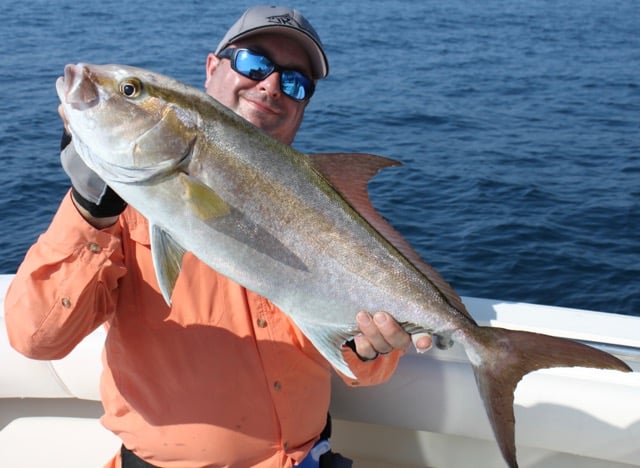 We then dropped on a few other marks jigging and whilst there was fish on the finder no one was playing ball.
Then the radio came to life and we got the call that there were two pods of tuna about 6 miles away so throttle forward and two Brits sitting up front holding onto their hats and 29 mins later they were now each holding a popping rod anxiously waiting for orders on where to cast. This was something we have not done before and you have to cast either side of or in front of the pod of dolphins that accompany the tuna. An experienced and knowledgable skipper is crucial and we certainly have that in Anthony one of the resident captains in crocodile bay lodge. He expertly manoeuvred the boat to a good position ahead of the dolphin and the tuna and we lined up our casts.
What happened over the next couple of hours will stay with Tom and I for many years. Tom opened proceedings with a cracking popper caught Yellowfin tuna of 45lbs on his here skipjack 60 popper. Tom then proceeded to land another three on poppers and then decided on letting me take a prime position at the helm of the boat so as to really ping the popper out. After two follows I finally managed to hook and land my first popper caught Yellowfin of 50lbs. Again a big thank you to uncle Robin at Daiwa UK for supplying us with the very impressive reliable and useable saltiga air portable popping rods together with the ever-reliable saltiga high-speed reels. This made throwing the heavy plastic and steel much easier in the heat.
We then took turns in catching these amazing creatures on jigs and poppers whilst watching the spinner dolphins and massive tuna busting at the surface. All the pain (I had a migraine) blood sweat and tears were forgotten due to adrenalin and finally fishing amongst some decent and hungry fish….. We were having such fu.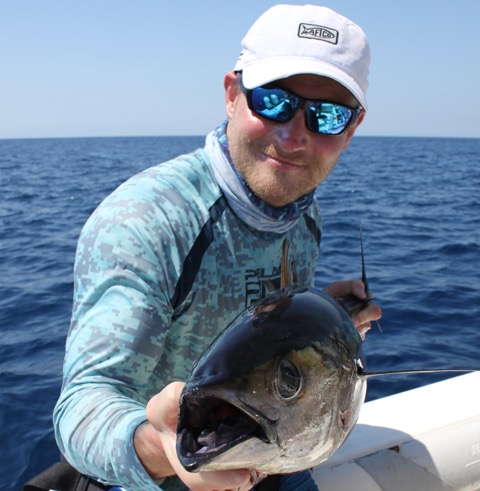 We ended up taking four big tuna to 50lbs and realising another 10 tuna with most falling to Tom's rods, I was flagging with my headache despite numerous painkillers.
We the ran out of time and finished the day with Tom landing another 40 pounder tuna on his jigging set up. I must mention the daiwa saltist jigging rods as they make the job of lifting the fish up really easy and the captain whom loves jigging and popping said that they were the best he has used. All I know is that a popping rod is necessary for casting heavy poppers but is out paced by the jigging rods when it comes to playing these powerful fish under the boats.
We then headed back home with a beer and had some more in the pool and jacuzzi, life is hard being a saltwater fisherman haha.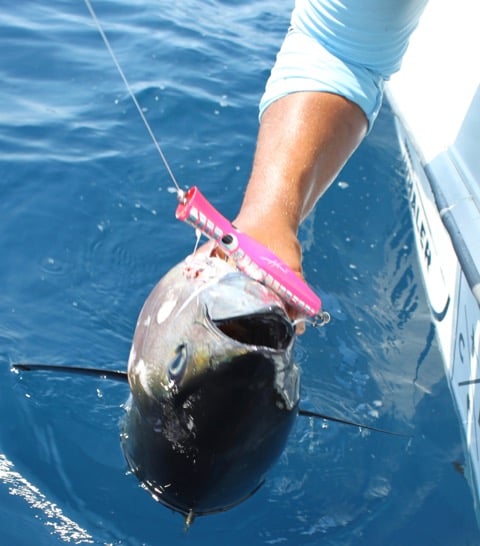 Missing all the other keys fisherman it would be better with you all here ….but we're trying our best to enjoy ourselves… Cheers the Cuda kid.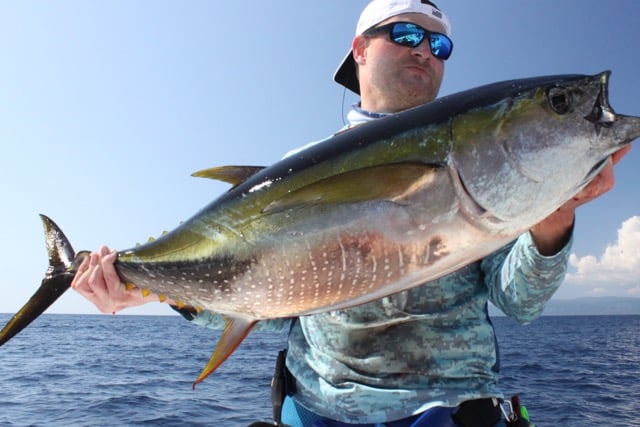 The photos say it all, below a few more, the pool pictures Tim mentioned will have to be in another day because young children might read this and be offended.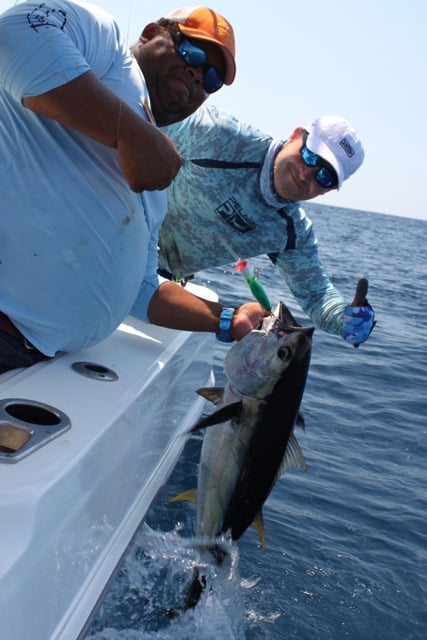 Anthony and Tim from the valleys.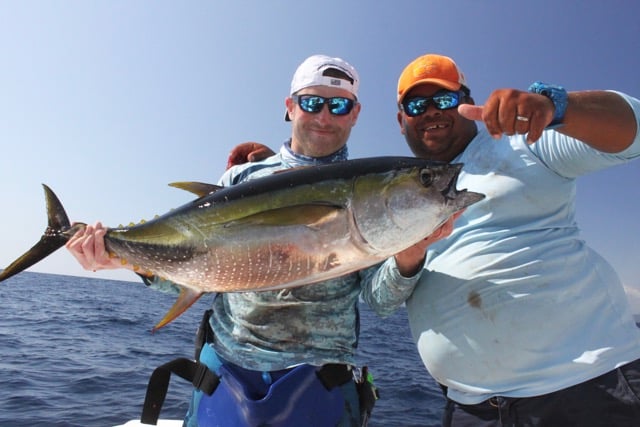 Tim is the one wearing the hat.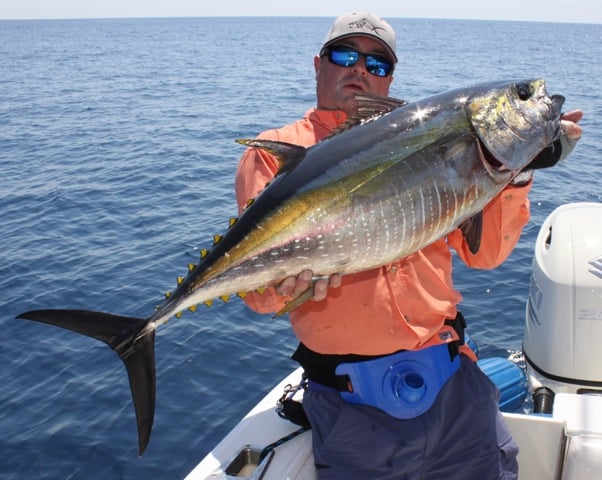 Tom with a Popper caught Tuna.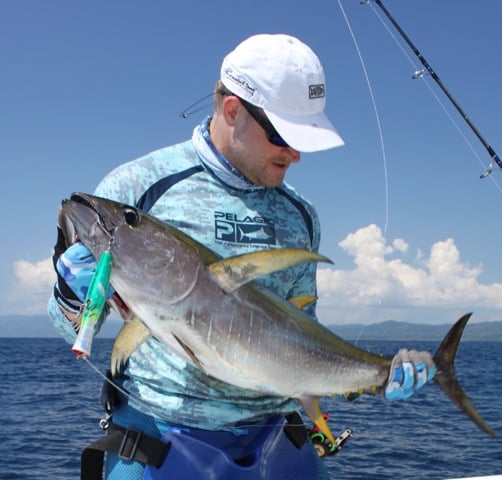 The best photo so far Tom with a great Yellowfin Tuna.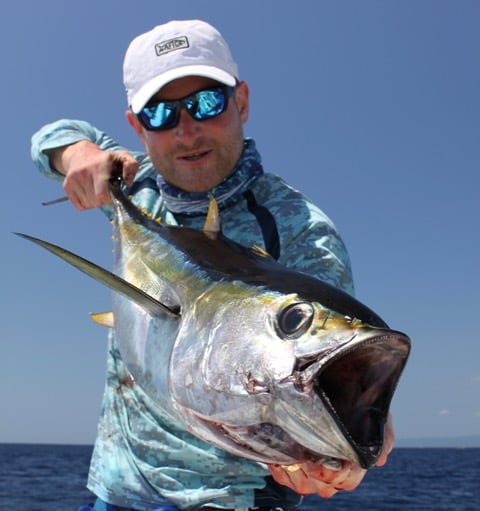 I am worn out and tired, hope all of this makes sense, everyone is fast asleep all snoring like pigs. Signing off because its up at 4.45am for yet another day in Costa Rica.

Admiral Marlow