As we have finished yet another month in 2021, that means a brand new round-up from the guys over at Crocodile bay. It looks like it was a cracking week! Ill hand you over the the guides for their write up.
February 2021
We finished giving our pier a new look just in time for the crowd that came fishing in February. It was really nice to see that kind of movement again after being held back by restrictions for so long.
El Niña played with us a bit during this last month as it is usually clear skies, with a flat ocean, and hotter in February. We had a week stretch of occasional thunderstorms which was accompanied by the associated winds. The rainfall kept the surface temperature down and although the Sailfish don´t like it much, anglers were rewarded with Marlin, Tuna, and some really big Dorado. (Dolphinfish)
Mark done some more film work again this month as he has done every year for over a decade. He also got caught in the unusual weather but managed a few sails and a Dorado of 60 lbs. Deep jigging he used the new slow jigs and caught some nice Snapper and a mixed bag of inshore species. Inshore fishing stayed steady throughout the unusual weather and it seemed to make the fish more active.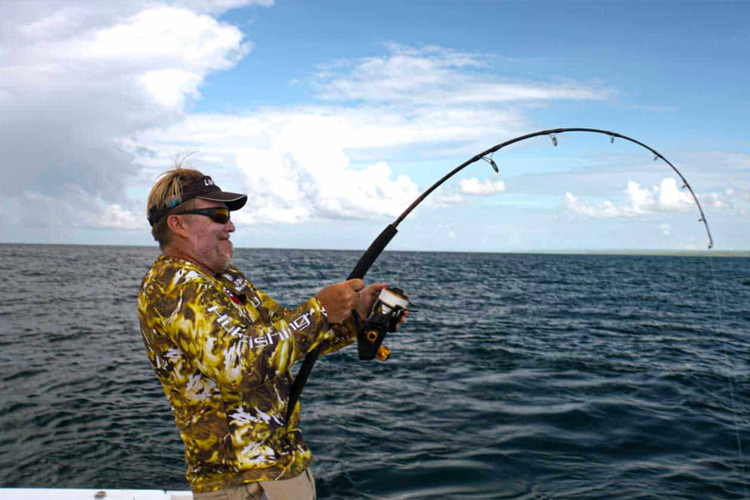 There has been a really good Roosterfish and snapper bite going on with Jacks, Trevally and some Grouper mixed in.
We like to tease one of our captains, Anthony, about his quest for a fish we know as a 'mero'. In the States, it is now called a Goliath Grouper. Anthony has a knack for hooking his clients up with this challenging species, as they are difficult to bring up from the depths with conventional tackle. He has, in the past, had them hooked up for over an hour only to eventually have them break off. We often teased him that he was pulling on a rock. The other day he got a mid-range mero to the boat for a picture before releasing it back into the Golfo Dulce.
Brook has been coming to Crocodile Bay nearly as long as we have been open. He just hosted his third tournament of fellow communication workers, yet this time due to the weather, they had to count on Tuna and Dorado to rack up points. I have never seen a tournament so close on the day they fished inshore. All 4 boats caught and released 75 Roosterfish that day. Two of them each took in 20 but was edged out by the team of Amy, Thomas, and Kevin who were fishing with Captain Johnny. As host of the tournament, Brook took in 14 Roosters (call it professional courtesy) but followed up with 8 other species.
The weather has returned to normal and the full moon has passed so the beginning of March looks very good.
By Todd Staley
Contact us
For more information on all our Crocodile Bay destinations make sure to take a look at the dedicated tour pages. If you have any questions regarding any of our Big Game fishing tours, get in touch with us at 01603 407596 and one of our dedicated professionals will help you with your query.
Tight Lines,
Paul