We have our sixth report in from Roy over at Costa Rica, it looks like the Sailfish are on the feed! Take a looj at day 5 in Costa Rica. Ill now hand it over to Admiral Marlow –
I had a serious scare this morning.
I checked the weather forecast and it said it would be very cold and snow possible. Wow, I thought that's bad, but I had pressed the key for the UK, not Crocodile Bay.
You will be pleased to know that it was 24 degrees at breakfast and 29 degrees on the water but cloudy. With the Sail fishing good yesterday we opted to go offshore with Humberto as our Captain. On the way out we saw loads of Tuna, but they were all spread out and moving very fast. It was very difficult to get into the right position. Humberto hooked a little one on a popper so I made him fight it himself because he needs some practice. He obviously had a fight with it because of the blood on its nose.
Humberto is the one wearing the sunglasses.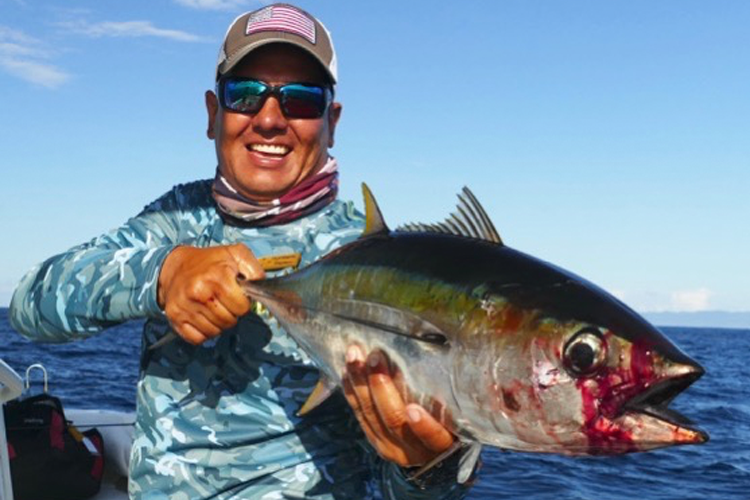 Humberto with a small Tuna on the boat
We decided to leave the Tunas and headed out in search of some Sailfish. About 16 miles out we set our rigs, 4 rods with Ballyhoo that's two on the outriggers fairly long. One short on the near teasers and one long on another teaser. A marlin outfit straight back behind the motors. Mounting the Ballyhoo is very skilful and has to be perfect. It's the only job I don't do. It's very interesting and totally different to how it's done in the Florida Keys.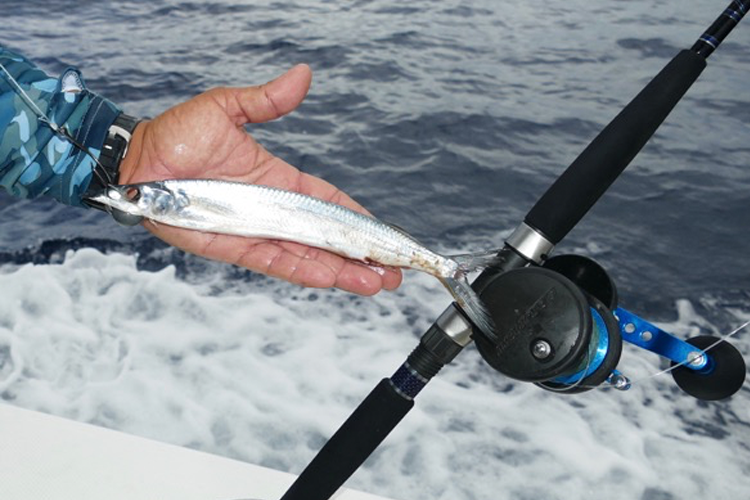 Cutting to the chase we went 7 for 2 Sailfish, it should have been 3 but Chris needed a bit more Jedi training from me and lost a Sail through angler error. What was very strange today and the other Captains also commented on it was that several Sails chased the teasers but missed the baits. I had my Ballyhoo within 3' of the near teaser looking perfect yet three Sails missed it. The only thing different today was that it was dull all day. Non-jumping Sailfish made for some very poor photos today. This one obviously hadn't had its Weetabix for breakfast and also hadn't read the book on jumping Sailfish.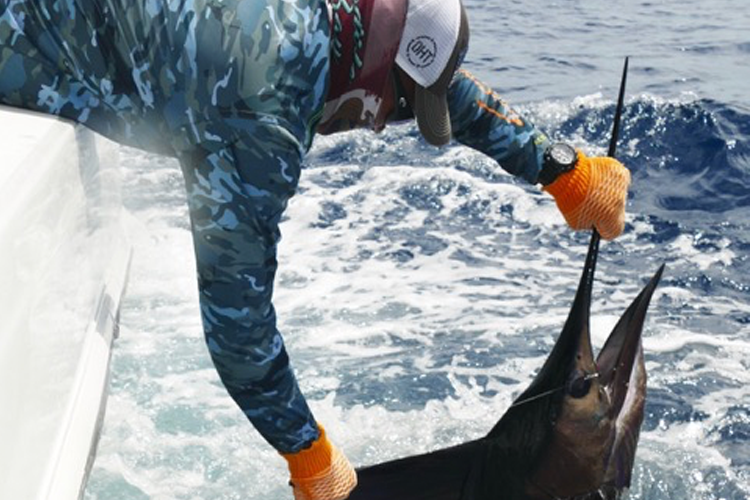 We always practice water releases when we can with the big Sails!
This is Humberto at full stretch trying to get the hook out. It is to dangerous and would not do the fish any good at all if we had them on the boat. They are too special to damage.
So that was our day, not a disaster and I am sure many shipmates would be happy with just two Sailfish. Tomorrow we are on a Strike boat with Captain Manuel and I think we will be going well offshore.
Signing off
Admiral Marlow
Contact Us
Crocodile Bay Resort really is a one-of-a-kind destination, catering to both anglers and holiday-makers. Visit our Crocodile Bay Resort page for even more info, Alternatively, you can request a free brochure or simply call us today on 01603 407596 with any questions you may have.