The month of May continues the transition from the dry season to the green season at Crocodile Bay, and it delivered excellent fishing opportunities both inshore and offshore. Inshore fishing kicked off the month with impressive catches of roosterfish, some weighing in at 45 to 70 lbs. While the average catch for roosterfish usually falls between 15 to 70 lbs, anything over 40 lbs is considered a trophy fish.
These inshore warriors are known for their incredible strength and can be easily identified by their distinctive rooster comb, featuring seven long spines on the dorsal fin. In addition to their impressive fighting abilities, roosterfish are also photogenic, making them perfect subjects for sharing your catch to friends and family on social media.
To target roosterfish effectively at Crocodile Bay, live baits such as goggle eyes, blue runners, and sardines are highly effective. However, it's also quite thrilling to cast poppers and various artificial lures and witness the roosterfish chase down and devour lures. A common question we receive is "Can roosterfish can be caught on a fly rod?" and the answer is a resounding "YES!" With patience and perseverance, it is indeed possible, as demonstrated by our fly-fishing angler Greg Laughlin, who successfully released over 25 roosterfish using a fly rod!
Despite May being a transitional month, we have been blessed with calm seas and minimal wind, and the billfish have started to make an appearance. The increased rainfall has caused rivers to overflow, bringing along debris such as logs, branches, and leaves. This natural shelter serves as a buffet for baitfish, attracting billfish and other species like monster dorado and a few wahoos.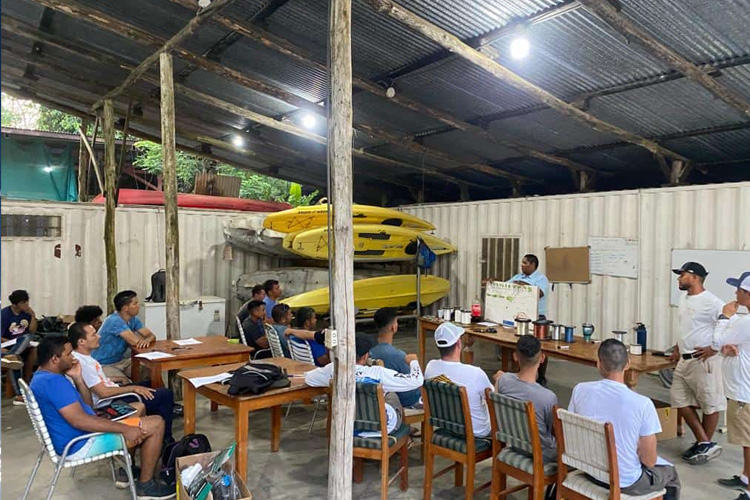 Our experienced captains and mates come from generations of local fishermen, inheriting knowledge and experience from years of fishing the waters off the Osa Peninsula. They can already anticipate a fantastic billfish season in June by observing the waters, tracking good current lines, and noticing the recent surge in billfish activity. While blue marlin is the most prevalent marlin species in this area, we have also seen an influx of black marlin, which was one of the highlights in April. During May, our crews managed to land several more black marlin, indicating a promising increase in their numbers. Additionally, the tuna action has been remarkable, with our crews encountering spinner dolphins leading large schools of tuna ranging from 20 to 300 lbs on a daily basis.
In May, we initiated the new Crocodile Bay sportfishing Academy with the aim of recruiting new mates for the Marine Staff. During this workshop, we also share our fishing knowledge and experience with the locals and the younger anglers who will be the next generation, emphasizing practical fishing techniques and the importance of responsible fishing and releasing fish. Because the mark of a true sportfisherman is finding greater joy in releasing fish to fight another day rather than capturing them.
As mentioned in previous fishing reports, transition months consistently deliver exceptional inshore and offshore fishing experiences. If you don't mind a little rain in the afternoon and desire a higher chance of landing that bucket list fish you've been after, now is the perfect time to pack your gear and visit Crocodile Bay. I'll be here to welcome you and assist in creating an unforgettable fishing adventure.
Tight lines,
Diego Camacho
Crocodile Bay Fishing Director
CONTACT US
Crocodile Bay Resort is one of the best bluewater/big game resorts in the world and offers anglers the chance to target a huge variety of species. If this sounds like something you're interested in then you read more on our Crocodile Bay Tour page, or alternatively, you can contact our destination manager Paul Stevens on 01603 407596 or email at paul@sportquestholidays.com who would love to speak to you.