In North America, the spring season is an exciting time ushering in transition and growth. Here in Costa Rica, it's been a month of big changes, expansions, and transformations for Crocodile Bay too! Starting with our name: Crocodile Bay Resort has evolved into Crocodile Bay Marina. In other huge news: our fishing guests are now enjoying the luxury accommodations and amenities provided by our newly-opened hotel, Botanika Osa Peninsula, Curio Collection by Hilton. The names may have changed, but the fishing remains the heart and soul of our operation at Crocodile Bay.
The transition from summer to rainy season in Costa Rica always brings good fishing with all the logs and branches coming out of the rivers creating a temporary home for the bait fish, which in turn becomes a 5-star all-you-can-eat-buffet for the bigger game fish. Also, the temperature changes in the water lets the fish swim around the surface for longer periods of time on the search for food, making it is easier for our captains to raise fish into our spreads.
Marlin, tuna and big roosterfish made a strong appearance in the month of April for our Crocodile Bay guests. Many of our inshore anglers boated up to 4 different species in a single day. Imagine having a multi-catch day like that offshore… well, it happened for a few of our anglers in April too. I call that a Crocodile Bay super grand slam: marlin, sailfish, dorado and tuna – all in one day!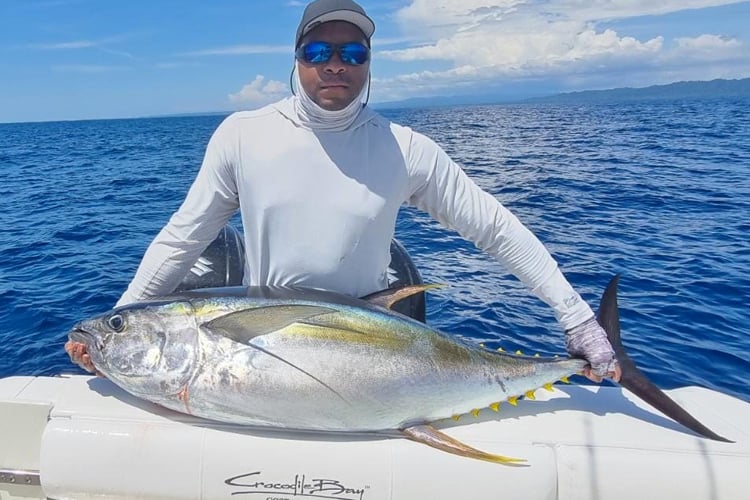 Roosterfish are normally a year -round species, but this past month provided exceptional fishing for fully-grown roosterfish. I am talking about those muscular 40+ lbs fish that anglers dream of… we delivered them for our guests this month!
April fishing guests had fun drifting live baits of the stern while casting artificial lures off the bow for African pompano, bluefin travelly and over a half a dozen different types of snappers all while enjoying the amazing views of the Osa Peninsula. Our guests like to call it "fishing paradise." We agree.
One of our biggest joys is to see kids developing a passion for fishing in our guests and last month we had the honor to host a few families like the Mastropaolo family. The little guys went out and slayed the fish catching roosters, sailfish and even a 200 lbs blue marlin. Seeing the smiles on their young faces is priceless. We also had the honor to host Jimmy Nelson and Luiza filming yet another episode of "Living the Dream".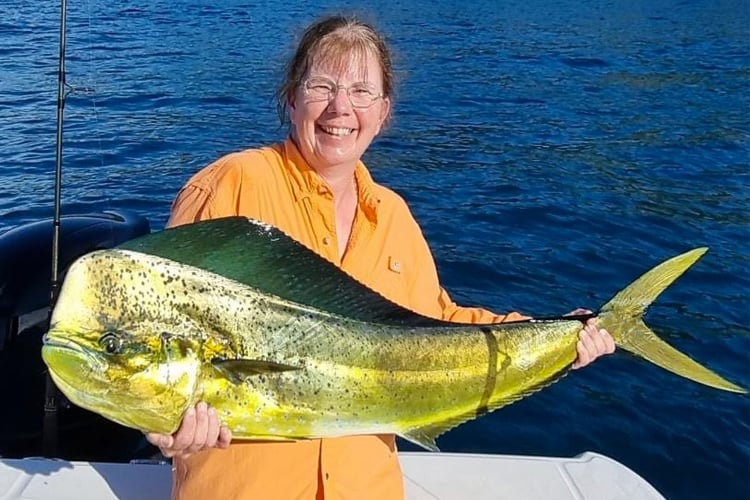 We also had the pleasure to host Lucas Hoge, filming an episode of Hogewild Tv. Lucas is an American singer-songwriter and musician. He is also the host of "Hoge Wild" on Sportsman Channel, and during his stay he was able to land some nice size rooster fish, sailfish ,snappers, dorado and more!
I can't wait to see what the month of May holds for us, but I can tell you guys we got off to a great start with lots of action inshore and offshore, so lets pack up those bags get your fishing apparel ready to come and enjoy our tropical wonderland. The Osa Peninsula is the place that will allow you to completely tune out the stress of your everyday life for a while and fish in paradise. Let's make those reels scream!
Wet lines,
Diego Camacho
Crocodile Bay Fishing Director 
CONTACT US
Crocodile Bay Resort is one of the best bluewater/big game resorts in the world and offers anglers the chance to target a huge variety of species. If this sounds like something you're interested in then you read more on our Crocodile Bay Tour page, or alternatively, you can contact our destination manager Paul Stevens on 01603 407596 or email at paul@sportquestholidays.com who would love to speak to you.