We have just finished another month down at Crocodile Bay in Costa Rica. This month saw a huge push of Roosterfish for the lucky anglers down on the water, alongside the Roosterfish, anglers also managed to land some impressive Sailfish.
November 2021
Greetings from the Osa Peninsula,
The beautiful Osa Peninsula has certainly earned her reputation as Costa Rica's fishing paradise. The month of October supported that fame by pleasuring us with incredible weather, fairly calm water and of course, hungry fish.
The Roosterfish possess an extraordinary fighting stamina, and is considered to be one of Costa Rica's most sought-after species. In Central America, Roosterfish can only be found off the Pacific coast, from southern California down to Peru. Anglers come from around the world to visit Crocodile Bay Resort for the Roosterfish, as it is a top bucket-list favorite for many of our anglers. Generally, these fish average 20 to 30 pounds, however; numerous trophy-size fish ranging 50-60 pounds are being landed every week here at the resort. Some have even come close to the current world's record of 114 pounds. Crocodile Bay Resort is favoured to be a prime Roosterfish location. These fish are abundant year-round giving our anglers that chance of hooking up their own once-in-a lifetime trophy fish and October has showcased some of those fully grown Roosterfish.
October also caught our attention with some extraordinary offshore action as we watched those strikingly beautiful Blue Marlin attack our teasers in solid numbers. The Anderson group, who was down for a visit and on the hunt for Blue Marlin, were fortunate to release not one but two nicely sized Blues. We've had a Blue Marlin hooked and released almost every day during the month of October.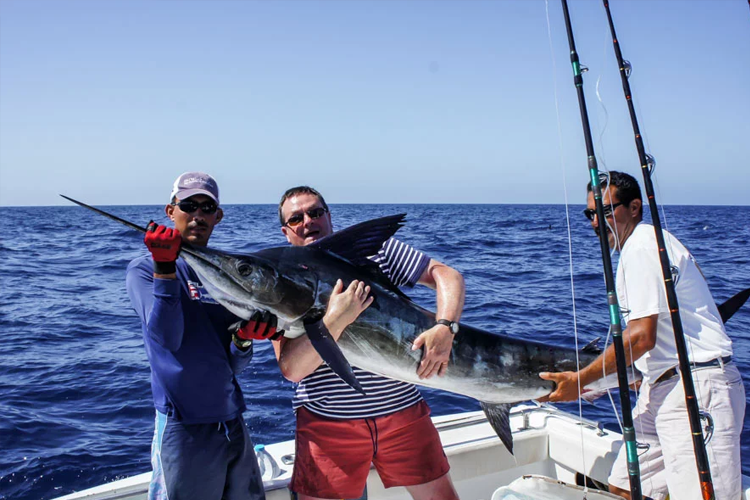 Last month, I mentioned the Dorado (mahi-mahi) season got off to an excellent start. Several of our boats came across huge schools of Dorado both inshore and offshore, delivering a lot of action on the boats. It was no surprise the Dorado keep our anglers busy in between the Marlin bites, and provided a scrumptious fresh filet for their dinner that evening.
I would also like to mention the yellowfin tuna action is still really hot. Our boats have come across very large schools of Tuna swimming with the spinner Dolphins, Sailfish and Wahoo which was the case for one of our returning guests. The Larkin group hooked up and landed a 90-lb Yellowfin Tuna only 5 miles offshore giving them the opportunity to fish inshore for their trophy Roosterfish.
Simply coined as Costa Rica's fishing paradise, I cannot think of a better way to describe the fishery here off the coast of the Osa Peninsula. It continues to amaze me daily given the fortune with diversity of species, beautiful tropical weather, and warm calm waters. We cannot wait to see what November has to offer, but it sure looks promising! Judging by all the baitfish the Dorado (mahi-mahi) and Trunas are feeding on, I predict we looking at a great November.
We welcome you to come down to Crocodile Bay Resort to personally experience the magic of this fishing paradise. The weather has been absolutely fantastic with clear sunny days and a cool tropical breeze. So, hang up those winter jackets, grab your fishing shirts, and let's get bloody! I look forward to seeing you soon.
Wet lines,
Diego Camacho
Fishing Director – Crocodile Bay Resort
Contact Us
Crocodile Bay Resort really is a destination that keeps anglers coming back year after year, catering to both anglers and holiday-makers. If the sound of this report has got you interested in taking a trip to Crocodile Bay yourselfd, you can find further information about this tour on our Crocodile Bay Resort page for even more info including dates, prices and more detailed trip information.
Tight lines,
Paul Stevens