We have just received this glowing report from a set of customers who have returned from a weeks fishing out at Saltstraumen in Bodo Norway. These customers had a great weeks fishing with a mixed bag of species.
Saltstraumen Brygge – 01/09/2021
Hi Paul,
Thought that you might appreciate a quick report on how we got on at Saltstraumen last week.
The journey over was no problem with no delays and all on time. We nearly missed our transfer to the lodge (it was in a large coach rather than the car or minibus that we were expecting), but thanks to you we got onboard with a group of frustrated Germans that had to wait for us!
Arrived at Saltstraumen to be greeted with the news that we had been upgraded to one of the new large 4-man apartments. This was a real bonus – very clean and comfortable and sheer luxury for just the two of us! I gather that we were the first Sportquest customers to visit Saltstraumen, so maybe this had something to do with it!?! Not sure how we would have fared in the tiny Oteren apartment that we were originally booked into?
Kurt Jeppesen, the manager, was extremely friendly and knowledgeable, and certainly helped to put us on a few fish. As you know, the weather was not great during the week with a lot of rain and very variable winds. However, one thing that I can confirm is that Saltstraumen is virtually "weather proof" and we managed to get out fishing every day, although perhaps not exactly where we would have chosen to go. We only managed to visit the more distant "Islands area" once in the week, and I would say that there is huge untapped potential off shore if you do get the weather.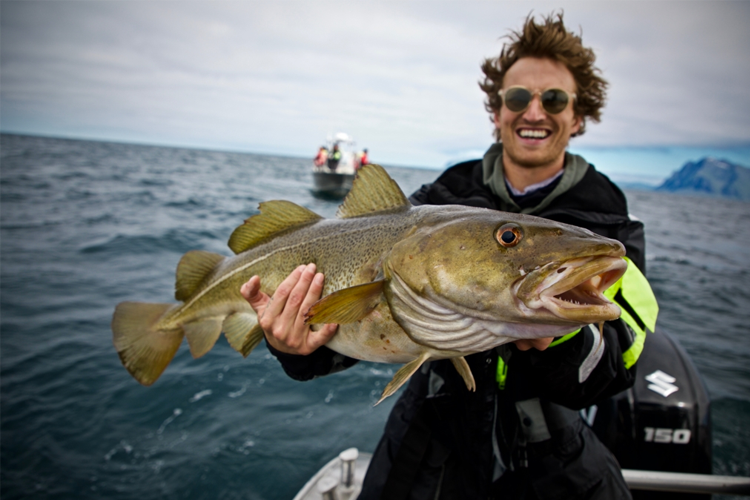 The Saltstraumen maelstrom, which is literally just out from the lodge is also an exciting feature, and full of fish, but we did find it hard to locate the better specimens here. The lodge has 40 boats and the maelstrom receives a lot of fishing pressure every day. There were also several divers spearfishing the area, which I don't think can help. However, on another occasion, I am sure that we might do better. The big Cod that I know they get here were pretty few and far between. We were very pleased however to manage to find a few nice Halibut at other locations. Very rewarding, particularly as I did not hear about any other Halibut caught during our stay (not many people seem to fish for them here).
We had 8 between the two of us in the week, including 5 in one "red-letter day". Not big fish, but great sport and we felt our target was achieved. The best Halibut was 120cms, with backup fish of 114, 113, 90 and four 80's.
Best Cod was 24lb and Darren had a nice Wolf Fish of 12.5lb. We caught loads of Coalfish up to 10lb, a couple of small Ling and Pollock.
The facilities and shop at Saltstraumen are very good, and whilst the Gemi 20 ft boats were adequate, they are not up to the same standard as the 23ft Aronets at other venues. Fine for just the two of us though and not travelling great distances. We did have a few issues with the Lawrence plotter / sonar, again not as good as the Garmins elsewhere. No radios on the boats was a slightly discomforting negative. I guess that they have AIS? We enjoyed our week at Saltraumen, particularly in a year when I was resigned to not being able to get to Norway at all. Many thanks for your help in making it possible for us. I would certainly like to return to the venue, and the two major pluses I would mention are the weatherproofness and the ease of getting there (just 40 mins from airport).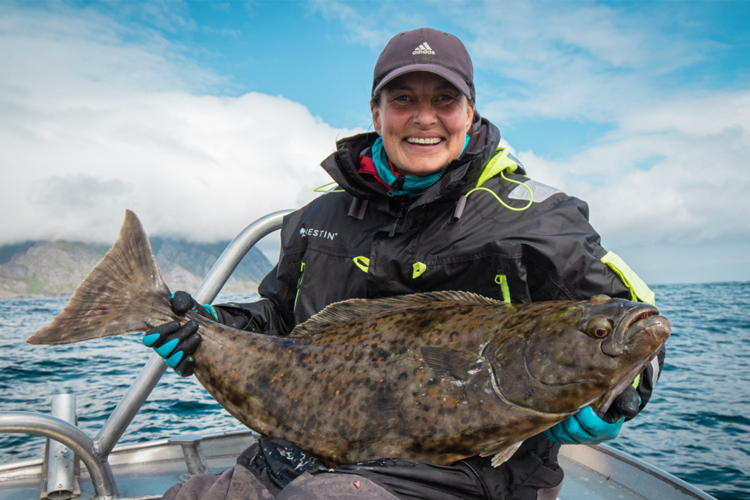 Journey and flights home, again all went well, although it was imperative to perform the covid test a couple of days before we came home and fill in the online form to receive the fit to fly document. A bit of a faff, but no big deal.
Thanks again Paul.
Best wishes,
David & Darren.
Contact us
If you would like to come and fish the waters of Saltstraumen for yourself, we still have some amazing 2022 availability which can be found here. If you'd like to learn more about this tour, contact our Sea fishing Manager, Paul, in the office on 01603 407596 or email him at paul@sportquestholidays.com
Tight lines,
Paul