Join us for exciting fishing adventures in Belize! This week, our anglers had thrilling encounters with migratory tarpon, including a 130+ pounder that put up an 8-hour fight. Despite challenges, we successfully landed the fish before sundown. Tarpon fishing has been excellent overall, while permit were a bit harder to find due to cloud cover.
We're also thrilled to have renowned angler Hutch Hutchinson from Orvis teaching the Orvis Grand Slam school. Join our friendly and experienced crew to improve your skills and enjoy great fishing. Don't miss the ongoing Lobster Fest in San Pedro as lobster season returns, adding culinary delights to your experience. Book now and create unforgettable memories on Belize's beautiful waters!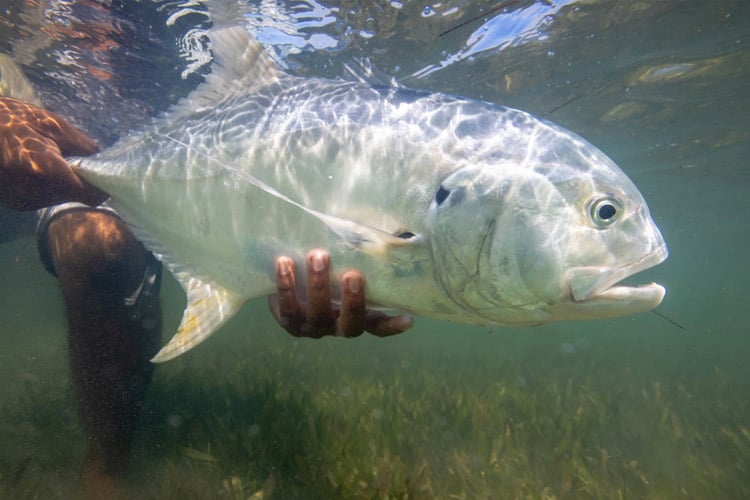 WEATHER
A few more clouds and a little rain this week in northern Belize made for some cooler but muggy conditions. Some epic sunrises, too!
Wind:
Wind
E/SE 12-18 Mph.
Air Temp
Hi: mid-80s Low: low 80s
Moon Phase
Waning Gibbous, New Moon July 17
Sunrise / Sunset
Sunrise 5:23 am Sunset: 6:32 pm
WHAT GUESTS WERE CATCHING
Bonefish
More than 180 Bonefish were landed, averaging 2 to 3 lbs, several ranging from 3 to 6 lbs.

Permit
Nine Permit for the week.

Tarpon
10 Tarpon for the week.
Other Species
Mangrove Snapper, Barracuda, Mutton Snapper, Jack Crevalle, and some Needle Fish.
CONTACT US
If you would like to learn more about the stunning El Pescador Lodge, make sure you take a look at our tour page for all dates, pricing and availability. If you have any questions regarding any of our other saltwater fly fishing destinations, contact Peter Collingsworth on 01603 407596 or via email at peter@sportquestholidays.com.